This article first appeared in Personal Wealth, The Edge Malaysia Weekly, on March 2, 2020 - March 08, 2020.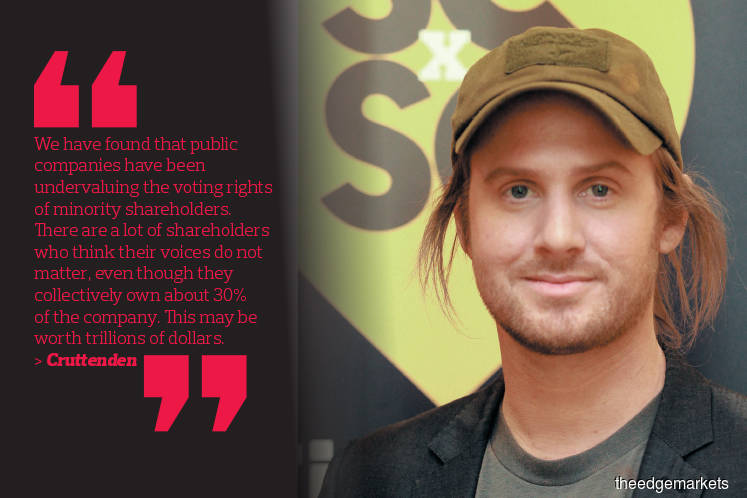 Photo by Patrick Goh/The Edge
Jeff Cruttenden was at the helm of California-based micro-investing platform Acorns when he observed that the platform's users, many of whom were first-time investors, were largely unfamiliar with their rights as investors and often overlooked the important documents sent to them. This led him to wonder if there was a way to help them better engage with the companies they were invested in. 
"Most retail investors tend to ignore the shareholder communication materials sent to them. They also do not think it matters because they own just a fraction of the companies' shares," says Cruttenden, adding that the existing communications infrastructure between public-listed companies and investors was not ideal. 
He was speaking to Personal Wealth on the sidelines of the SCxSC Fintech Conference 2019 held in Kuala Lumpur a few months ago, where he presented a few topics, including "Investing in Change".
Cruttenden first became aware of this issue when the company had to send documents on behalf of the public-listed companies to its users. These proxy materials are regulated by the US Securities and Exchange Commission, which requires publicly traded companies to make relevant information available to shareholders, including annual reports, proxy statements and voting procedures. 
"It was initially unclear to me what [the materials] were and why we could not send them ourselves and [had to do so] with a partner instead. When I saw what these consisted of, I understood that they carried very important information, which the investors have to take seriously. However, the documents [that were emailed by these companies] looked terrible, as if they had been scanned and faxed over," says Cruttenden.
"It looked especially jarring to our users, who were so used to investing on a digital platform with a user-friendly interface. That was when I thought, 'What if this process could be properly digitised? What if a platform existed to help investors better engage [with the companies] and understand what they were voting on?"
In 2018, this idea gave birth to Say, a platform that provides brokers, companies and funds with cost-efficient tools to enable digital shareholder interactions in the US. Together with his co-founders, Cruttenden aims to make investor communications more transparent and secure. The platform's offerings include powering full-service proxy processing solutions and connecting investors with the companies and funds in which they hold equity. Say is currently headed by its CEO Laurent Paulhac.
"We call the platform Say because we want to give investors their say. We think people would prefer to keep their wealth when they have a say as an investor," says Cruttenden. 
On Say, companies can invite shareholders to ask questions, provide feedback and vote. Prior to annual general meetings, earnings calls and other events, companies can use the platform's Q&A function to crowdsource questions. After generating the responses, the companies can reply to the top-voted questions during the event.
Third-party brokers and investing apps can use Say to send proxy materials. The platform gives users this information with more context, making it less confusing and easier for them to vote. 
"We have a number of companies, including Tesla, using Say for their earnings calls and shareholder meetings. This means Elon Musk takes questions from Say to let shareholders engage with the company," says Cruttenden. 
Can Malaysian investors who hold Tesla shares use Say? Yes, if their holdings are with a US-based brokerage firm or a firm listed on the platform. Some international firms may also be compatible with the platform, says Cruttenden. 
"Recently, we partnered DriveWealth, which has some capability and partnerships that [enable] international customers [to use Say]. It is easier for the Q&A function, but there may be some restrictions on the formal voting," he adds. 
DriveWealth is a Financial Industry Regulatory Authority-registered broker that provides access to US-listed securities, including stocks, exchange-traded funds and depositary receipts. Its brokerage platform is used by clients in 150 countries. 
Cruttenden says the company is talking to a lot of activist shareholders to get their opinions on how innovation can improve shareholder communications. Although these activists have a mixed reputation in the US, he thinks they play an important role when it comes to holding companies accountable. 
"We have found that public companies have been undervaluing the voting rights of minority shareholders. There are a lot of shareholders who think their voices do not matter, even though they collectively own about 30% of the company. This may be worth trillions of dollars," says Cruttenden.
"Taking the lessons from the activists have been very helpful for us. It is fascinating to see how they contest proxy fights." 
Describing the space as "ownership technology", he says a lot can still be done to improve the engagement between a public-listed company and its owners. "I think when you look deeper into the financial services infrastructure, you will see a lot of room for innovation to make things better. 
"Turn the worst experiences into something people will appreciate. Ugly emails? Turn them into a platform for proxy voting. That is just one. There is a myriad of other problems that can be addressed with technology."
Giving people a head start
Before Say, Cruttenden's focus was mainly on Acorns. He co-founded the platform in 2012 with his father, Walter, when he was still in college. Now managed by CEO Noah Kerner, the platform had registered more than 4.5 million customers and over US$1.2 billion in assets under management as at early 2019. Its investors include American actor Ashton Kutcher and basketball player Kevin Durant.
"I had been enthusiastic about investing long before the platform was established. My father was an investment banker. When I was young, he would talk about the capital markets a lot and even helped me open my first investment account, which only had about US$50 in it [at the time]," says Cruttenden.
"One of the first stocks I bought was of a public-listed cheese company. It sounded insane, but it really left an impression on me, being one of the first few things that I really owned. I would race home from school every day to see my account move a few pennies."
When he went to college, he realised that not many of his peers had invested before despite being interested. Most were held back by the misperception that investing was expensive and difficult, he says. "Also, at the time, there were no investing apps designed to get someone started simply by using their phones. We thought this was a great opportunity to tap into. 
"If we are able to bring the threshold down to just a few dollars, we can get people started, get curious and really begin the experience of building wealth. A long time ago, people had to save thousands of dollars to make their first investment. That is why many people think it is not for them. It blew my mind thinking that there were hundreds of thousands of business degree students in the US that had never invested in their lives."
The platform aimed to help young people start their investing journey and let time be in their favour. This would allow them to enjoy compound interest. When coming up with the idea, Walter told his son how an acorn would grow into a mighty oak tree, just like how small accounts can grow into big accounts over time. The duo thought this was a perfect metaphor and named the platform Acorns. 
Acorns allows users to round up their spare change and invest it in one of five portfolios built using low-cost exchange-traded funds offered by asset managers such as Vanguard and BlackRock. The portfolios include real estate stocks, government bonds, emerging market equities and large international counters. As one of the first companies to offer investors a low-cost investment vehicle driven by technology, getting people started was a challenge. The platform only took off in 2014.
"Back then, nobody knew what micro-investing was. We were quite lucky as we were established at a time when people were willing to try new apps. It also helped that being first-time investors, our users really loved to talk about the Acorns app and their experiences using it. The vast majority of our growth back then was organic, via word of mouth," says Cruttenden.
But this also meant that it was important for the company to include an educational aspect to the platform. Apart from financial tips and tricks, the team put in a lot of effort to ensure that users understood what they were investing in and how it worked. Eventually, the company became big enough to offer other services as well such as Acorns Later, which allowed users to open individual retirement accounts. 
"Retirement tends to be a heavy conversation and we know that starting early helps. One of the company's focuses is helping people make big important decisions by breaking them down to smaller bits," says Cruttenden. 
"It is easier to get someone to invest more money after they have started small than to start big from the get-go. We know they would rather part with a dollar 50 times rather than US$50 at once. I definitely see it as a good complimentary product to Acorns' core product. Hopefully, there will be more launches that Acorns users can look forward to."