This article first appeared in Personal Wealth, The Edge Malaysia Weekly, on January 13, 2020 - January 19, 2020.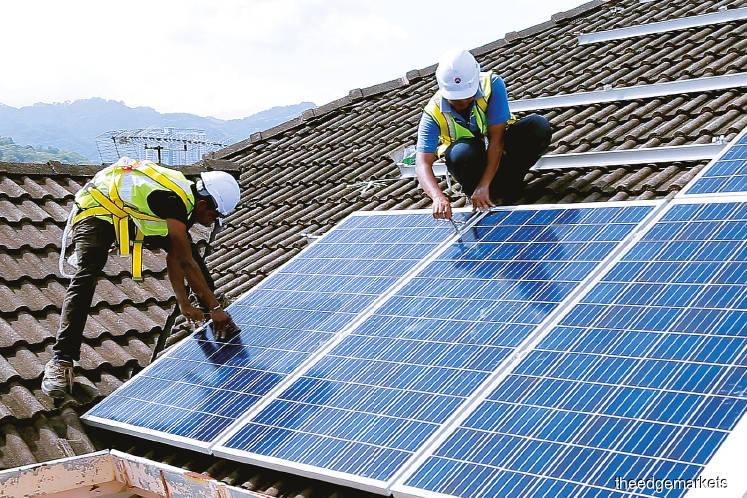 Owning a solar power system is no longer a pipe dream for many households in the country. Installation costs have gone down drastically over the years while the government has introduced incentives to help homeowners get a better return on investment.
Banks have also started offering financing programmes specifically for those who want to purchase solar power systems. United Overseas Bank (M) Bhd, for instance, rolled out its U-Solar programme in October last year.
The programme targets both companies and homeowners who wish to purchase a solar power system from one of its partners — ERS Energy Sdn Bhd, Plus Solar Systems Sdn Bhd and Solarvest Holdings Bhd — by offering a 0% interest instalment plan of up to 36 months.
"It is not only high-net-worth individuals who can own solar power systems now. This may have been true in the past, when it cost more than RM100,000 to buy a solar power system. But now, almost anyone can invest in one. You just need a landed residential property on which you can put a 4kW system and you can save more than RM200 a month in electricity bills," says Solarvest group CEO Davis Chong.
The revamp of the Net Energy Metering (NEM) system by the Sustainable Energy Development Authority Malaysia (SEDA) last January has played a significant role in cutting down the cost or payback period for homeowners. It allows NEM participants to export excess power generated back to the grid on a "one-on-one" offset basis, which means every 1kWh exported to the grid will be offset against 1kWh consumed from the grid, instead of a displaced cost.
Previously, excess solar energy was sold to Tenaga Nasional Bhd at a displaced cost of 31 sen/kWh, compared with the domestic electricity tariff, which ranged from 21.8 sen to 57.1 sen per kWh. The lower selling price resulted in a low take-up rate of the previous NEM programme.
"Generally, residential energy consumption is at its lowest during the day as most homeowners are away at work. However, the solar system is most productive during these hours," says Tham Chee Aun, CEO of Ditrolic Solar Sdn Bhd, another solar power system provider.
"With the NEM, homeowners can sell the [unused] solar energy generated during this period in exchange for credit that can be used to pay their electricity bills. NEM is essential for residential solar power system owners to have a feasible payback period."
According to some industry players, the general cost of installing a 4kWp to 12kWp solar power system can range from RM20,000 to RM50,000, depending on the size of the roof and the homeowner's electricity use and preferences. The payback period can range from 5 to 12 years, according to their estimates. This is in contrast to an estimated 10 years or more before the NEM was revamped, according to a previous interview with SEDA's then chief operating officer.
"The quickest payback period is five years or more. For example, with a grid-connected 8kWp solar power system in Kuala Lumpur, you can generate 9,345kWh a year. That translates into an estimated RM5,717 in annual savings on your electricity bills, or RM477 per month (for non-NEM participants). The system will set you back RM39,000, making the expected payback period about six years," says ERS marketing director Michael Leong, adding that the savings can be more than RM700 a month for an NEM participant.
SEDA's website provides an NEM calculator that allows users to figure out their monthly electricity bill savings under the NEM and makes recommendations of the right solar power system size to use and the estimated payback period.
Paying for your system
Most homeowners pay cash for their solar power systems, according to the industry players. Some solar power system providers such as ERS accept credit card payments from customers of UOB, Malayan Banking Bhd, OCBC Bank (M) Bhd and Public Bank Bhd, usually as part of an instalment plan.
Currently, most of the demand for solar power systems comes from the commercial and industrial segments. A quick check with a few banks found that many of the available financing solutions target these segments.
"The demand from the residential sector is not high at the moment because there is no incentive [for homeowners]. If there is a tax deduction or personal tax relief, it will boost residential solar power system installation," says Chong.
Currently, companies that install solar power systems can enjoy the Green Investment Tax Allowance offered by the government.
Nevertheless, getting financing is still a hurdle, says Tham. "Banks are very careful about the companies from which the client buys the solar power system as the quality of the system can differ quite substantially between Tier 1 companies and the rest."
Some banks offer personal loans specifically for solar power system installations, with simplified approval procedures, says Tham. However, like all personal loans, customers have to pay a monthly interest rate.
"This is up to the customers. They can finance it through a personal loan as long as they are comfortable with the interest rate," says Plus Solar Systems CEO Ko Chuan Zhen.
Meanwhile, some choose to use their mortgage or home refinancing to pay for the solar power system. According to the industry players, this could make sense if the interest rate is low. Chong himself used this method to install a 12kW system in his house. "I did it by topping up the mortgage loan. For this, I had to pay additional fees such as the legal fees," he says.
The process was also longer and more complex than the other alternatives.
The best option for homeowners depends on several factors. Paying cash up front — which Ko believes is the best choice currently — saves the homeowner from monthly interest payments.
Meanwhile, a personal loan may come with higher monthly interest payments, but it eliminates the high upfront cost. The same goes for credit card customers of banks that have a working relationship with solar power system providers.
"I think the best way to pay for a solar power system, from an investment standpoint, is to finance it. But you need to look for the best package [from banks]," says Chong.
More than one way to pay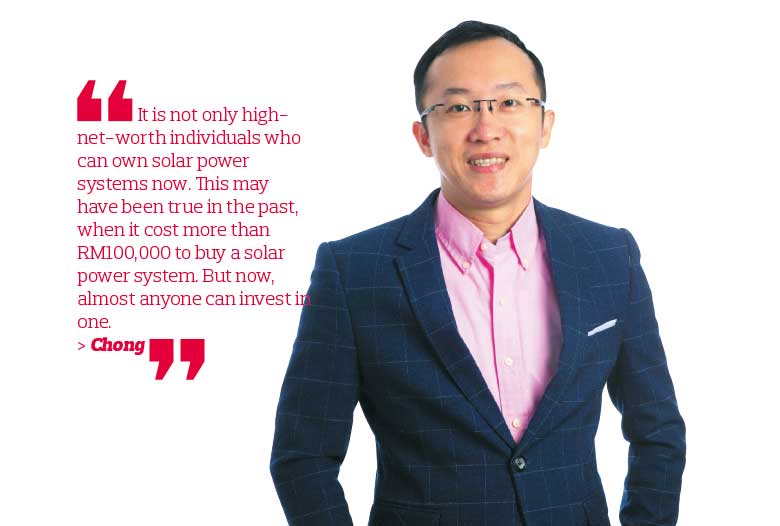 Homeowners can look forward to a number of emerging options to help them pay for their solar power systems.
Solar leasing, which allows customers to pay their service provider a monthly fee to use a solar power system, is especially popular among commercial and industrial players.
"We think it addresses a different segment of the market that does not want to own the system, but still wants to buy cheaper and cleaner electricity. Solar leasing for businesses is very popular as we are able to provide discounts of up to 30% from Tenaga Nasional Bhd's tariffs due to the economies of scale for such commercial installations," says Ditrolic Solar Sdn Bhd CEO Tham Chee Aun.
"For solar leasing, the customer does not evaluate the payback period but the monthly savings one can get. As our tariff is fixed, customers can hedge against future increases in electricity tariffs. However, it is not available to residential users yet due to the lack of scale for individual installations."
Solarvest Holdings Bhd group CEO Davis Chong believes that solar leasing will be the model of the future. His company is the official contractor for GSparx Sdn Bhd, which provides solar leasing services. Currently, the services are only available to commercial and industrial players.
Another emerging option is the introduction of solar-ready housing. Some developers are working with solar power system providers to design houses that can accommodate solar power systems. For instance, Ditrolic is partnering UEM Sunrise to develop a solar-ready homes in Iskandar Puteri, Johor. The homeowners can then decide how they want to pay for the system.
As the home is already designed with a solar power system in mind, the cost of installation could be lower than retrofitting a solar power system to an existing house. "The homes come ready with features that allow homeowners to 'plug and play' the solar system. The developer allows homeowners to choose light, medium or heavy electricity use options. Once the homeowners decide on the type of system they want, we help them apply for the Net Energy Metering quota. The cost [of a solar power system in Iskandar Puteri] ranges from RM27,800 to RM36,800," says Tham.
Solarvest is in discussions with developers to launch similar products, according to Chong. He believes this will spur the residential solar power system market.
"We believe that when the housing market recovers, this model will become popular. Developers [will do this] to differentiate themselves. It is similar to how air conditioners and wardrobes are now standard in new developments as a value-added service by developers. Soon, every landed residential property will come with solar panels," says Chong.
Tips for homeowners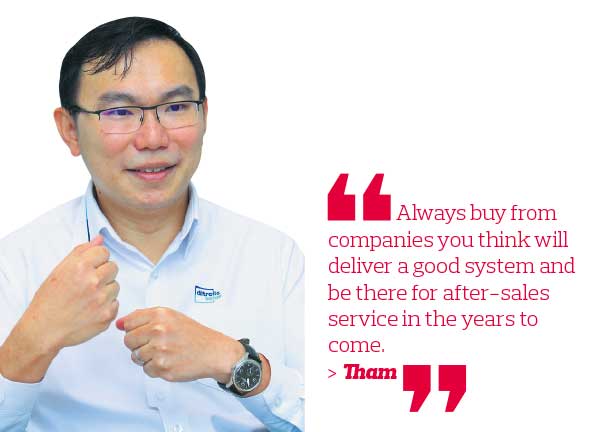 There are other considerations, apart from installation costs, for homeowners who wish to purchase a solar power system. While most systems are designed to last more than 20 years, regular maintenance is needed, according to industry players.
Light maintenance is required every two months and a wash is recommended twice a year, says ERS Energy Sdn Bhd senior technical sales manager Jacky Hung. "The cost [of maintenance] is RM40 per kWp on average. So, an 8kWp solar power system will set you back about RM320 a year."
Ditrolic Solar Sdn Bhd CEO Tham Chee Aun estimates that the cost of maintaining a residential solar power system ranges from RM400 to RM800 annually, depending on the size. Some companies do offer subscription-based maintenance services.
Solarvest Holdings Bhd group CEO Davis Chong believes that 3% to 5% of one's electricity bill savings as a result of using solar energy will go towards maintenance.
"In addition to the maintenance cost, there is a one-time application fee paid to the Sustainable Energy Development Authority and the cost of changing the meter paid to Tenaga Nasional Bhd," says Plus Solar Sdn Bhd CEO Ko Chuan Zhen.
Those who are interested should compare the prices and specification of products offered by the various solar power system companies. They should also get an estimate for maintenance costs, says Tham.
"Customers should be aware that there are various grades of solar power products and companies in the market. Always buy from companies you think will deliver a good system and be there for after-sales service in the years to come," he adds.