This article first appeared in Digital Edge, The Edge Malaysia Weekly, on July 11, 2022 - July 17, 2022.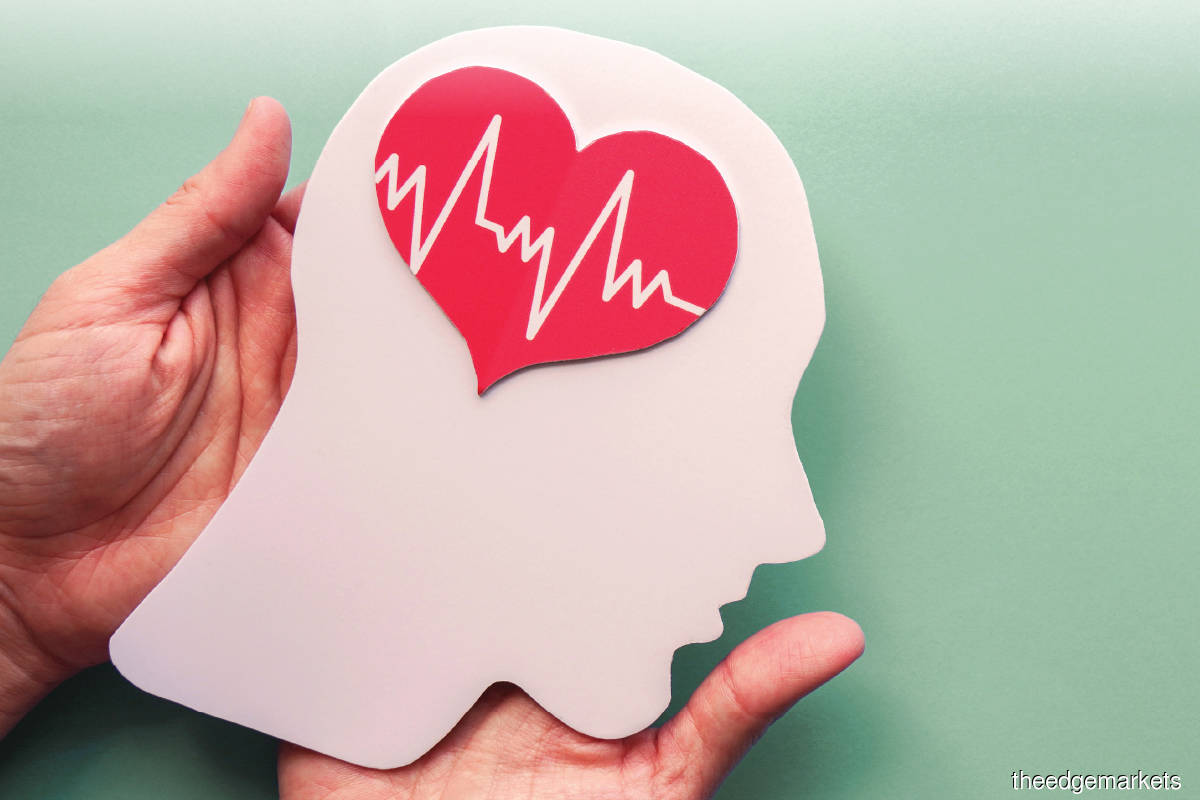 Mental health at the workplace has become an issue of increasing prominence in companies, especially during the pandemic as employees struggled to navigate through government-ordered lockdowns and working from home.
A global research study by Headspace Health released in April states that more than half of CEOs and 43% of employees missed a full week of work during the past year due to stress, anxiety or other mental health challenges.
The good news, the same report notes, is that 71% of employees say their respective companies increased focus on mental health because of the pandemic. Globally, more than half of employees have tried a technology-based mental health service, with blue-collar workers and CEOs reporting the highest usage rates.
Growing concurrently with mental health awareness is the use of tech tools to facilitate mental health assessments and programmes, as well as increase productivity. In the US, as at 2020, the digital mental health market achieved approximately US$142 billion (RM627 billion) in sales. It is projected to reach US$427 billion within five years.
Meanwhile, in Asia, while there are no concrete studies as yet on the awareness of mental health, there has been burgeoning demand in the region for digital mental health tools, which are accessible and affordable.
Proactive measures by multinational corporations
Some companies, however, have proceeded to set up their own in-house digital mental health tools. Moganan Supramaniam, head of environment, health and safety at Siemens Malaysia and Siemens Asean, tells Digital Edge that while the company had set up digital health tools for employees pre-pandemic, its offerings have since expanded.
Siemens' support not only covers mental health, but also its employees' overall well-being and work experience at the office. Moganan says that employees are encouraged to speak up if there is something on their mind. To facilitate this, the company has an open door policy to encourage open communication and discussion about any concerns employees may have.
"We're also open to positive and negative feedback about the workplace or a person's well-being in order to maintain a safe and healthy work environment," he says. "I think the people here are able to connect well with each other, which means we work better together. But the main thing is that everyone in the company has to be able to adapt to changes at the workplace and we have tools for that, too."
Siemens has an array of tech tools and programmes in place to raise awareness of issues regarding health, management and mental health. The company and its leaders have continuously invested in this, adds Moganan, especially over the last couple of years.
He continues, "When we were away from the office for the past two years, people communicated and connected with each other via video conferencing, online events and competitions we did internally. We also have apps that employees can use."
Under the company's Healthy and Safe @ Siemens programme, one of the tools, called QuickScan, engages with employees within a particular team by letting them express their views and concerns openly. This tool was set up to ensure that conversations happen within departments to address grievances and fix issues.
There is also the Siemens global employee survey (SGES), where employees around the world can provide feedback on their health and safety, including mental health. The company is also in the midst of setting up the employee assistance programme (EAP), which will provide coverage to employees and their dependants beyond what is covered in regular medical insurance, including mental health treatment.
"We are looking at the overall well-being of employees and their mental health is related to their environment, which includes the workplace, family and dependants. We wanted to make sure it was all well covered.
"We're in the midst of engaging a service provider and the main criteria is that we want someone who can converse in the local language and address issues that blue-collar workers face. While online tools are good, we want them to come and talk face to face. From there, they can seek additional support, whether it's therapy or counselling," says Moganan.
SMEs see the importance of mental health too
Telecommunications platform Forest Interactive embarked on a journey to mental wellness at the workplace before the pandemic, but over the last couple of years, demand has increased. Its head of people operations, Armina Mispar, thinks the "Great Resignation" happened because employees moved on to greener pastures that provide for their mental well-being and work-life balance.
The first step Forest Interactive took was to reduce the stigma surrounding mental health as well as raise awareness of its importance, especially in the workplace. Next, it set up different programmes, both online and offline, to assist employees.
"The stigma around mental illness actually affects reputations, compromises relationships and jeopardises jobs. So, whether we like it or not, it affects productivity and we don't want our talents suffering and we don't want to prevent them from seeking help," she says.
Before the pandemic, Armina says most of these efforts were done offline. The company would organise talks on mental health but shifted its communication online via newsletters and sharing resources with employees.
"We also set up consultation slots and have a few people in my department who talk to employees who request online appointments. However, we're not certified therapists, but do what we can in our capacity by lending an ear to hopefully ease their burden.
"We also introduced mental health coverage for those who want to seek professional help; we will subsidise the cost," Armina shares.
Some of Forest Interactive's other initiatives include social media campaigns for mental health to reduce the stigma surrounding the topic, the setting-up of a zen tank — which is a space for employees to shut off and de-stress when needed — as well as sports clubs to encourage a healthier lifestyle.
"We also introduced rest days where employees don't need to provide a medical certificate to take a day off if they are feeling overwhelmed. We also carry out assessments on an ad-hoc basis."
Stigma around mental health reduced, but still prevalent
De-stigmatising mental health is a heavy task. While Siemens and Forest Interactive have programmes and initiatives in place to tackle it, there is still stigma.
Moganan says that when the company opened up avenues for employees to discuss their problems, it was the women who stepped forward first.
"They were the ones in the team who opened up and talked about working from home, the issues they had at home and all they wanted was a way to relieve their stress. Rarely did we see the men participating.
"Some of the men started opening up later on when they really couldn't handle the stress and pressure of working from home with their families there. This was the first group of people who requested to come back to the office as soon as things started reopening," he says.
Meanwhile, Armina says the challenge was to normalise mental health issues and that's why Forest Interactive did a continuous social media campaign to drive the message through and get employees to be more open.
"We normalise it and show that it's nothing to be worried about or afraid of. We also ensure the confidential consultations are done well and assure them of proper help if they need it," she says.
"If issues are at the workplace, we check with them if they're comfortable about looping their supervisor in on the conversation. If they are not, we help them find ways to still do their job effectively."
Compendium of mental health support
1 Naluri
The platform helps users identify and achieve their physical and mental health goals by connecting them with a team of health experts, including clinical psychologists, health coaches, dietitians, financial planners, medical advisers and pharmacists. The app combines behavioural science, data science and digital design to address medical needs while improving resilience.
2 Thoughtfull Chat
Users have access to certified mental health professionals with a broad range of experience and specialities. The app is subscription-based, which means users will have unlimited access to their therapist, mental wellness learning packs and self-serve tools to empower them towards better mental well-being.
3 The Help Talk
This digital tool enables users to have their therapist at their fingertips where they can message a mental health professional wherever and whenever needed, and the therapist will respond to them once or twice a day from Monday to Friday. The therapists are trained to provide consultation on stress, depression, anxiety, relationship or family conflicts, loneliness, low self-esteem, trauma, anger and grief.
4 Intellect
This Singapore-based mental wellness start-up offers individuals guided self-help programmes rooted in cognitive behavioural therapy (CBT) to deal with anxiety, relationship issues and low self-esteem, among others. Intellect's paid segment targets employers and offers a behavioural health coaching telehealth feature that lets users connect with mental health professionals easily and swiftly to help manage workplace issues like burnout and work stress.
5 PlusVibes
This free app aims to help people who need a little bit more motivation during the low points in their lives by providing an anonymous chat service with a pool of volunteer "Vibers". Each one is screened to ensure sufficient background and training in psychology and counselling.