This article first appeared in Personal Wealth, The Edge Malaysia Weekly, on March 23, 2020 - March 29, 2020.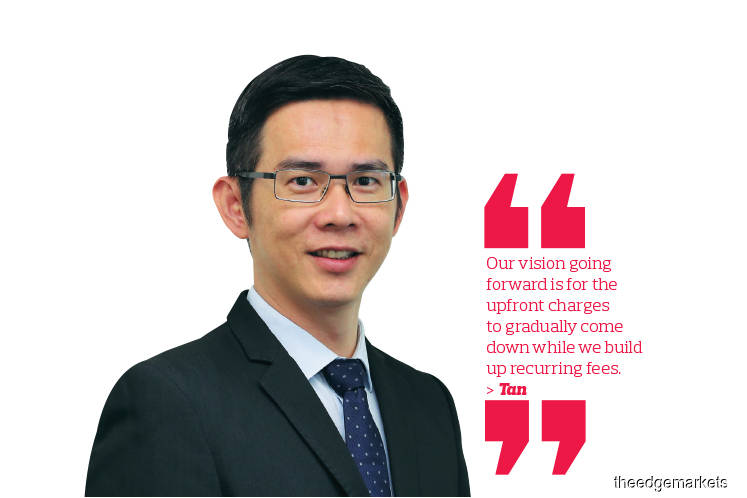 The issue of whether financial planners should be paid commissions or fees has long been debated in the industry. Some argue that commission-driven revenue models can result in too much product pushing and ill-advised customers while others say Malaysians are not yet ready for fee-based financial advisory services.
iFAST Capital Sdn Bhd began offering a wealth management service in Malaysia called iFAST Global Markets (iGM) two years ago. The service uses a hybrid structure that combines fees and commissions. Its goal is to bridge the gap in financial services for the mass affluent and high-net-worth individuals (HNWIs) while changing the way financial planners and advisers are rewarded. This will benefit customers as they will be able to enjoy a lower cost of investing.
"[We have noticed that] customers who have between RM500,000 and RM2 million in assets are quite underserved by private banks and other institutions. We have also observed that the industry as a whole is very commission-driven or product-centric. Often, consumers' interests are not fully aligned with the services offered by some institutions," says iFAST managing director Dennis Tan.
iGM's in-house team of more than 30 licensed financial planners and advisers, many of whom have a background in banking and unit trusts, are assisting customers with their financial planning, investing and insurance needs. The service provides access to more than 550 products offered by 31 fund houses and 11 insurers.
Among the investment products offered to iGM clients are unit trusts and private retirement schemes, bonds, managed portfolios and the iFAST Wrap Account. The minimum investment amount is RM10,000. 
iGM financial advisers also assist customers with legacy planning, tax issues and other services. "We help customers take care of anything related to their wealth management needs, from accumulation and preservation to distribution," says Tan.
The company also runs FSMOne, a platform that allows consumers to purchase unit trusts, bonds and insurance online.
"I think that for the last 10 to 15 years, a lot of people may not have had a very good experience investing in unit trusts because of the high upfront [sales] charge of 5% to 6%," says Tan. "Let's say you get returns like the dividend that the Employees Provident Fund (EPF) is paying this year, which is 5.45%. You are taking almost a year of dividends to pay the upfront charge. If we are able to bring down the upfront cost, we can benefit the investor."
Changing the payment structure
Investors incur an upfront sales charge when they buy into a unit trust. This is the service fee or commission imposed by agents or unit trust distributors for their services. 
iGM aims to be an independent platform by removing potential conflicts of interest. It does this by incentivising its team of financial planners to increase the wealth of their clients via a fee tied to the performance of their portfolios. This is in contrast to rewarding them with commissions for selling or switching funds.
"We have this model [for the advisers] called the wrap account, where they help clients structure a diversified portfolio. The advisers will monitor the markets and rebalance the portfolio when needed. There is no fee imposed when they switch funds during the rebalancing process," says Tan.
In some companies, fund switching requires the client to redeem the original fund and pay the sales charge again for the new fund, he adds. Of course, switching funds offered by the same asset management firm typically involves a lower switching fee. 
"But different fund houses have strengths in different areas. So, to have a well-diversified portfolio, you would not put all your money in one fund house," says Tan.
With the wrap account, clients pay an upfront fee of 2% and an annual wrap fee of 1% (average) for products from all fund houses. This is much lower than the industry standard of an upfront sales charge of 3% to 5%, according to Tan. 
Instead of earning an income from upfront sales charges, the advisers earn from the annual wrap fee, which is tied to the value of the portfolio.
"If I cause you to lose RM1 million of your assets [and you are left with RM500,000], then my income is reduced to RM5,000 [with a 1% annual wrap fee]. But if I grow your portfolio to RM2 million, my income grows to RM20,000. That is the interest alignment that we are trying to put in place, so that the adviser's intention is to help you grow your wealth rather than churning funds to earn commissions," says Tan.
In addition to the wrap fee, advisers earn from trailer fees, which is a rebate of the annual management fees from the fund houses to the fund distributors. In this case, iFAST distributes the rebates to the advisers.
Lowering the cost of investment
iGM is not a fee-only wealth management service, although Tan acknowledges the importance of building a fee-based service. But in the meantime, the upfront sales charges are still important to the survival of financial planners.
"Our vision going forward is for the upfront charges to gradually come down while we build up recurring fees [like the annual wrap fee]. Twenty years ago, the majority of iFAST's fee revenue came from upfront fees. But nowadays, these only contribute less than 20% to our fee revenue. The rest comes from the recurring fees," says Tan. 
The maximum upfront sales fee charged by FSMOne in Malaysia is currently 1.75%. The process of reducing these charges will need to be gradual, he adds. "Over time, if the advisers are able to help clients manage RM100 million in assets, a 1% charge brings in RM1 million a year as recurring income. At that point, we can talk about not having upfront fees. But now, a lot of people still do not have any recurring fees. How can they survive? That is why we prefer methods where we can change gradually."
This is a global trend. In Singapore and Hong Kong, iFAST charges a 0% sales fee. "Lowering upfront charges is not something new. In a lot of countries, it is already at 0%. Australia and the UK have banned commissions. In Singapore, by October, if you use your Central Provident Fund money to invest, it is mandatory for the upfront fee to be 0%. Malaysia still has one of the highest upfront fees in the region," says Tan.
"EPF did a great job last year by launching i-Invest and bringing down the upfront fee to between 0% and 0.5%, which is substantially lower than the 3% investors currently pay via agents."
The i-Invest platform allows EPF contributors to invest in approved funds via the portal.
Focusing on the financial planning industry
iGM is the third arm of iFAST and it serves a rather different target audience. iFAST's business-to-business arm provides technology services for financial planning firms and financial institutions while FSMOne is targeted at self-directed investors.
"iGM is targeted more at clients who prefer to speak to advisers. We don't think that in the near future, all customers will move online and make investments themselves. That segment will probably contribute 20% to 30% of our business. A lot of clients will still prefer someone to help and advise them," says Tan.
The company launched iGM to help develop the local financial planning industry. Tan observes that the industry has been growing but at a slow pace.
"We are looking at a population of about 31 million. But the number of financial planners or advisers is less than 1,000. We feel that the industry should grow faster, so we started an 'incubator' model where we give wealth advisers support. When they grow bigger, they can run their own independent firms," he says.
The support comes in the form of coaching and digital adoption. The structure of iGM is also different from many other financial planning firms, he adds. "When representatives join firms, most of the time, the clients and their assets belong to those companies. That is the typical agency structure. 
"But we have an open architecture model, so the clients and their assets belong to the adviser who joins us. One day, if the adviser leaves iFAST and wants to have his own firm, he will not need to start all over again by finding new clients."
An advantage that iGM has is its access to the technology tools and platforms of iFAST, which changed the way Malaysians buy unit trusts directly when it launched FSMOne. "We are preparing and empowering our advisers to be advisers of the future. The future is linked to all IT-related things, so we try to empower them digitally with financial technology-related tools," says Tan.
Meeting your insurance needs
A key difference between insurance and investment products is that the commissions for the former can be quite high, depending on the type of product sold, according to Dennis Tan, managing director of iFAST Capital Sdn Bhd.
"Insurance is a product that pays a lot of commissions [to the agents]. If you study it, you will realise that for a whole life policy, a customer is actually paying 161% in commissions for the product. Agents receive commissions over a six-year period. So, in the first year, about 65% of your premiums are paid as commissions and the rest goes into your insurance plan," he says.
In Tan's view, insurance should be bought for protection purposes. So, products like term life policies are a better solution than whole life plans in this context. Premiums for the latter can be many times that of the former, he points out. The same goes for investment-linked products.
"I think that is why some agents try to sell you these policies if they can, which we feel is unhealthy. That is the reason we see a lot of developed countries and Bank Negara Malaysia trying to grow the financial adviser industry and encourage an independent approach," says Tan.
For insurance products, iFAST Global Markets (iGM) financial advisers will study their clients' needs and suggest suitable products. But insurance products sold via iGM have similar prices to those sold by insurance agents, Tan emphasises. The only difference is that the financial advisers will be able to help customers select plans that are affordable and suitable for them.