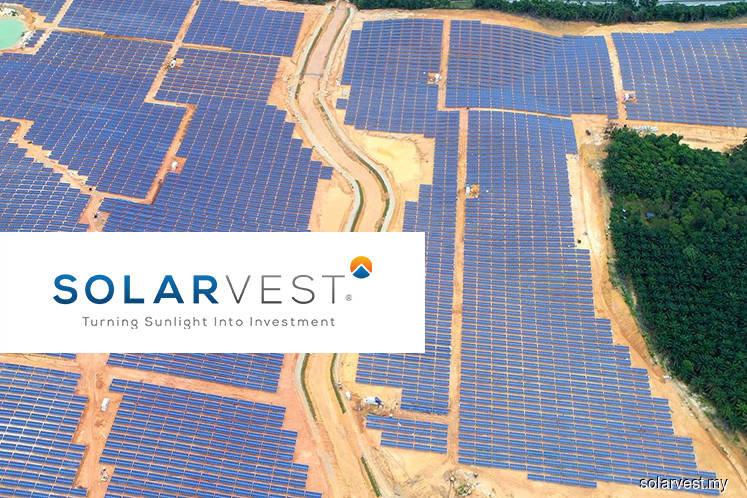 KUALA LUMPUR (June 29): Solarvest Holdings Bhd has posted an all-time high net profit of RM15.67 million for the financial year ended March 31, 2020 (FY20), an increase of 41% from RM11.1 million in the previous year, on higher earnings from its turnkey engineering, procurement, construction and commissioning (EPCC) segment.
In a statement today, the solar photovoltaic system specialist said revenue, supported mainly by the EPCC segment, grew 126% to a record RM253.4 million from RM112.2 million in FY19.
Of this, 62% was contributed by the large scale solar photovoltaic segment (LSSPV) while the remaining 38% was from the residential, commercial and industrial segments, the group said.
For the fourth quarter ended March 31, Solarvest's net profit stood at RM3.81 million on the back of RM51.35 million in revenue.
Solarvest chief executive officer Davis Chong Chun Shiong said: "Moving into a new fiscal year, we continue to make strides despite the near-term challenges brought by the global Covid-19 pandemic. One of the notable developments would be our successful foray into the Philippines.
"We have clinched two rooftop projects from Vivant Corporation — the parent company of the Philippines' second largest power distribution utility company, and are in talks for more potential solar projects there.
"Meanwhile, we are making encouraging progress in Taiwan and we aim to penetrate into this new market by second half of this year."
Solarvest's outstanding order book stands at RM178.4 million, mostly for the commercial and industrial segment.
The group said the outstanding orderbook is expected to contribute progressively to its revenue in FY21.
The group's net cash position stands at RM45.7 million, with total gross cash in hand of RM61 million, exceeding total borrowings of RM15.3 million as at March 31, 2020.
Added Chong: "Back home in Malaysia, we are busy working on tenders for the commercial and industrial segment, as well as LSSPV segment. The recent roll out of the Renewable Energy Investment ([email protected]) programme, which offers approximately 1,000 megawatts of solar quota for open tender, further enhances the prospects of the domestic solar industry.
"We intend to capitalise on this opportunity and partake as a joint asset owner in the programme, taking a step forward in our upstream expansion plans."