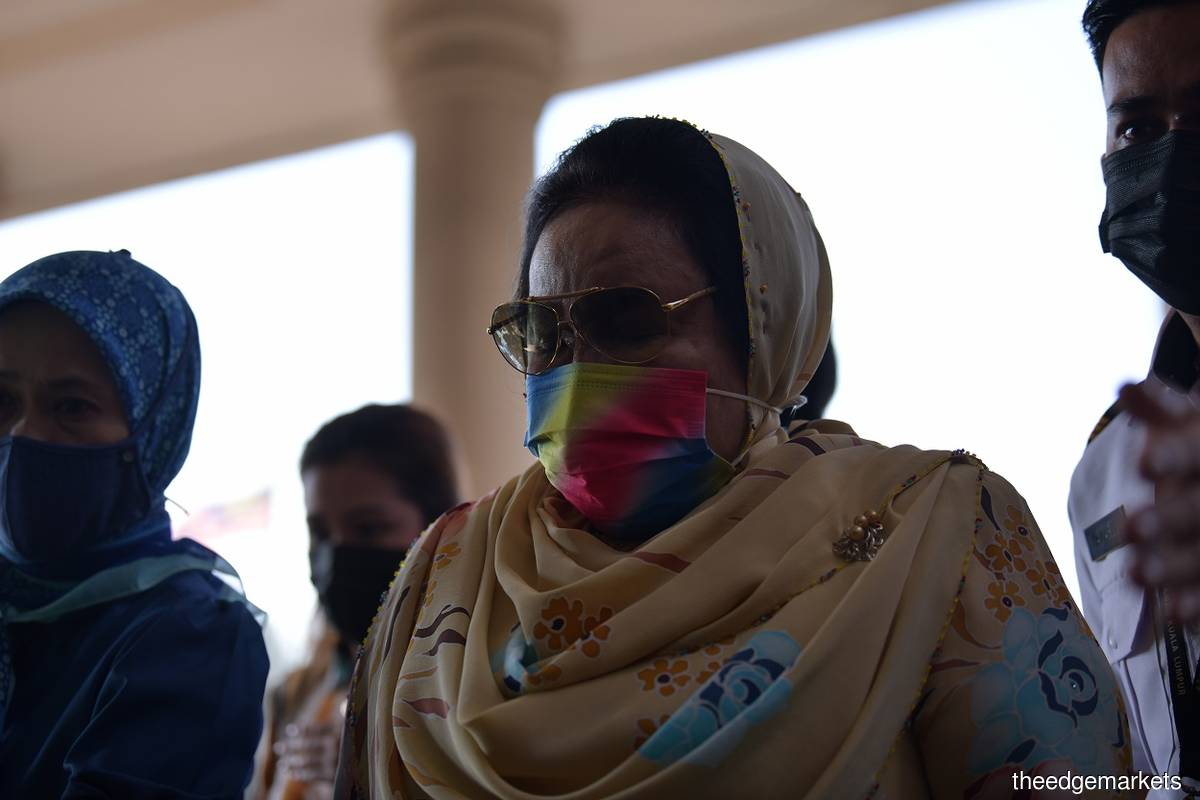 KUALA LUMPUR (Dec 8): Datin Seri Rosmah Mansor's (pictured) MySejahtera status prevented her from entering the High Court premises here on Wednesday (Dec 8), resulting in her solar hybrid graft trial to be vacated and set to continue on Friday (Dec 10).
Senior Deputy Public Prosecutor Datuk Seri Gopal Sri Ram told Justice Mohamed Zaini Mazlan that he had been informed by Rosmah's counsels that Datuk Seri Najib Razak's wife had been in close contact with a Covid-19 positive individual.
"My lord (Justice Zaini), I have been informed by my learned friend (Datuk Jagjit Singh) that the accused (Rosmah) has been in close contact with someone suffering from Covid," he said.
According to Rosmah's counsel Jagjit, his client's MySejahtera status had shown that she had been in close contact with a person infected by Covid-19.
"The accused in this case is right now present in the court premises, or rather the court compound, within a car. We have told her to wait there because her MySejahtera status shows the second tier," he said.
Jagjit, however, seemed unsure if Rosmah's status was yellow or orange.
Justice Zaini explained that the standard operating procedure (SOP) of the court is that only individuals with blue statuses – low risk – are allowed into court premises.
"I can tell you right now that the procedure in our court is that only [individuals with] the blue [status] are allowed in, other colours are not allowed in the premises. So, even if I were to insist on her entering the premises, the security downstairs would not permit it, they get to override me.
"What I am trying to say is, that unless [Rosmah's status] is blue, she will not be allowed to enter the court's premises.
"But having said that, the status could change. If it is orange today (Wednesday), it could turn blue later in the day. So, here is what I propose to do, I have no choice but to vacate today's (Dec 8) trial date, but I am not going to vacate the other dates [fixed for] tomorrow (Dec 9), Friday (Dec 10), and Monday (Dec 13) and Tuesday (Dec 14) next week," he said.
Sri Ram then interjected and requested that the High Court judge vacate Thursday's proceedings as well as he explained that he has two Court of Appeal cases on that day.
"Tomorrow (Dec 9) needs to be vacated because I have two Court of Appeal cases, one in the morning and one in the afternoon, [of which] all the adjournments have been refused, but I will come on Friday," Sri Ram said.
Justice Zaini allowed the proceedings fixed on Wednesday and Thursday to be vacated, but specifically instructed Jagjit to ensure that he monitors Rosmah's MySejahtera status, stressing that the trial will continue on Friday if his client's status becomes blue.
"I will vacate today (Dec 8) and tomorrow (Dec 9), but here is what I propose to do. On Friday morning, Datuk Jagjit, I will have to impose on you a little bit. You will have to check your client's status on MySejahtera, and if it is blue, we are to proceed on Friday.
"Datuk [Jagjit], this is a responsibility that you will have to undertake, and this is something you have to do as well - you have to ensure that you and your client's MySejahtera's status is updated.
"So on Friday morning, you will have to ensure that her MySejahtera is updated, and if it turns blue we have to proceed with the trial on Friday and [next] Monday as well," he stressed.
With the adjournments of the proceedings on Wednesday and Thursday, Sri Ram is slated to continue his cross-examination of Rosmah on Friday.
Rosmah is on trial for three charges in relation to the RM1.25 billion project to equip 369 schools in rural Sarawak with solar hybrid power.
She is facing a charge of soliciting RM187.5 million and two charges of receiving bribes totalling RM6.5 million from Jepak Holdings Sdn Bhd managing director Saidi Abang Samsudin through her former assistant Datuk Rizal Mansor as a reward for assisting the former secure the solar hybrid project.
Read also:
Judge roasts Rosmah's lawyer over non-compliance of court order