This article first appeared in Enterprise, The Edge Malaysia Weekly, on August 12, 2019 - August 18, 2019.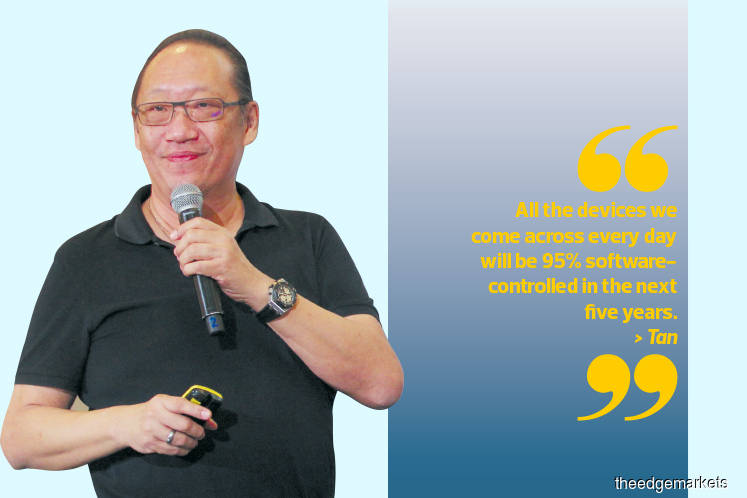 Malaysian companies should embrace the software component of transformation, says Tan Teong Khin, president and managing director of Clarion (M) Sdn Bhd. He pointed out that 50 years of transformation had been crammed into the past five years and most of the disruption came in the form of software.
"All the devices we come across every day will be 95% software-controlled in the next five years. The car stereo, for example, used to be completely mechanical, where you needed to wind it to get the correct frequency. Today, most car radios are software-defined," said Tan, who spoke on "Transformation in the Trenches: A Practical Viewpoint" at The Edge SME Forum 2019.
It is vital for business owners to understand how software could benefit them, he said. In many cases, deploying software could significantly improve their services or product offerings.
"The car of tomorrow that we are designing today runs on ethernet and time-sensitive networking. When the driver turns on the signal, the central computer tells processor one to indicate, followed by processor two and three. That means all of them are powered and controlled separately," said Tan.
"It sounded really unnecessary and complicated, but it saves 40kg of copper wire per car and weight is [fuel] consumption. Before this, indicators only involved one wire and three bulbs. Now, it is all software, plus 12 computers."
Clarion Malaysia's parent, Clarion Co Ltd, was founded in Japan in 1940, primarily manufacturing in-car info-entertainment systems. Thanks to the rapid advances in the Internet of Things (IoT) and artificial intelligence (AI) technologies, the company is moving towards becoming a solutions provider for in-vehicle information systems, solving problems related to transport with solutions such as the smart cockpit.
Smart cockpit solutions combine advanced technologies from the fields of connected technology, safety and information, human-machine interface and sound, said Tan."Basically, the car is an IoT hub where none of the devices run without software. As everything is connected, it is imperative that the network is secure because smart devices are vulnerable to hacking."
While he and his team are actively designing and building the components of these "cars of tomorrow", fully autonomous cars may only be a reality by 2030, he said. Oftentimes, the situation, culture and environment changes design, said Tan. He shared that he was once told to design a car stereo for Mumbai and Delhi taxis that only had two buttons and a knob. He initially refused to do this as he did not want to tarnish Clarion's reputation.
"However, I soon saw that the request made sense. During rush hour, the taxi drivers cannot take their eyes off the road or an accident is bound to happen," said Tan.
Autonomous cars should be fully equipped with all of the components they need to be completely self-reliant such as computers, sensors and cameras. The software should also be upgraded frequently, considering that technology is moving at an accelerated pace, he said.
"Pokémon GO, a software that touched hundreds of millions of lives, only lasted six months. When we design car solutions, we used to cram three years' worth of technology into its dashboard. But the life cycle may be a lot shorter than that. That is why most car manufacturers today design for the next 5 or 10 years."
Tan pointed out that when Nissan Leaf was launched in the market about a decade ago, it came with the feature of being connected to the factory, which can initiate updates. The network, which was co-developed by Hitachi, Clarion and Nissan, allowed every Nissan Leaf to be updated at the same time.
"Today, that technology is obsolete. It is such a simple technology when compared with what we are working on today," he said.