This article first appeared in The Edge Malaysia Weekly, on April 13, 2020 - April 19, 2020.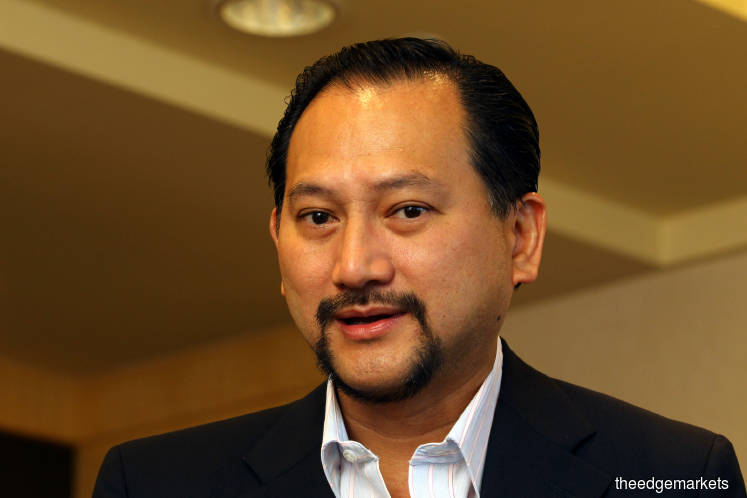 TUNKU Datuk Yaacob Khyra has been a businessman since the 1980s. He survived Black Monday in 1987, the 1997/98 Asian financial crisis, the bursting of the dotcom bubble in the early 2000s and the 2007/08 global financial crisis, among a host of other challenges.
Currently, the companies he runs seem to be in a tough spot, brought about by the Covid-19 pandemic and the shutdown of businesses following the Movement Control Order (MCO), which has been imposed when the overall economic climate is bleak.
While Yaacob is known to have several private businesses, his three publicly traded outfits are MAA Group Bhd, Melewar Industrial Group Bhd (MIG) and its 74.13%-owned unit Mycron Steel Bhd. Other than Mycron, MIG's ­other businesses include engineering and quick assembly homes.
Yaacob has a 45.84% stake in MIG and owns 38.67% of MAA.
"A large number of companies will not survive this [current situation]. We have to be open in our evaluation of the scale of distress we are in, and the monumental task we will have [in working] towards a full recovery," the Negeri Sembilan royal tells The Edge.
Challenges faced by steel industry
"The prolonged shutdown of the Malaysian steel industry will have major long-term consequences that could quickly escalate into a permanent industry-wide shutdown [and the] loss of tens of thousands of jobs," Yaacob says.
Among the measures he is pushing for are soft loans — an immediate provision of liquidity — at reasonably low interest rates to cover operational and necessary capital costs.
"These soft loans are crucial to our survival. There is still a lack of clarity on the mechanism and processing period for the guarantees provided to companies through Danajamin that the government recently announced. We are not asking the government for grants or aid but just soft loans to help us weather this crisis," he says.
Over the next 12 months, Yaacob is hoping for a suspension of government-controlled utility player Tenaga Nasional Bhd's maximum demand charge, a 30% reduction in existing TNB tariff rates and a 50% reduction in existing Petronas' and Gas Malaysia Bhd's natural gas rates, among others.
He also says the government should stop the import of steel products that are locally available for a minimum of 12 months to support the domestic industry during this crisis.
"We should encourage Malaysians to buy Malaysian-made goods. We want to preserve jobs in the steel industry as the majority of the workers are — yes, you guessed it — Malaysians," Yaacob points out.
For its first six months ended Dec 31, 2019, Mycron suffered a net loss of RM2.68 million on revenue of RM357.94 million. As at end-December last year, it had cash and bank balances of RM65.53 million, short-term borrowings of RM96.57 million and long-term debt commitments of RM21.89 million.
Its net cash flow from operating activities as at end-December was RM22.16 million and it had retained earnings of RM143.58 million.
The stock closed at 28 sen last Wednesday, giving the company a market capitalisation of RM78.49 million.
MAA Group
MAA, which is involved in the insurance business in the Philippines via MAA General Assurance Philippines Inc, and the education business locally, has not had it easy as well.
It has been classified as a Practice Note 17 company by Bursa Malaysia, which means that it is in financial distress, although some would say that is arguable. MAA has been in the PN17 category since September 2011 after it sold its main insurance business, Malaysian Assurance Alliance Bhd, to Switzerland-based Zurich Insurance Co Ltd for RM344 million. This is because Malaysian Assurance Alliance contributed more than 50% to MAA's revenue.
Since then, the rules for PN17 have changed but MAA is still in the same position. As at end of last year, the company had more than RM839 million in assets.
For its first six months ended Dec 31, 2019, MAA suffered a net loss of RM31.22 million on revenue of RM194.4 million. In the corresponding period in the previous year, it suffered a net loss of RM27.46 million on sales of RM169.24 million.
In July last year, in an interview with The Edge, Yaacob said that MAA would be focusing on four core businesses: financial services, education, property development and lifestyle, such as hotels and restaurants.
In the recent interview, he says, "In the education sector, our tertiary education business via Imperium International College (formerly known as HELP College of Arts and Technology) has taken the biggest hit. The SPM results have just been released.
This MCO lockdown period is the most crucial for intense marketing and student enrolment. In addition, the restriction on international travel has impeded overseas student recruitment and enrolment. Meanwhile, the biggest threat to our general insurance business in the Philippines is companies going out of business, hence defaulting on their premiums."
Yaacob adds that there should be a bigger focus on the hardest-hit industries with more monetary assistance channelled to them.
He notes that many medium-­sized and large corporations are struggling to stay afloat because of falling revenue and high overheads, with the biggest cost being salaries.
"The bigger the company, the more people on its payroll. Some of these companies may be forced to engage in mass retrenchment sooner than we think. It's important that these large companies are also given easy access to additional credit and trade facilities and that there is a moratorium on their loans. This will help them manage their cash flow better and hopefully sustain their business and, in the long run, save jobs."
Yaacob says he would also like to see lower taxes for both individuals and corporations and a longer loan repayment deferment period. In addition, he suggests a restructuring of non-performing loans, promoting liquidity in financial markets, increasing subsidies for more heavily affected industries and greater flexibility in micro-­financing, among others.
MAA has been looking for assets to acquire for some time and is likely to find many attractive deals in the current weak market.
As at Dec 31, 2019, the company had cash and cash equivalents of RM247.24 million, close to RM286 million in investments and little in terms of borrowings. The stock closed at 58 sen last Wednesday, giving the company a market value of RM158.52 million.