This article first appeared in City & Country, The Edge Malaysia Weekly, on April 27, 2020 - May 03, 2020.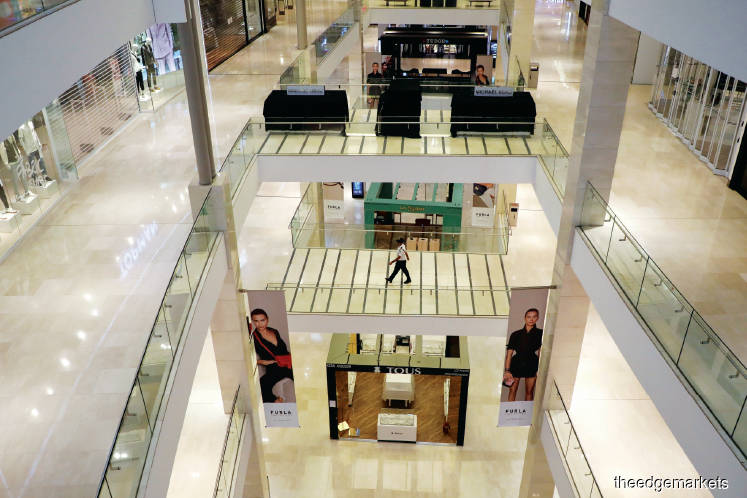 Retaiiers with the ability to fulfil online orders could benefit in the longer term
Photo by Reuters
Covid-19 may alter the way we live and work in the long term, says JLL in its report titled "Covid-19: Global Real Estate Implications".
The short-term impact of the pandemic on economic growth, business activity and individual behaviour is undeniable.  While the current consensus is that the global economy will rebound in 2H2020, the truth is that there is a lot of uncertainty.
"We therefore suggest a scenario planning approach, rather than betting on any bold predictions, with a focus on preparedness for either a mild to moderate slowdown that is transitory in nature or for a more severe and sustained slowdown," says JLL.
For corporate occupiers, the initial primary concern will be the health and well-being of employees, followed by business continuity plans. JLL notes that businesses need to be nimble and flexible in a rapidly changing situation and advocates a corporate response that focuses on preparedness, protection, monitoring and communication.
"Operational resilience will be a longer-term focus for real estate decision makers as businesses develop the ability to respond quickly should they face another similar event in the future," says JLL.
With much uncertainty, investment activity is likely to slow down in 1H2020. The retail and hospitality sectors are the most affected. JLL expects a shift to defensive assets. Key considerations as major arbiters of risk include income stability, operation criticality and occupation density."
"Real estate investment has fluctuated during previous crises but the overarching trend over time has been for increased allocations to the sector and we see no reason for this to change. Real estate continues to offer attractive relative returns in comparison to other asset classes," says JLL.
Sectors most affected
Measures to curb the spread of ­Covid-19, such as travel restrictions, the ban on mass gatherings resulting in cancellations and individuals' reticence to travel, were immediately felt in the hospitality sector. Occupancy rates will fall in the short term.
"Locations with a high proportion of international visitors are most exposed, while locations accessible to a domestic audience by car or public transport may benefit. There is potential for a fairly rapid rebound if the virus is contained in short order," says JLL.
Meanwhile, global retailers will have to navigate a period of elevated risks to cash flow and increased operational costs, owing to a decrease in consumer demand and supply chain disruption.
"Protecting cash flow remains crucial for all retailers, particularly for operators with thin profit margins. Those hardest hit may seek temporary rent relief from landlords," says JLL.
Retailers with the ability to fulfil online orders could benefit in the longer term, placing a greater emphasis on the shift towards a flexible omnichannel retail model. The key to mitigating the risk of future shocks is to ensure continuity of operations by rethinking supply chains.
On the subject of supply chain, the disruption to the global supply chain is affecting the industrial and logistics sector.
"Reduced activity at major gateway ports and airports is resulting in falling utilisation rates and idle resources. The outbreak is likely to elevate the issue of supply chain resilience and mitigation," says JLL.
A possible consequence of the outbreak is the acceleration of the use of automation and robots in operations, reducing the reliance on labour. Meanwhile, the move to online shopping, especially for groceries, could become more permanent, which will in turn boost the demand for logistics space.
Adoption of remote working
"The outbreak could put greater pressure on markets that are already in a late stage of their cycle, creating the potential for a delay in investment activity and softer rental growth than previously forecast," says JLL.
With many countries under lockdown, there is an increase in remote working, which is likely to reduce office utilisation rates, and landlords with exposure to short-term leases will be the most vulnerable.
"Over the longer term, the outbreak will probably fast-track the adoption of remote working and investment in collaborative technologies," says JLL.
Ultimately, Covid-19's biggest impact is on humans. JLL notes that the long-term trend towards higher-density living and increased collaboration spaces potentially heightens the risk of transmission, and mitigation protocols will need to be developed.
"The living sector, particularly multi-family, tends to have more defensive characteristics, benefiting from stable income streams and the ability to actively maintain rents to limit void periods. Demand is also relatively resilient to external shocks," says JLL.
The longer-term societal and real estate impact of the outbreak should not be overlooked, as it can change our way of living and working, potentially leading to new operational models.
In the office market segment, besides an increase in remote working, the focus will be on health, well-being and productivity, while in retail, the normalisation of online grocery shopping could force a change in retailer behaviour.
The industrial sector could see the de-globalisation of the old supply chain to mitigate risk and a change in the perception of travel as well as a renewed emphasis on sustainable practices. Technology will play a bigger role, as there could be increased integration of technology, particularly proptech and medtech, affecting all aspects of life and business.