This article first appeared in Enterprise, The Edge Malaysia Weekly, on September 9, 2019 - September 15, 2019.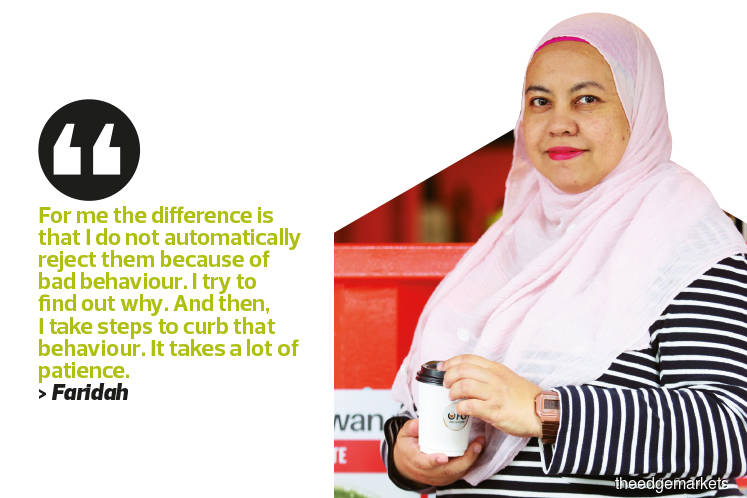 The global oil and gas industry was going through a rough patch in 2015. There were retrenchments across the board and Faridah Halina Zairi — then a senior technical assistant handling oil and gas projects at Lloyd's Register Malaysia, one of the world's leading service providers for the engineering and technology sectors — found herself out of a job.
She had been working there for 14 years, but was one of the first batch to be let go. The retrenchment was not entirely unexpected, given the economic climate and she already knew what she wanted to do next — start a café.
But Faridah soon realised that such a venture would take a lot more resources than she had anticipated. "I found that the rent and set-up costs would be way too much. And one of my colleagues at the time, Anja Julia, one of the pioneers of social enterprise in Malaysia, suggested that I do something different. She had won a lot of awards in that area and she convinced me not just to start a business but to start one that would contribute back to the community in some way," she says.
As Faridah had a passion for coffee, she wanted to build her social enterprise around it. She registered Bean Inspired Venture in November 2015. A month later, she was let go.
Before she started anything for real, she wanted to learn about the basics of making coffee. "I started looking for a class in Malaysia. But there were no classes for hobbyists, only professionals, and the cheapest was about RM3,000 for three days," says Faridah.
Her husband asked her to look for something in Australia, which had a thriving coffee culture. "I found a three-day coffee workshop that cost me only a third of the price here. And I stayed at a backpacker's place to save on costs. Of course, the workshop was meant for hobbyists. But it was good enough for me. So, I went coffee-hopping in Sydney and got my certificate," she says.
When Faridah returned to Malaysia after her brief sojourn, she decided that her social enterprise would focus on teaching people about coffee, but in a smaller way. "I wanted to share my passion for coffee by talking to people — to let people learn about coffee the way I learnt about it, through talking to people. I would go and talk to baristas and café owners and they were very generous with information. I bought a small coffee machine and started going for bazaars," she tells Enterprise in an interview at one of her cafés — Sechawan by Coffee For Good — in Taman Tun Dr Ismail, Kuala Lumpur.
Coffee For Good is the programme run by her social enterprise.
At first, it was enough to simply sell coffee at bazaars. But after a while, Faridah desired a bit more stability and decided to park her coffee machine at a café that did not have one.
"I met [Mohd] Adli [Yahya], who runs the Autism Café project in Puchong. I told him that since he did not have a coffee machine, I could put my machine there and we could share the profit. I could also contribute a bit to his project, which is teaching autistic children. I could teach one or two of them to make coffee and, in turn, I could learn about running a café," she says.
Adli agreed and they started collaborating in April 2017. After about a month, Faridah had picked up enough to apply to run a café inside Worq — one of the largest co-working spaces in Kuala Lumpur — which was located at Glo Damansara.
She was successful and remained there for a little more than a year. Along the way, she picked up the basics such as how to operate the business and hire her first employees. "We did a few projects there, including training slow learners and autistic children. But after a while, I decided to give it up because my main business became more about food catering than running a café as there were so many events. And I wanted to run a proper coffee business," she says.
So, Faridah closed down the business and started a café in Bangi. "We have been there for a year already, selling cakes, coffee, some nasi lemak, pasta … those kinds of things. Whatever we can sell, we sell, just to make sure we have enough income to support our project," she says.
Coffee For Good has been running concurrently with her business, even as Faridah moved from café to café. It involves training school leavers — mainly those from the B40 group (bottom 40% of the population) who are done with school but have no idea what they want to do next — to become baristas.
"We train them and they help us run events. Whenever they need extra income, we help them get part-time jobs. We train them using our pop-up or permanent cafés. Or, we bring our coffee machines to teach them — basically, anything that we can do to get them using the coffee machines. Then, we ask them to run these at events," she says.
Faridah points out that with just two days of training, a low-income school dropout is ready to work. "For a day's work at an event, they can get RM80. In just a few events, they are already making money, which some of them use to pay for classes."
Because the training is free, she vets the applicants very thoroughly to make sure they are truly deserving. "Many of them drop out of school because they can no longer ask their parents for money to pay their fees. This way, they can earn their own money and then, if they want, make their way up in life," says Faridah.
It is not as simple as it sounds. Most of these school leavers are from the Program Perumahan Rakyat (public housing project for the underprivileged) and do not have the requisite discipline to hold down a job.
Faridah has to be perpetually on standby to keep tabs on them. If they do not show up for work or are late, she either calls them or one of their friends to get them out of bed and get going. She even checks their Instagram pages to see what they are up to. And if she knows they have the problem of playing computer games into the wee hours, she sends them an SMS, telling them to go to bed by 10pm.
One of the ways Faridah influences their behaviour is through an allowance that she gives them during her programme. "The allowance is determined by your attendance and we have criteria. If you do not turn up, you do not get anything," she says.
"For me the difference is that I do not automatically reject them because of bad behaviour. I try to find out why. And then, I take steps to curb that behaviour. It takes a lot of patience.
"Most of my friends who are doing the same thing say the major problem with these kids is that their parents do not really care about them because they themselves are working around the clock and are perhaps too tired. They need someone to talk to."
So, Coffee For Good is not just about training school leavers to be baristas. It is also about teaching them to take responsibility and hold down a proper job. For many of them, this is just a transition point as they go on to do something else.
Faridah is effectively pulling them off the streets and keeping them from being unemployed or succumbing to socials ills. Her training does not only teach them to be baristas but also how to interact with people at the events and even the basics of event management.
So far, she has trained five baristas. One of them has gone on to get his Malaysian Skills Certificate so he can do small electrical jobs such as repairing air-conditioning units. "There is no point pushing them into this field if their interest is not there. We knew he had this interest and coincidentally, one of my business partners installs sound systems and is required to employ staff with a more technical background. I do not call it a failure if they go on to do something else," says Faridah.
The point of it all is to keep them gainfully employed. Of course, some may want to remain in this industry and climb the coffee ladder, so to speak — becoming roasters, teaching people how to make coffee or even becoming event organisers. Others use it as a stepping stone to move on to something else.
But Faridah is tired of doing this in a small way and wants to scale up. "The cost of training one person is the same as training 20 people. So, we may as well do this for a bigger group to create more impact," she says.
Faridah has put out a call for applicants on Facebook, inviting youths between the ages of 16 and 25 to train as baristas, with an expected salary of RM1,100 if they successfully complete the training. As she did not require a minimum education, she has received applications from those as young as 16.
"These are Form 3 school leavers who do not want or cannot afford to continue studying. Most companies will not hire them because of their age. For me, as long as you follow all the rules, it is okay," says Faridah.
"Let's say I teach you and you can help me to set up an event, it is good enough. I only give them a few hours of work. But during those few hours, they can learn many things, from making coffee to event management and even talking to people."
At the time of the interview, she had received 10 applications and she was going to vet two of them that afternoon. "I do not want people to be like, 'This is free, so I want to go in'. They need to tell me why I should select them for the programme. Then, I decide if they are truly deserving of this chance," says Faridah.
The training will take a week, after which they will be sent for two weeks of on-the-job training in cafés or restaurants. "Once they have been placed in cafés, we have a six-month monitoring programme, where they also learn other skills such as language and financial management and of course, a refresher course in making coffee," she says.
Faridah is currently looking for partners who are willing to invest in the training of these baristas. "The training value is RM1,500 per person. We need money to start the training and we need to make sure that once they are trained, there are cafés and restaurants waiting to employ them," she says.
Has she applied for government funding to support her programme, considering that she is trying to help PPR youth to become gainfully employed? "There is a lot of paperwork involved and I do not want to waste my time waiting for the money to come. I would rather go out there and find partners to work with so we can get going straightaway. And the money paid to train one batch can be cycled into training the next one," says Faridah.