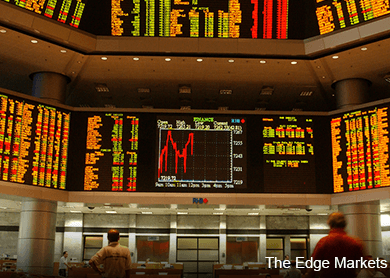 KUALA LUMPUR: Investor sentiment may have been bearish for the first half of the year, weighed down by the global oil price slump, growth slowdown in China, and the fear of a possible sovereign rating downgrade by Fitch, among others, but companies who braved the lacklustre market and made their listing debuts recently seem to have fared quite all right so far.
Indeed, buyers appeared bullish on four out of five companies which made their initial public offerings (IPOs) earlier this year, namely Bioalpha Holdings Bhd, Dolphin International Bhd, Sedania Innovator Bhd and Xin Hwa Holdings Bhd.
Xin Hwa, which was most recently listed on June 30, saw its shares spike as much as 30.7% from its IPO price of 70 sen, while Sedania, listed at 38 sen on June 29, saw its shares rise by as much as 39.5%.
Yesterday, Xin Hwa was down 1.5 sen or 1.7% from last Friday's close at 88 sen — but still 25.7% above its IPO price — for a market capitalisation of RM 158.4 million. Sedania, on the other hand, was at 52 sen, down one sen or 1.9% from last Friday's close but up 36.8% from its IPO price, valuing it at RM104 million.
Dolphin International, which saw its counter jump 29.4% from its initial listing price of 68 sen on its maiden day, is now at 80.5 sen, down one sen or 1.2% from last Friday's close, for a market capitalisation of RM178.7 million. Bioalpha, which ended its maiden trading day at 35% above its IPO price of 20 sen, spiked 135% on April 21 but has since fallen to 29.5 sen, still 9.5 sen above its IPO price, for a market capitalisation of RM136.7 million yesterday.
All four companies opened with premiums of just under 10 sen on their IPO prices after being oversubscribed. Bioalpha recorded the highest oversubscription rate of 32.73 times before its listing.
The weaker performance yesterday was a reflection of the overall market, as the FBM KLCI fell 1% to 1,717.05 points while the ringgit weakened above the 3.8 level against the US dollar as Greece's debt crisis and Malaysian political woes dented market sentiment.
Of the five IPOs, only Malakoff Corp Bhd, listed at RM1.80 per share, saw its shares dip 2.2% on its debut to RM1.76 on May 19. Prices rebounded to RM1.87 in early June, but have since fallen to RM1.79 at market close yesterday. The lukewarm response was largely attributed to concerns over Malakoff's rumoured acquisition of Edra Global Energy Bhd's power assets, which the company has since denied.
Malakoff was the largest company to be listed this year. Its current price gives it a market capitalisation of RM8.95 billion. With the exception of Sedania and Bioalpha, which were both listed on the ACE Market, all the remaining debut stocks were listed on the Main Market of Bursa Malaysia.
The generally positive trend in sentiments towards IPOs so far could bode well for upcoming listings, which include Sunway Construction Group Bhd and Ikhmas Jaya Group Bhd later this month. Sunway Construction is expected to offer a retail price of RM1.20 for up to 398.7 million shares upon its relisting on the Main Market. It expects to raise RM478.4 million through the listing and will be the second largest company to list this year.
The Ikhmas Jaya IPO involves 182 million shares at 57 sen per share, and is expected to raise RM72 million.
Both have robust expectations for the year. Sunway group founder and chairman Tan Sri Jeffrey Cheah said the "construction sector is booming" at the recent launch of the IPO prospectus for Sunway Construction, and Ikhmas Jaya is projecting double-digit revenue growth this year.
Their listings will bring the total number of companies listed so far this year to seven compared with 15 for the whole of 2014.
This article first appeared in The Edge Financial Daily, on July 7, 2015.