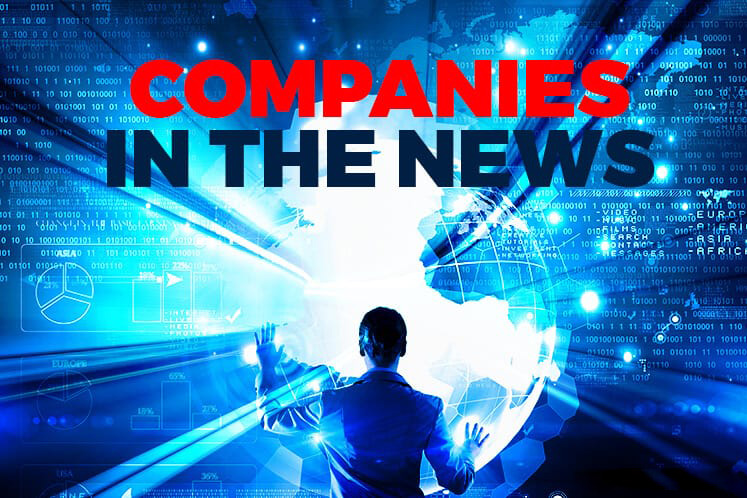 KUALA LUMPUR (April 15): Based on corporate announcements and news flow today, stocks in focus on Tuesday (April 16) may include the following: SMTrack Bhd, LPI Capital Bhd, Orion IXL Bhd, Prestariang Bhd, CB Industrial Product Holding Bhd, Barakah Offshore Petroleum Bhd, Vortex Consolidated Bhd, T7 Global Bhd and KKB Engineering Bhd.
SMTrack Bhd has inked an agreement with Dexma Express Sdn Bhd to explore investment opportunities in Citilink's upcoming operation in Malaysia.
SMTrack said it had signed a Memorandum of Understanding (MoU) on April 13 with Dexma, which will be in effect for one year and can be renewed.
As part of the MoU, SMtrack will acquire a 60% stake in Dexma's operation for RM2.8 million. Dexma will then change its name to CITILINK Aviation Malaysia Sdn Bhd and obtain an Air Operator Certificate and any other licences or permits required for the purpose of Citilink Malaysia's operation.
LPI Capital Bhd's net profit for its first quarter ended March 31, 2019 rose 6.4% to RM77.16 million from RM72.5 million a year ago, contributed by growth in its general insurance segment.
LPI said profit for the general insurance segment increased by 3.2% to RM79.9 million from RM77.4 million during the quarter under review, as a result of higher investment income. While its net earned premium increased by 8.9% to RM235.6 million from RM216.4 million in the year-ago quarter, LPI said its underwriting profit remained the same at RM59.6 million mainly due to higher claims incurred.
Business operation in Malaysia contributed 97.2% of the group's total profit before tax in the first quarter of 2019, it added.
Quarterly revenue grew 3.1% to RM392.7 million from RM381 million in 1QFY18 mainly driven by growth in gross earned premium of 2.4% or RM8.5 million from its general insurance segment.
Orion IXL Bhd is embarking on the first overseas roll-out of its financial technology (Fintech) solutions for Indonesia's market, in a partnership with PT Kirana Investima Nusantara.
Group chief executive officer Mohamad Shaharul Mohamad Shariff said a Memorandum of Understanding between both parties had been signed to set up the framework for the collaboration.
"The collaboration is to provide our technology for loans management system as well as credit scoring and also analytical together with artificial intelligence (AI) to process micro-financing for 75,000 provinces in Indonesia," he said.
Prestariang Bhd has filed a legal claim of RM732.86 million against the Government over the termination of the National Immigration Control System (SKIN) project.
Prestariang said the amount, claimed by its unit Prestariang Skin Sdn Bhd (PSKIN), is based on the contractual formula provided for in the concession agreement.
PSKIN decided to file the suit as the two sides were unable to reach an agreement on the quantum to be paid by the Government after engaging in a few rounds of negotiations.
CB Industrial Product Holding Bhd (CBIP) said its unit has been awarded a contract worth RM71.17 million to build palm oil mills in Papua New Guinea's Markham Valley.
CBIP said its wholly-owned PalmitEco Engineering Sdn Bhd has received the letter of acceptance from New Britain Palm Oil Ltd (NBPOL) for the job. NBPOL is a subsidiary of Sime Darby Plantation Sdn Bhd.
Under the contract, PalmitEco Engineering is to design and install the construction of a 10 tonne per hour (TPH) Continuous Sterilisation Mini Mill, and a 40/60 TPH Continuous Sterilisation Palm Oil Mill at Markham Valley.
Barakah Offshore Petroleum Bhd's group president and CEO Nik Hamdan Daud has resigned.
Nik Hamdan, who joined Barakah as an executive director in March 2012 before taking the helm in April 2016, stepped down "due to personal reason", according to a filing today.
A source familiar with the matter said the resignation was to pave way for the restructuring of the debt-laden company.
Nik Hmadan will be succeeded by 54-year-old Abdul Rahim Awang, an auditor who has been vice president and chief corporate officer of Barakah since September 2013.
As part of its plan to diversify its business, Vortex Consolidated Bhd says it is acquiring a firm with a money-lending licence for RM2 million.
Vortex said it is buying  Valhalla Holdings Sdn Bhd from Choo Peng Hung and Chan Chooi Teng. Choo is a director and major shareholder of both Vortex and Valhalla. Meanwhile, Chan is the spouse of Choo, and also a director and major shareholder of Valhalla.  
Valhalla is the holding company of Valhalla Capital Sdn Bhd, which has obtained a money-lending licence from the Ministry of Housing and Local Government for a two-year period ending Oct 31, 2020. Valhalla Capital has however yet to commence its business as a money lender.
Former Royal Malaysian Navy chief, Admiral (Rtd) Tan Sri Ahmad Kamarulzaman Ahmad Badaruddin, has joined T7 Global Bhd's board of directors as an independent, non-executive director.
The oil and gas services provider said the 60-year-old Ahmad Kamarulzaman, who retired in November last year, has strong strategic networks with government and corporate organisations, both at the national and regional levels, after having served the country for 42 years and held numerous positions in the navy and joint services.
In particular, it said Ahmad Kamarulzaman had, during his three-year tenure as the 16th chief of the Malaysian navy, managed over 20,000 navy personnel with an annual operating and development expenditure of about RM3 billion.
Sarawak-based KKB Engineering Bhd said its subsidiary, KKB Industries (Sabah) Sdn Bhd, has been awarded two contracts totalling RM17.75 million.
KKB said the first contract was a tender awarded by Syarikat SESCO Bhd for the annual supply and delivery of steel products, for a duration of one year.
The second is a purchase order from Leadshine Sdn Bhd, for the supply and delivery of concrete-lined mild steel pipes, over a period of 10 months.