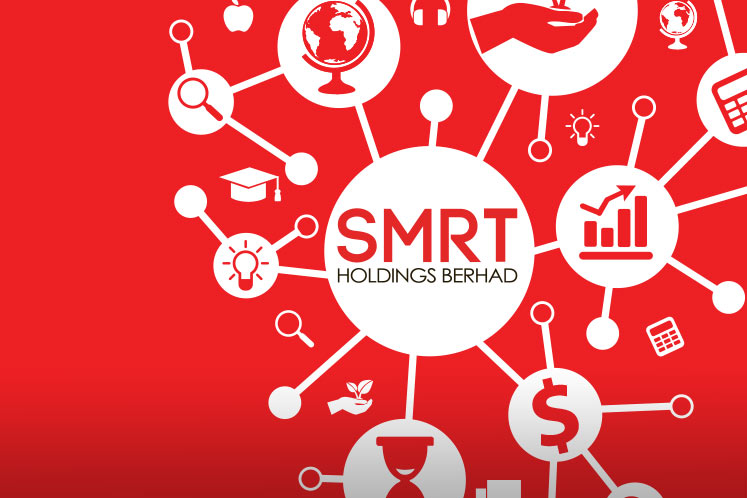 KUALA LUMPUR (Oct 12): SMRT Holdings Bhd, whose share price jumped as much as 39.5% hitting an intraday high of 26.5 sen, said it is unaware of any possible explanation to account for the unusual market activity of its shares.
Trading volume of the stock ballooned to 55.7 million shares today, surpassing its 200-day average trading volume of 1.08 million shares.
Its shares ended the day up three sen or 15.8% to 22 sen, for a market capitalisation of RM79.4 million. The counter has gained 33.3% this week so far against last Friday's closing of 16.5 sen.
"The board of directors of SMRT wishes to announce that after having made due enquiries with the directors, substantial shareholders and such other relevant persons, the company is unaware of any possible explanation to account for the unusual market activity and the increase in share price and volume of activity," the company said in its filing with Bursa Malaysia after the closing bell.
The announcement by SMRT, which is involved in the education business, added that there is no corporate development relating to the group's business including those in the stage of negotiation or discussion that has not been previously announced that may account for the trading activity.
"There is no rumour or report concerning the business and affairs of the group that may account for the unusual market activity," said SMRT.
In a separate filing, the group said that the trading of its shares had been halted with effect from 4.07 pm today, and will resume trading at 9am tomorrow.
The share price of Asiamet Education Group Bhd, in which SMRT has a 21.1% equity stake, also surged sharply today. It leapt 51%, or eight sen, while the trading volume ballooned to 183 million shares.
Last month, Asiamet's shareholders had in an extraordinary general meeting approved the acquisition of CUCMS Education Sdn Bhd (CESB), which operates the Cyberjaya University College of Medical Sciences  from SMRT through an issuance of 830 million shares at 20 sen each to SMRT's wholly-owned subsidiary, SMR Education Sdn Bhd (SESB).
Asiamet's shareholders also approved the proposed delisting of Asiamet and the one-for-one share exchange with Minda Global Sdn Bhd, which will take over Asiamet's listing status and serve as Asiamet group's holding company. This is part of an internal reorganization to be undertaken by the group.