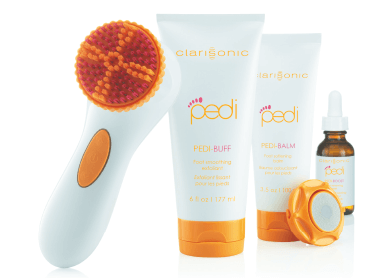 THE average person takes approximately 3,500 to 5,000 steps a day; coupled with other factors like choice of footwear and weather conditions, this means that our feet are constantly subject to pressure and friction with every step we take, every day. Yet, more often than not, the wellbeing of our feet is so easily overlooked.
With that in mind, Clarisonic has just launched its PEDI Sonic Foot Transformation System that aims to rectify this through sonic technology and nutrient-rich skincare formulas. Recently, the brand collaborated with Luxe by the Nail Parlour in Midvalley Mega Mall for a  PEDI treatment — a media pampering session and preview of the product. The PEDI treatment incorporated Clarisonic PEDI products with the signature pedicure of the nail salon for an exclusive experience.
Colourful daisies floated in the basin filled with warm water, as the PEDI treatment began with sanitising the feet. The pedicurist assigned to me explained each step while performing the treatment as well as the benefits of each product. The first step to a complete sonic treatment is to smoothen and soften the skin using the PEDI Smoothening Disc affixed to the PEDI device on the dry and rough areas only. This stainless steel disc sloughs away the rough skin on those areas without causing any damage to the skin.
This is followed by the application of PEDI Buff Foot Smoothening Exfoliant made from lactic acid, alpha hydroxy fruit acid blend and aloe vera before buffing the feet using the PEDI wet/dry buffing head that has a combination of short, rigid filament bristles as well as longer, more flexible ones. The brush functions on three speeds when affixed to the PEDI device and can be used on wet or dry skin to exfoliate cracked heels. This can be a slightly ticklish process, especially on higher speeds, but combined with the exfoliant, leaves the skin softer to the touch once the remaining exfoliant has been rinsed off.
Next, a softening balm is applied to the skin. The balm contains apricot oil, honey and shea butter and does in fact smell as good as its ingredients sound. The last step in the treatment involves a full pump of the renewing peel being massaged into the feet. This product contains lactic and glycolic acids that help remove dead skin cells, improve skin renewal and stimulate collagen synthesis. The PEDI treatment experience ends with the application of the nail polish of choice, an added feature offered by the nail salon as part of the preview for the Clarisonic foot products, ends the treatment on a colourful note.  
With the Clarisonic PEDI Sonic Foot Transformation System that is now available in all Sephora stores and Clarisonic kiosks in Bangsar Village 2 and Pavilion Kuala Lumpur you sure can put a spring in your step and rejuvenate your feet even in the comfort of your home.
This article first appeared in The Edge Financial Daily, on May 12, 2015.