This article first appeared in The Edge Malaysia Weekly, on July 1, 2019 - July 07, 2019.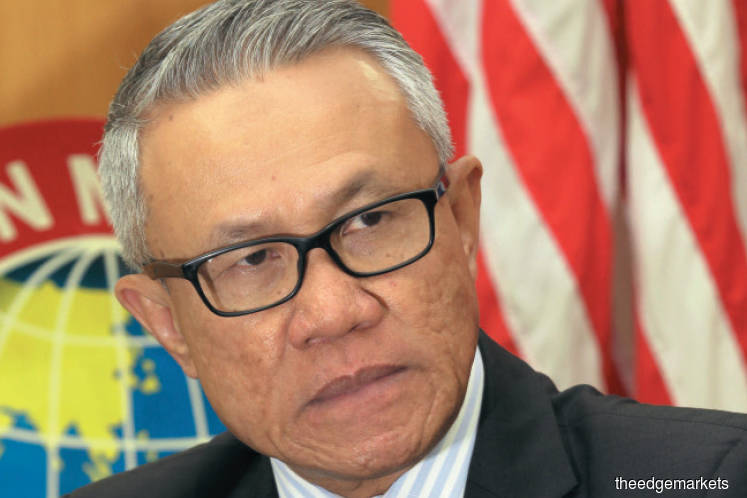 Wan Latiff: Looking at our halal ecosystem, the certification and standards are already there. But what about the capability of our companies? About 98% of them are SMEs and they need mentoring, money and markets. Photo by Haris Hassan/The Edge
Click / Tap image to enlarge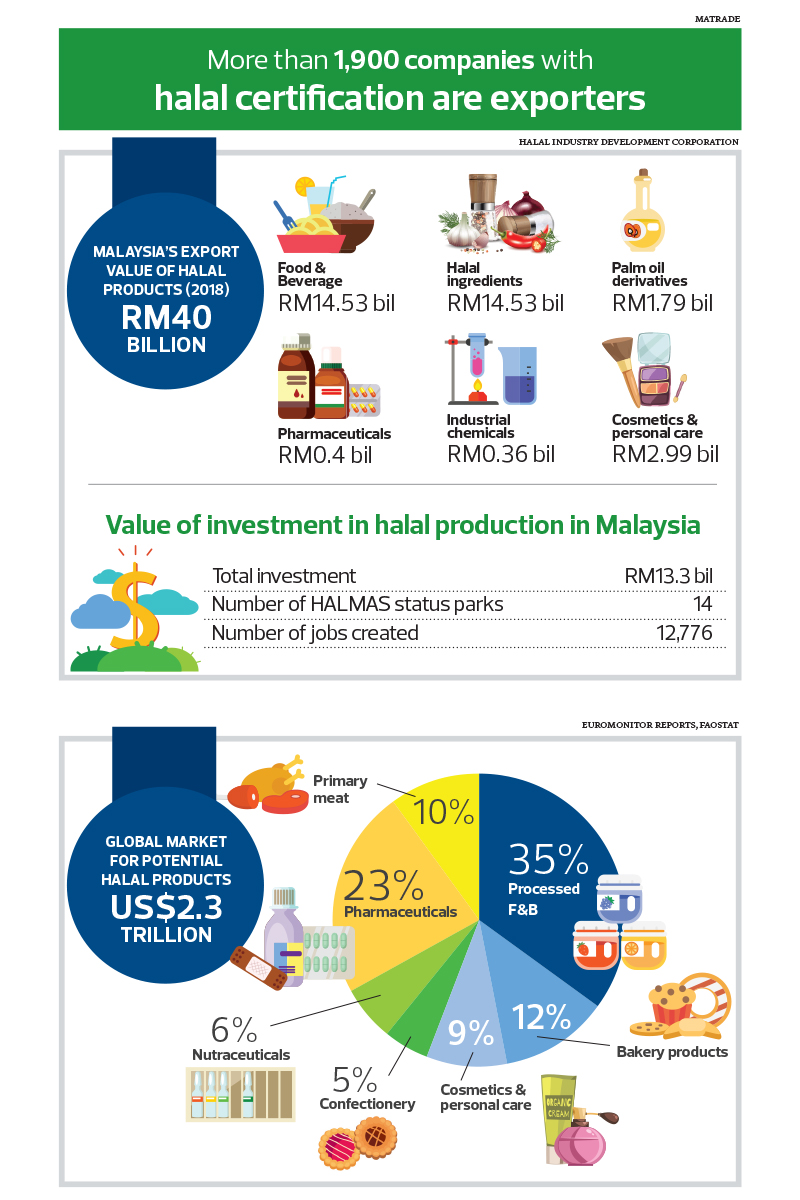 DESPITE having the most comprehensive halal ecosystem in the world, the value of Malaysia's exports in this category is still just a drop in the ocean compared with global consumption of such products. The fault lies in the inadequacy of local producers to meet world demand for halal-certified products.
Datuk Wan Latiff Wan Musa, the CEO of the Malaysia External Trade Development Corporation (Matrade), recognises the challenges faced by Malaysian companies, especially the small and medium enterprises (SMEs), which do not have the capacity to produce large volumes of halal-certified products.
"Looking at our halal ecosystem, the certification and standards are already there. But what about the capability of our companies? About 98% of them are SMEs and they need mentoring, money and markets.
"A lot of the SMEs are involved in processed food, which is why we are spending more money on developing this industry than the others," he tells The Edge.
As the country's trade promotion agency, Matrade is at the forefront of promoting Malaysian-made products in the international market through various trade shows and its network of 46 offices set up overseas. The agency conducts business-matching between foreign buyers and Malaysian producers, and provides local companies with market intelligence on developments in the standards and regulations of other countries.
Malaysia's export value of halal-certified products was RM40 billion last year, about half of which comprised food and beverages. According to the State of the Islamic Economy Report 2018/2019 by Thomson Reuters and DinarStandard, Muslims around the world consumed an estimated US$2.3 trillion of halal goods, ranging from food to cosmetics, in 2017 and spent US$1.3 trillion on food.
With the data pointing to big opportunities in the global halal market, an economically progressive Muslim-majority country like Malaysia could easily fulfil its aim to become an international halal hub.
It is worth noting that Malaysia is a pioneer of halal certification, having started in 1974 to issue certificates for products that met its strict criteria. In 2000, the Department of Islamic Development (Jakim) came up with the world's first halal standard — the first systematic halal assurance system.
Wan Latiff assures that the Halal Industry Masterplan for 2008 to 2020 includes elements of SME development in the industry. In fact, it is an objective of the master plan to broaden the geographic footprint of homegrown companies.
Malaysia has not been lax when it comes to incentivising the growth of the halal industry. In 2006, the Halal Industry Development Corporation (HDC) was established with the aim of attracting investments to the country's halal manufacturing sector. Under HDC, Halal Malaysia (HALMAS) designated industrial parks are developed and promoted with incentives given to investors, developers and logistics providers.
To promote the development of halal parks, their operators are granted incentives such as full income tax exemption for 10 years or 100% income tax exemption on capital expenditure for five years.
Manufacturers with operations in the halal parks are granted the same income tax exemption on capital expenditure. On top of that, they get income tax exemption on export sales for five years.
Manufacturers are also given import duty exemptions on raw materials used for the development and production of halal promoted products besides double deduction on expenses incurred in obtaining international quality standards.
All these incentives are aimed at boosting the exports of Made-in-Malaysia halal-certified products, the value of which is expected to hit RM45 billion this year and RM50 billion by 2020.
Wan Latiff opines that Malaysia's halal standard is the most recognised in the world because it is stringent and comprehensive. He says the Jakim halal mark is much sought after by companies around the world due to its widespread recognition.
However, having the best ecosystem and standard do not guarantee Malaysian halal exporters high global demand for their products. There are other aspects to successfully penetrating the global market than just having a product certified halal, says Wan Latiff.
"SMEs need to understand all the elements of marketing, from branding, distribution channels and messaging to communications strategy. Having your products certified halal does not mean you can sell them in the global market.
"There are other international standards that Malaysian SMEs have to get, such as HACCP (hazard analysis and critical control points). At Matrade, we work with SIRIM Bhd to assist the companies in getting all these standards," he explains.
 
MNCs play a key role
Besides building the capacity and capability of local producers, especially SMEs, the way Malaysia could increase the export volume and value of its halal products is by attracting more multinational corporations (MNCs) to set up their halal production facilities here, says Wan Latiff. "We need more of such investments from big brands in the country to leapfrog the industry in terms of supply capacity."
In recent years, several MNCs have taken advantage of the incentives provided by the government and made Malaysia their halal production hub in the region. They help in the development of local companies by sourcing their materials and services from them.
The most prominent example is Nestlé SA, a global food company that produces many staple brands, such as the Milo malt chocolate drink, Nescafé coffee and Nespray milk powder. Nestlé has designated Malaysia as its global centre of excellence for halal products.
"At Nestlé, we share our knowledge and expertise with relevant halal authorities, for example through our collaboration with the HDC and SME Corp, through the SME Mentoring Programme," says a spokesperson for Nestlé (M) Bhd, the Swiss MNC's locally listed subsidiary.
"To date, we have trained more than 600 local SMEs, promoting the adoption of halal best practice. We also see great opportunities and demand for local halal ingredients in the food and beverage industry, and we are working closely with local suppliers to support this development."
Nestlé's journey in halal production began in the 1970s when it became the first MNC to be certified halal by Jakim. To date, it has established seven manufacturing facilities throughout Malaysia, which are all certified halal by Jakim.
These facilities produce more than 500 products for domestic consumption and for export to more than 50 countries. Over the last six years, the group has invested more than RM1 billion in its halal manufacturing facilities.
Most recently, Nestlé Malaysia allocated about RM100 million for capital expenditure in its financial year 2019 to establish its Chembong factory as the world's largest Milo manufacturing centre of excellence.
In FY2018 ended Dec 31, the company recorded a revenue of RM5.52 billion, 20% of which came from export sales.
Other MNCs that have based their halal manufacturing facilities in Malaysia are Thai food manufacturing giant Charoen Pokphand and India-based personal care products manufacturer Wipro Unza.
In January, FGV Holdings Bhd signed a memorandum of understanding (MoU) with South Korea's Samyang Foods Co Ltd for the establishment of the latter's halal production facility in Malaysia. Samyang produces ramen, snacks, dairy products, sauces and frozen dumplings.
In Malaysia, the industry has vast potential because of its high level of competence in manufacturing as well as its strict adherence to the best halal manufacturing standards, says the Nestlé Malaysia spokesperson.
"It is a matter of harnessing this potential and building the capabilities, as well as ensuring we have the best manufacturing technologies to be globally competitive.
"By sharing resources, technical capabilities and best practice, Nestlé aims to facilitate the development of local suppliers to be able to compete in the global business environment, which will in turn elevate the standard of the local halal F&B industry." 
Since the 1970s, much effort has been expended on promoting Malaysia as a global halal hub. But more needs to be done to raise the competitiveness of the SMEs in the manufacturing of such products before the country can achieve its ambition.