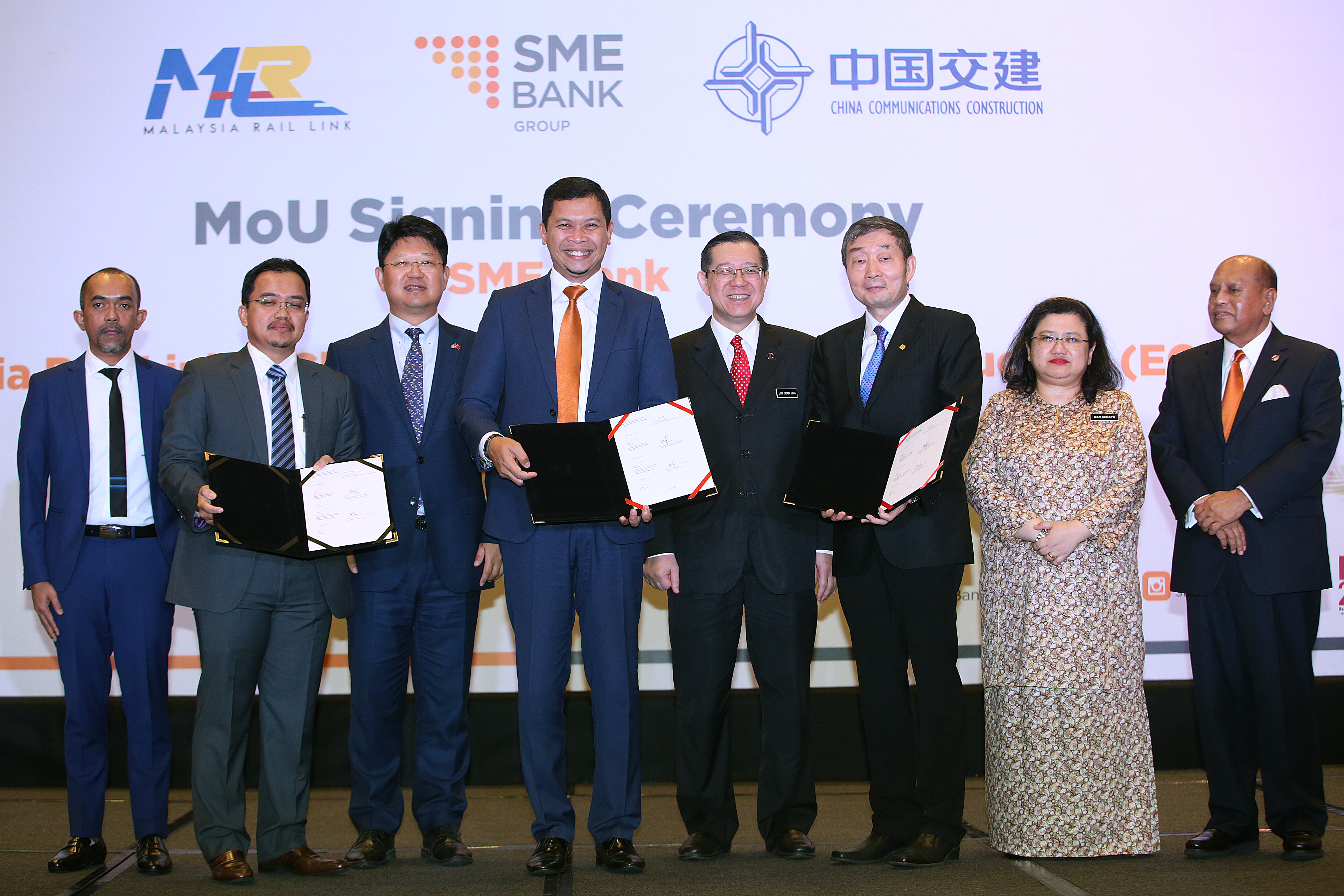 (From left to right) SME Bank chief banking officer Mohammad Hardee Ibrahim; Malaysia Rail Link Sdn Bhd (MRL) CEO, Datuk Seri Darwis Abdul Razak; Ambassador of The People's Republic of China, H.E. Bai Tian; SME Bank group president and CEO, Aria Putera Ismail; Minister of Finance Lim Guan Eng; China Communication (ECRL) Sdn Bhd project director Ir. Fang Zhenru; Ministry of Entrepreneur Development secretary general Datuk Wan Suraya Wan Mohd Radzi and SME Bank chairman Datuk Seri Nazir Ariff, at the signing of the MoU between SME Bank, MRL and ECRL on Monday (Photo by: Sam Fong/The Edge)
KUALA LUMPUR (Nov 18): SME Bank has allocated RM1 billion worth of financing specially for local contractors appointed for the civil works packages of the East Coast Rail Link (ECRL) project.
The development financial institution under the Ministry of Entrepreneur Development announced the initiative today, following the signing of a memorandum of agreement with the project's owner Malaysia Rail Link Sdn Bhd and its main contractor China Communications Construction (ECRL) Sdn Bhd (CCC-ECRL) today.
The MoU is aimed at facilitating the provision of financial solutions to Malaysian subcontractors in the ECRL project.
"SME Bank is proud to be one of the key players that contribute to the success of an impactful project for our nation building. This initiative is in line with the vision of the National Entrepreneurship Policy 2030 (DKN2030), which aims to make Malaysia a leading entrepreneurial nation and at the same time, achieve the Shared Prosperity Vision 2030 goals," said SME Bank's group president cum chief executive officer Aria Putera Ismail. 
Meanwhile, MRL chief executive officer Datuk Seri Haji Darwis Abdul Razak said the MoU today would accelerate the commencement of civil works under the 40% local participation portion of the 640-km rail infrastructure from Kota Bharu to Port Klang.
He said the tri-partite collaboration was timely, as the initial award of ECRL civil works packages to Malaysian subcontractors has been taking place in stages for tunnels and temporary works within the Dungun-Mentakab section.
"The sooner local construction companies come on stream with civil works on the ECRL, the faster the project would contribute to the growth of Malaysia's construction and building materials sectors, as well as the railway industry," Darwis said.
The collaboration also serves as an endorsement for the ECRL project under the improved deal between Malaysia and China, which, among others, has increased local participation for civil works from 30% to 40%.
As ECRL civil works packages continue to be awarded over the next one- to two years, the collaboration would encourage local construction companies to play an active role in the project and ensure it is on track for completion by December 2026.