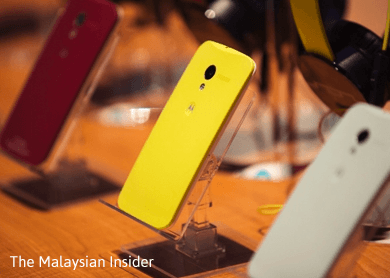 KUALA LUMPUR (Sept 7): Sales of smartphones and tablets in the local market grew 42% and 15% year-on-year in the first half of 2015 (1H15) despite the weaker ringgit and the implementation of the goods and services tax (GST), according to market research, analysis and advisory firm, International Data Corporation (IDC).
Some 4.8 million units of smartphones and 900,000 units of tablets were shipped to Malaysia in the period, according to its Asia/Pacific Quarterly Mobile Phone and Tablet Trackers data.
The smartphone market continues to be dominated by China and Taiwan vendors, while the tablet space remains dominated by global vendors, said IDC in a statement today.
"It was a challenging time for the retail channels in 1H15 due to the weak sentiments caused by multiple macroeconomic factors, such as the implementation of GST, weakening ringgit against the US dollar, and some political concerns.
"The catalyst of growth of smartphones was the large number of smartphones made affordable at less than RM500, bundled with SIM packs from local operators. It was a similar case for tablets as well as with devices priced at less than RM300," said market analyst for client devices in IDC Asia/Pacific Jensen Ooi.
IDC noted that despite the growth in 1H15, the impact from the overall economy will be felt by both vendors and end-users in the third quarter of 2015 (3Q15).
"IDC foresees that there is a high likelihood for an increase in the price of most devices in the open market mainly due to the weak ringgit. This could potentially trigger a possible delay for end users to upgrade or renew their existing devices," the research said.
However, IDC expects overall shipments of smartphones and tablets in 2015 to surpass those in previous years.
Back to the 1H15 period, apart from Apple's iPhone, shipments of android flagship smartphones paled tremendously in comparison with previous years, said IDC.
"Android handsets from China and Taiwan maintained their competitive edge with affordable price points that appealed to the local market," it noted.
Samsung, it said, remains the market leader in the Malaysian market for both segments, attributable to its Galaxy J series and Galaxy V model for its smartphone segment, while the Galaxy Tab 3 Lite 7.0 remains its best-selling model in the tablet market.
Apple's iPhone 6 also continues to remain popular due to its larger screen size compared with that of its previous versions, said IDC.
Apple also remains strong in the high-end tablet segment and was "still able to capture significant market share despite declining growth".