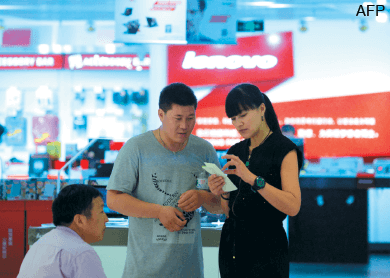 LOCAL semiconductor manufacturers' earnings growth is expected to remain intact — but it will be at a slower momentum — on the back of global smartphone demand. This is despite the slowdown in global smartphone shipments in the first quarter of 2015 (1Q15).
In the first three months of the year, smartphone shipments worldwide fell 10.9% to 336.5 million units from 377.5 million in 4Q14, according to an April 29 statement by International Data Corp (IDC) (see chart).
Semiconductor player Globetronics Technology Bhd's CEO Heng Huck Lee says the smartphone market will stabilise, growing at about 5% over the next one to two years.
"I think it (the growth) depends on which segment (entry level, mid-range, high-end and features-loaded) … the total annual volume will still come in at low single-digit growth but it will vary between the different segments. It is also subject to how many new features or functions are added in the new models to be launched later this year or early next year," he tells The Edge via email.
Heng says Globetronics (fundamental: 3; valuation: 1.70) has been receiving larger orders in the last quarter and currently, as most of its clients are focusing on the high-end and features-loaded smartphone models.
"Most of the Malaysian electrical and electronics (E&E) companies will continue to see some growth in the current and next quarters," he adds.
Apart from Globetronics, local semiconductor players that supply their products to smartphone manufacturers include Unisem (M) Bhd (fundamental: 1.25; valuation: 1.20) and Inari Amertron Bhd (fundamental: 2.70; valuation: 1.50). When contacted, Inari CEO KC Lau declined to comment on the outlook for smartphone shipments while Unisem was unable to reply by press time.
RHB Research semiconductor analyst Kong Heng Siong agrees that growth in the smartphone market will slow but it will still be positive. "New smart devices such as wearables could spark the next upcycle."
He acknowledges that the smartphone market is gradually maturing, after the strong growth seen in China in the last few years. Kong says India, the second-most populous country in the world after China, will be the next catalyst for smartphone growth.
Local smartphone component manufacturers, Kong says, will have to diversify into new products or penetrate new scopes of work to grow their earnings.
The smartphone market has certainly seen better days, growing at 16.7% in 1Q15 compared with about 50% year-on-year in 2Q13, says IDC, an American market research, analysis and advisory firm.
Despite the slowdown, TA Research analyst Paul Yap says local manufacturers will benefit from an increase in chip contents of smartphones.
Citing Qorvo, Yap says the total addressable market for mobile radio frequency (RF) is expected to grow at a compound annual growth rate (CAGR) of 10% to 15% over the next few years — underpinned by demand for 4G phones. Qorvo is an American semiconductor company that designs, manufactures and supplies RF systems and solutions for applications.
He attributes the sequential decline in global smartphone shipments to an expected post-holiday dispersion in shipment volumes.
"On a yearly comparison, growth remained strong with a 16.7% y-o-y increase (in 1Q15). IDC forecasts total smartphone shipments to increase at a CAGR of 8.5% to two billion units between 2015 and 2019," he tells The Edge.
Notably, month-on-month sales of semiconductors has also been deteriorating since December last year, according to World Semiconductor Trade Statistics (see chart). Global semiconductor sales dipped for four consecutive months to US$27.71 billion in March this year.
However, Yap says the decline in month-on-month sales in the first quarter is normal, putting it down to seasonal effects and the strengthening of the US dollar. "Global semiconductor sales are reported in US dollars. [The drop reflects] depressing figures achieved in certain foreign markets."
Smartphones distributor ECS ICT Bhd (fundamental: 2; valuation: 2.40), which generated 20% of its revenue from the mobility products segment in FY14, is unfazed by the slowdown in the first quarter and believes that smartphone shipments will continue to grow in Malaysia.
Its CEO Soong Jan Hsung says smartphone shipments might decline in some countries but IDC has estimated that in Malaysia, smartphone sales will grow by 8% to US$2.4 billion in 2015 versus US$2.2 billion last year. (Soong refers to the contraction in smartphone shipments in China, which saw a 4% year-on-year decline to 98.8 million units in 1Q15. Notably, it is the first time in six years that China's smartphone market has declined on a yearly basis, according to IDC.)
"The entry of new smartphone brands [into Malaysia] like Xiaomi [will] encourage more consumers to change or upgrade their smartphones," he says.
Additionally, Soong notes that there is a strong adoption of smartphones in the affordable price range, such as the Lenovo and Asus models. "Therefore, we are seeing an accelerated growth for the rest of the year."
In 1Q15, Lenovo ranked third in the top five smartphone buys, capturing a 5.6% market share with 18.8 million units shipped. Samsung remains the market leader with a 24.5% global market share or 82.4 million units shipped, followed by Apple with an 18.2% market share or 61.2 million units shipped, says IDC.
Hong Leong Investment Bank Research analyst Tan J Young expects moderate growth going forward, considering the bigger base and the maturing adoption rate. "Smartphone volume shipments will continue to rise, overtaking feature phones," he opines.
Tan also attributes the weaker figure in the first quarter to seasonal effects. "The fourth quarter is usually the strongest, boosted by holiday and year-end sales, while the first quarter is shorter due to the Chinese New Year holiday," he tells The Edge via email.
The decline in worldwide smartphone shipments in 1Q15 may not indicate a saturated smartphone market but an early sign of maturity in terms of global demand for the handheld device.
IDC said in a report in January that growth is forecast to decline to the mid-teens in 2015, but opportunity exists, as much of the world's population are either not wireless subscribers or have yet to move to using a smartphone.
In the same statement, IDC's mobile phone team research manager Ramon Llamas says the worldwide smartphone market grew 27.6% in 2014, but it was a significant slowdown compared with 2013. "In emerging markets, first-time buyers continue to provide a lot of market momentum, but the focus has shifted towards low-cost devices, creating a different dynamic for both global and local vendors," Llamas says.
This article first appeared in The Edge Malaysia Weekly, on May 18 - 24, 2015.