This article first appeared in The Edge Malaysia Weekly, on October 7, 2019 - October 13, 2019.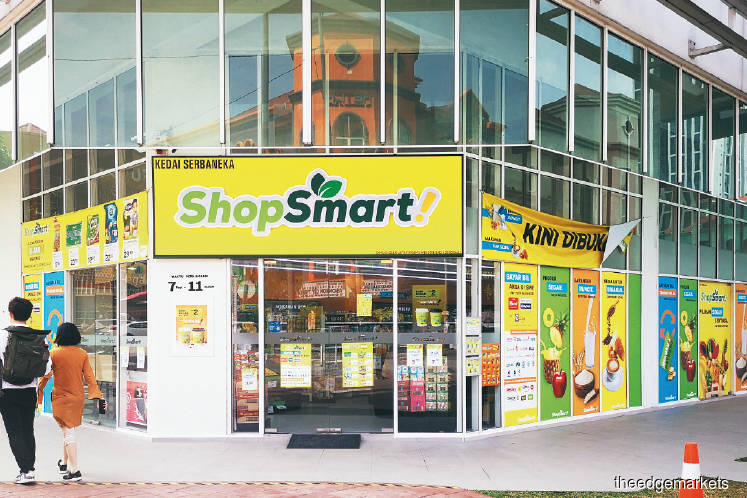 Jutaria Gemilang has been given the green light to open 500 stores from 2013 to 2028. Photo by Mohd Izwan Mohd Nazam/The Edge
HONG Kong-based Dairy Farm International Holdings Ltd (DFI), which has closed many of its Giant and Cold Storage hypermarkets and supermarkets in Malaysia due to the difficult operating environment, has been quietly opening convenience stores (c-stores) called ShopSmart.
The retailer has teamed up with Negeri Sembilan royalty-linked Syarikat Pesaka Antah Sdn Bhd — the pioneer that brought the world's largest c-store chain, 7-Eleven, to our shores — to help expand the ShopSmart chain.
The new partnership has obtained the government's approval to expand the business to 500 stores over 10 years. It opened the first store in Taman Melawati, Kuala Lumpur, in March and now has seven stores in the Klang Valley.
However, this is not DFI's first venture into the c-store segment. Its previous involvement in the segment was through G-Ekspres under a 30:70 partnership with businessman Tan Sri Mohamad Salim Fateh Din's private vehicle Gapurna Sdn Bhd.
These stores are operated by Jutaria Gemilang Sdn Bhd, in which DFI owns a 30% stake while Salim holds a 70% controlling stake. Founded in 2012, Jutaria Gemilang had planned to open 500 G-Ekspres stores by 2018 but unveiled fewer than 12.
Syarikat Pesaka Antah director Tunku Naquiyuddin Tuanku Ja'afar says the company is now in the midst of taking over Salim's stake in Jutaria Gemilang.
"I think it's a great opportunity to return to c-stores. We were previously involved in 7-Eleven," he tells The Edge.
Tunku Naquiyuddin says the investment is being made as he believes the smaller store format is the way forward as it is more flexible than that of bigger outlets. "There are fewer items and turnover is faster," he adds. According to him, ShopSmart is the only c-store that offers fresh food that came directly from the fresh distribution centre in a cool and fresh environment. It also has a coffee bar.
Though it is unclear if Syarikat Pesaka Antah plans to acquire more than the 70% stake in Jutaria Gemilang, it is worth noting that the former is already DFI's 30% bumiputera equity partner in the hypermarket and supermarket operator GCH Retail (M) Sdn Bhd, which runs the Giant, Cold Storage, Mercato and Jason's Food Hall stores.
Upon completion of the acquisition, the five existing G-Ekspres stores will be rebranded as ShopSmart.
When contacted, the Domestic Trade and Consumer Affairs Ministry tells The Edge that Jutaria Gemilang was given the green light to open 500 stores from 2013 to 2028.
"The ministry has acknowledged the rebranding, so the approval for Jutaria Gemilang is still valid. ShopSmart is a rebranding of the G-Ekspres stores where both are operated by Jutaria Gemilang whose majority shareholder [will be] Syarikat Pesaka Antah," it says.
Syarikat Pesaka Antah teamed up with Jardine Matheson Holdings Ltd through Antah Holdings Bhd to introduce the 24-hour 7-Eleven c-stores into the country. The first store opened in October 1984 in Jalan Bukit Bintang, KL. The chain was sold to business tycoon Tan Sri Vincent Tan's Berjaya Group after it had expanded to 150 stores.
Independent market research firm Euromonitor International says Malaysia's c-store industry saw a nearly 50% jump in sales to RM5.05 billion last year from RM3.37 billion in 2014. The retail value of the business is expected to hit RM5.4 billion this year and RM5.73 billion by 2020.
Based on the Domestic Trade and Consumer Affairs Ministry's guidelines for c-stores with foreign interest, the size of those such as ShopSmart is not allowed to exceed 1,500 sq ft, which is equivalent to a shoplot. The store can sell fast-moving consumer goods as well as fresh and perishable products, and refrigerated and frozen products manufactured in proper and systematic packaging. Fast-moving products include those that have a quick stock turnover rate, such as cigarettes, newspapers, magazines and bread.
On the number of ShopSmart stores targeted for opening, DFI's local entity GCH says, "Jutaria Gemilang continually strives to meet customer needs and will assess demand and investment in Malaysia."
It adds that thus far, it has received encouraging feedback. "While the ShopSmart stores are relatively new, we have received positive feedback so far from customers and the surrounding community. We will continue to assess consumer needs and demand to offer them the best shopping experience."
DFI is not the only foreign hypermarket that has ventured into the c-store business. The UK's Tesco PLC currently operates Tesco Express stores and is on the lookout for a local partner. The retailer has until March 31, 2020, to find one with a 70% stake in its c-store venture after Perbadanan Perwira Niaga Malaysia, a wholly-owned subsidiary of Lembaga Tabung Angkatan Tentera, pulled out of such a collaboration that had operated as Tesco Pernama Ekspres.
At its peak in 2014, GCH was operating 147 stores in Malaysia. Today, it has fewer than 100 outlets. Based on The Edge's tabulation last month, the number of store closures to date is at least 12.
GCH has reiterated that it is reorganising its business to better meet customer needs and to remain competitive. "The need to rebalance our offerings to keep pace with customer preference is in line with what other retail businesses are doing in the region. This will help us create more value for our customers and strengthen our food proposition going forward.
"We are continuing to open, develop and invest in our stores in Malaysia. In fact, we are refreshing Giant stores on a weekly basis. In recent months, we have relaunched 24 refreshed stores, which have been well received by our customers," it says.