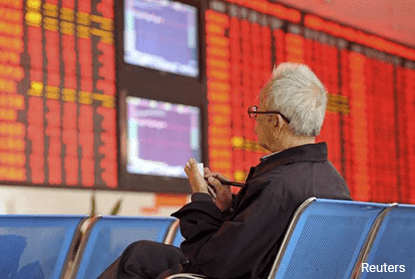 (March 9): Most Southeast Asian stock markets fell on Thursday, after a strong private payroll report from the United States made a rate hike by the Federal Reserve a near certainty.
U.S. private sector job growth recorded its biggest increase in more than a year in February, amid a surge in construction and factory hiring, suggesting the economy stays on solid ground.
"People are concerned that the Fed may be more hawkish than previously expected," said Liu Jinshu, director of research at NRA Securities.
"There are fears that not only will the Fed hike interest rates in March, but they may even hike the trajectory of rates."
Singapore shares fell nearly 1% to their lowest close since Feb 28, dragged down by financials. DBS Group, the city-state's largest bank by market capitalisation, closed at its lowest in over a week.
Thai shares trimmed early falls to close marginally lower, with energy and material stocks weighing on the index. Oil and gas supplier PTT Pcl fell 1%, while refiner Thai Oil Pcl closed 2% lower.
Oil prices rallied on Thursday, recovering ground after the biggest falls this year, but record U.S. crude inventories kept sentiment weak, pointing to a global glut despite supply cuts.
Malaysian shares closed 0.5% lower with financials being the main drag. Malayan Banking Bhd posted its biggest percentage loss since Jan 16, with a drop of 1.13%.
Philippine shares settled flat after rising 0.4% earlier, as gains in industrials and telecoms were offset by losses in consumer staple and real estate stocks.
Indonesia closed nearly unchanged, with the index of the 45 most liquid stocks reflecting the subdued sentiment in the market.
SOUTHEAST ASIAN STOCK MARKETS
Change on the day
| | | | |
| --- | --- | --- | --- |
| Market | Current | Previous Close | Pct Move |
| Singapore | 3118.84 | 3145.29 | -0.84 |
| Bangkok | 1549.24 | 1551.73 | -0.16 |
| Manila | 7295.45 | 7294.56 | 0.01 |
| Jakarta | 5402.386 | 5393.764 | 0.16 |
| Kuala Lumpur | 1717.42 | 1725.54  | -0.47 |
| Ho Chi Minh | 715.8 | 716.6 | -0.11 |
Change this year
| | | | |
| --- | --- | --- | --- |
| Market | Current | End 2016 | Pct Move |
| Singapore | 3118.84 | 2880.76 | 8.26 |
| Bangkok | 1549.24 | 1542.94 | 0.41 |
| Manila | 7295.45 | 6840.64 | 6.43 |
| Jakarta | 5402.386 | 5296.711 | 2.00 |
| Kuala Lumpur | 1717.42 | 1641.73 | 4.61 |
| Ho Chi Minh | 715.8 | 664.87 | 7.38 |