This article first appeared in The Edge Financial Daily, on July 5, 2019.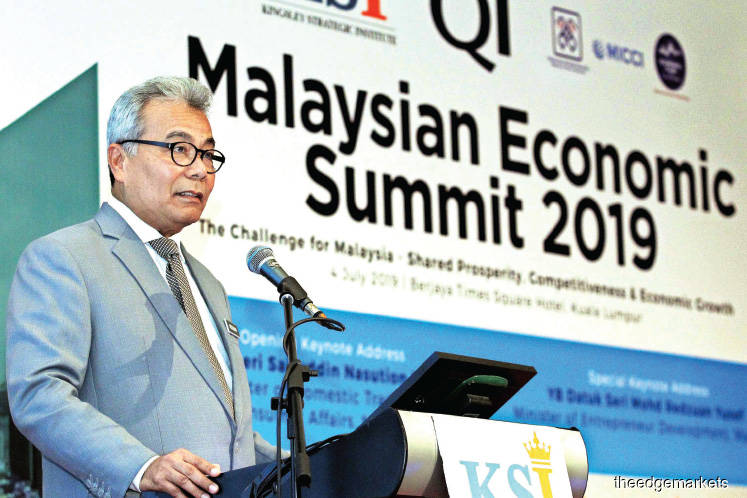 Mohd Redzuan: I'm not criticising my own government, but we need to work faster or else we will lose out. Photo by Kenny Yap
KUALA LUMPUR: Malaysian can benefit from greater participation of foreign investors but stands to lose out if the government is slow to react to their interests, said Entrepreneur Development Minister Datuk Seri Mohd Redzuan Md Yusof.
Mohd Redzuan cited an example of several foreign sovereign wealth funds that have expressed interest to invest in Malaysia's small and medium enterprise (SME) sector by jointly establishing a development investment fund for the purpose. But they have yet to get any response from the government.
"I have been approached by banks from Japan to put money into the country to help SMEs. But we have to go through the regulatory process that may take a bit of time," Mohd Redzuan said at the Malaysian Economic Summit 2019 held by the Kingsley Strategic Institute yesterday.
"When I spoke to the prime minister of Bahrain recently, their government expressed interest to come to Malaysia to participate in the halal industry. There are also sovereign wealth funds from Russia that want to help relocate SMEs from China to Malaysia," Mohd Redzuan added.
The minister said he had raised the matter of the government's slow response to investors in the cabinet and relevant government agencies to encourage swifter response.
"But there has been no answer from them (the agencies). I'm not criticising my own government, but we need to work faster or else we will lose out. Some investors are now shying away," Mohd Redzuan said.
He stressed that it would be a waste not to capitalise on these opportunities as Malaysia has a lot of talent and innovators who need funding to advance their projects.
"If there is a lack of local funds to develop SMEs, the government will then need to be creative in attracting foreign funds," he said.
Earlier, Mohd Redzuan said the government will launch the National Entrepreneurship Policy 2030 (NEP2030) on July 11, 2019. It is a long-term strategic plan to establish Malaysia as a fully fledged entrepreneurial nation by 2030.
With the NEP2030, Redzuan said he hopes to improve Malaysia's position in the Global Entrepreneurship and Development Index (GEDI) to 25th place by 2030, from 58th currently.
Separately, in a panel discussion at the summit, Malaysia External Trade Development Corp (Matrade) chief executive officer Datuk Wan Latiff Wan Musa said the agency is working on increasing SMEs' contribution to the country's exports.
SMEs, he said, currently contribute a very small amount of exports.
"Close to 90% of the 23,000 companies registered with Matrade are SMEs. However, many of them are still involved in low-tech [industries], as opposed to high-tech [industries] like electrical and electronics, which contribute [the] bulk of total exports.
"So we are working on more programmes to assist them by addressing different segments such as state, youth and even women participation," he said.
On Malaysia's export growth this year, Wan Latiff said he is positive it will continue to show upward momentum for the rest of 2019, despite continued trade tensions.
The Department of Statistics said yesterday Malaysian exports grew 2.5% to RM84.1 billion in May from a year earlier, on higher sales of palm oil and timber-based products, besides electrical and electronic items and natural rubber.