This article first appeared in City & Country, The Edge Malaysia Weekly, on October 18, 2021 - October 24, 2021.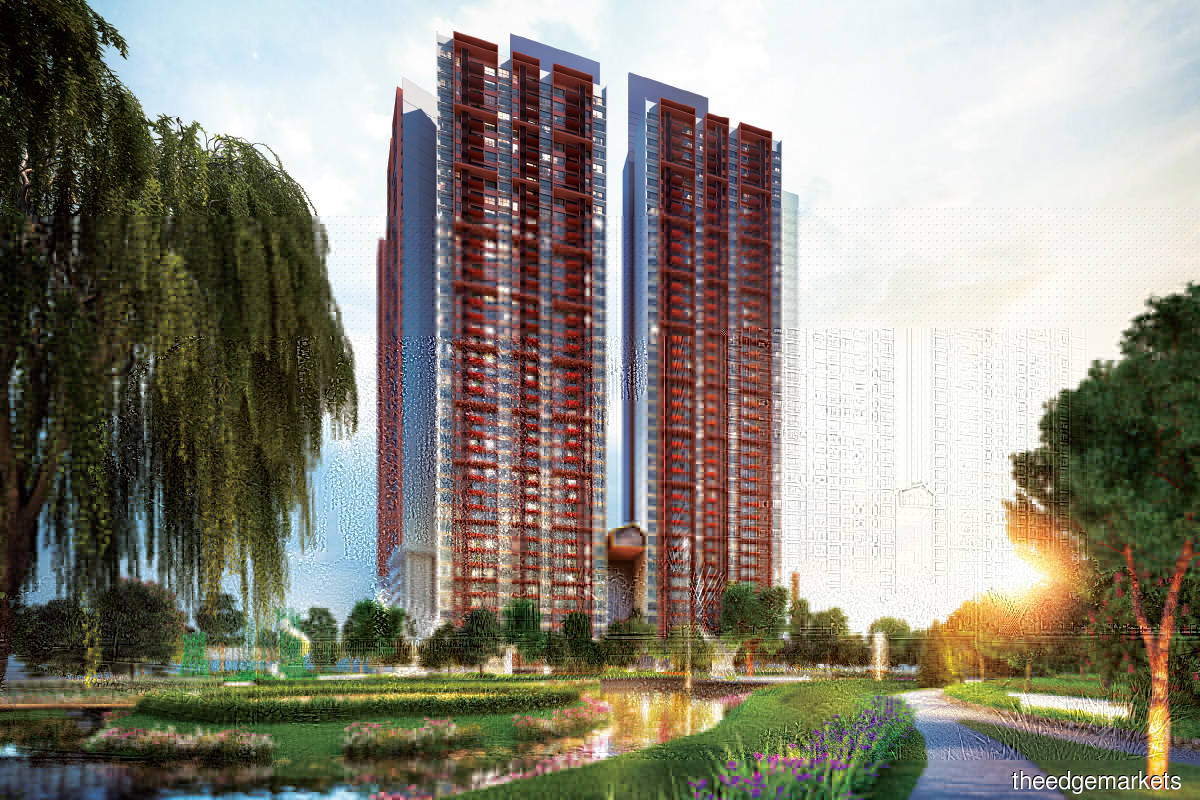 SkyWorld Development Sdn Bhd is looking to unveil SkySanctuary in Setapak by next month, according to its deputy CEO Lee Chee Seng.
He tells City & Country in a recent virtual interview that the 40-acre development, which he says will be the developer's second "township" after the 28-acre SkyArena, will have five residential and two commercial parcels. The RM3.5 billion development also marks SkyWorld's maiden foray into the property investment segment as it intends to keep and manage the commercial units there.
As the project's focus is on outdoor space and sustainability, Lee explains that the residential and commercial properties will be built around a three-acre private park in the centre. SkySanctuary is located a stone's throw from the Royal Selangor Visitor Centre in Setapak.
"It is not easy to get 40 acres of land in KL and that's why we can have a park in it. The concept of the master plan is that it is a secret garden in KL and the first nature-inspired township in Setapak. It allows the owners to have a home amid lush greenery while enjoying urban conveniences.
"The private park consists of four sections, with a total of 24 facilities such as a Swan Deck, Qi Deck, fountain, outdoor gymnasium and jogging trail. Of the five residential parcels, four will be high-rise residential properties, while the fifth one will be low-rise residential properties with villas."
Each parcel will measure three to five acres. The residential units will be complemented by the commercial space.
EdgeWood Residences
To be unveiled next month is Phase 1, comprising the 3.79-acre EdgeWood Residences, which will have 960 units in two 42-storey blocks. They have been open for preview since May and have garnered 9,300 registrations so far. The gross development value (GDV) is RM508 million.
The units come in three layouts, and range in size from 865 to 1,280 sq ft. They are priced indicatively from RM440,000 to RM703,000. The target market is upgraders and graduates from nearby institutions, as well as those moving from other states to Kuala Lumpur, aged 25 to 50 years old.
The units are designed to be wide and shallow, and each comes with a balcony to improve the indoor environmental quality by enabling better air ventilation and providing sufficient sunlight, Lee explains. He adds that the design also allows the units to receive more natural light.
The facilities at EdgeWood Residence include an infinity pool, electric vehicle charging bays, children's pool, sauna, canopy walk, playground, children's playroom, mini cinema, barbecue area, co-sharing spaces, garden lobby lounge, gymnasium and gourmet kitchen. The development is scheduled for completion by 2Q2025.
Lee notes that the private park provides an ideal outdoor space for the residents, especially in the post-pandemic era where the focus is on community and sustainability.
"Not many developments on the outskirts of KL have an outdoor space like this. The facilities provided are also good to have in the post-pandemic era. For example, the cinema allows residents to enjoy movies with only friends and family. There is also a co-sharing space at the facilities podium, which helps residents to [escape] distractions at home. 
"We also offer parcel lockers, which allow residents to schedule and receive their online purchases [in a secure manner] and with less hassle as they can collect their goods at their convenience. There is also a delivery lobby, a dedicated parking area for food delivery personnel to wait for the food to be picked up."
Other innovative features in SkySanctuary include a seamless mobile access system, digital locksets and an automated waste collection system, Lee adds. There is also a speed ramp that allows residents to access their car park floors directly.
EdgeWood Residences is compliant with Qlassic (Quality Assessment System in Construction), and is certified by the Green Building Index and GreenRE.
Even though SkySanctuary is located close to SkyArena, Lee says the two developments have distinct concepts. SkyArena focuses on healthy living with sports-related offerings while SkySanctuary emphasises more on family living.
"The sizes at EdgeWood Residences are suitable for young professionals and small families. They are also good for investors and parents buying for children studying at institutions nearby, instead of paying rent, and their children can live there upon graduation as this development is near KL city centre."
Property investment
Meanwhile, Lee notes that the two component parcels will cover 4.6 acres and 2.5 acres.
"We plan to build a marketplace like Victoria Market in Melbourne and we intend to keep this commercial. It is also our first property investment. We are not a mall player so we want to start small, and a marketplace is just nice for us to manage and learn about property management.
"Moving forward, we plan to build on property investment. The first commercial parcel in SkySanctuary is in the planning stage and we hope to complete it at the same time as EdgeWood Residences because we want to give buyers convenience as well," he adds.
The entire SkySanctuary development will be completed in eight years, Lee says.
During the development of SkySanctuary, SkyWorld faced challenges such as the restrictions during lockdown, which did not allow construction sites and sales galleries to operate, slowing down construction progress and sales.
Other issues included a longer approval period for housing loans and financing, a higher Building Material Cost Index as well as disruptions to the supply chain.
FY2021 and beyond
For its financial year ended March 31, 2021 (FY2021), SkyWorld achieved sales of RM1 billion. According to Lee, the target for FY2022 is RM1.3 billion, of which it has achieved RM600 million to date.
"We are positive despite the current situation as people still have money, unlike during previous financial crises. They are more selective, but if the product, price and location are right, they will buy it."
SkyWorld plans to hit its sales goal by launching several new projects with a total GDV of RM2 billion. They include Curvo Residences @ SkyArena, SkyAwani 6 Residences, SkyRia by the Hills @ Desa Melawati, SkyAmanyi Residences @ Desa Aman and The Vesta Residences @ SkySierra.
"Overall, 2021 has been a steady year for SkyWorld. We saw this pandemic as an opportunity for us to strengthen our processes, accelerate our digitalisation process, invest in R&D and to relook our products and their built environment for post-pandemic future homes.
"We also increased our land bank by acquiring a few parcels of land in strategic locations like Desa Melawati, Desa Aman and Salak South. We are aggressive in acquiring land because we think this is the right time to do so. Our land bank is only in KL because we just want to focus on just one location."