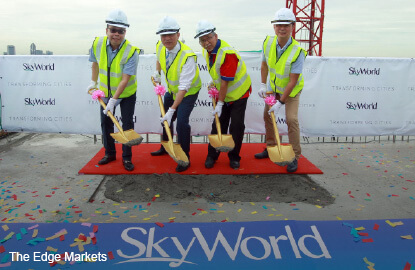 This article first appeared in
The Edge Financial Daily
, on October 25, 2016.
KUALA LUMPUR: SkyWorld Development Bhd, the developer behind the mega 28-acre (11.33ha) SkyArena mixed development in Setapak here, is unfazed by the softening property market and has several projects worth RM900 million in gross development value (GDV) to be launched towards the end of this year.
Though SkyWorld founder and group managing director Datuk Ng Thien Phing acknowledged that the property market will "still be challenging" next year, he said the group remains confident of its upcoming launches as its past projects have all achieved strong take-up rates.
He cited the Ascenda SkyArena residential project in Setapak, which recorded a 95% take-up rate, and the Bennington Residence Phase 1, also in the same vicinity and has a 90% take-up rate, as examples.
"So [just to name a few], we will be launching Bennington Residence Phase 2 [within the SkyArena development in Setapak] on Nov 5 this year, and SkyLuxe in Bukit Jalil in the coming months.
"On top of that, we still have 100 acres of land located across the Klang Valley to be developed. These lands could potentially generate up to RM10 billion in GDV," said Ng, adding that this would keep the group busy for the next few years.
He was speaking to reporters after the topping-off ceremony of the Ascenda SkyArena project here yesterday.
Ng said the group is also committed to building affordable homes to address the house ownership problem faced by first-time homebuyers.
The group is now building 2,000 units of affordable housing within its SkyAwani mixed development in Sentul here, he shared.
"We have launched 1,262 units of affordable housing earlier and it has been fully taken up," said Ng, adding that the remaining 708 units will be introduced under the second phase of the SkyAwani development.
He said the group plans to build another 4,000 units of affordable housing within the Klang Valley, though the location for the units has yet to be determined.
Hence, he urged the government to extend the new end-financing scheme for the 1Malaysia People's Housing programme, under PR1MA Corp Malaysia, to include other affordable housing projects tied with the local and/or state governments.
In Budget 2017 tabled last Friday, Prime Minister Datuk Seri Najib Razak said house buyers could get loans of up to 90% and 100%, with loan rejection rates to be reduced drastically.
"These projects (affordable housing introduced by local or state governments) are also affordable housing projects by the governments," Ng said, adding that the relevant ministry could work together with banks to formulate a solution.
The scheme is a collaboration among the government, Bank Negara Malaysia, Employees Provident Fund and four local banks, namely Malayan Banking Bhd, CIMB Group Holdings Bhd, RHB Bank Bhd and AMMB Holdings Bhd.
On a separate note, Ng said SkyWorld will only seriously look into floating its shares in the equities market in the next two or three years.
"We are considering an initial public offering, but [it will not happen] in the immediate term," he said, citing the current deterioting economic situation.
According to him, the group should be fulfilling the earnings requirement for a listing soon, which is a minimum three consecutive years of profit.
It achieved a net profit of RM8.12 million in the financial year ended March 31, 2015 (FY15), and RM11.8 million in FY16. "We project our bottom line to grow to RM40 million in FY17," he said.
Also present at the ceremony were Setiawangsa member of parliament Datuk Ahmad Fauzi Zahari, Kuala Lumpur City Hall executive director for planning Datuk Mohd Najib Mohd and SkyWorld deputy group managing director Lam Soo Keong.
Ahmad Fauzi said road infrastructure in the area will be upgraded soon, with a flyover to be built to connect Jalan Genting Klang to Jalan Ayer Jerneh to improve traffic flow.
"Apart from that, SkyWorld, under its corporate social responsibility programme, will be allocating RM30 million to widen Jalan Ayer Jerneh to 100 feet (30.48m)," he added.
Ascenda SkyArena, the first residential segment of SkyArena, comprises 650 units spread across 3.35 acres. Under the mega development, there will also be a 9.4-acre SkyArena sports complex featuring state-of-the-art facilities, an Olympic-sized swimming pool, a diving pool and tennis courts.