This article first appeared in City & Country, The Edge Malaysia Weekly, on January 13, 2020 - January 19, 2020.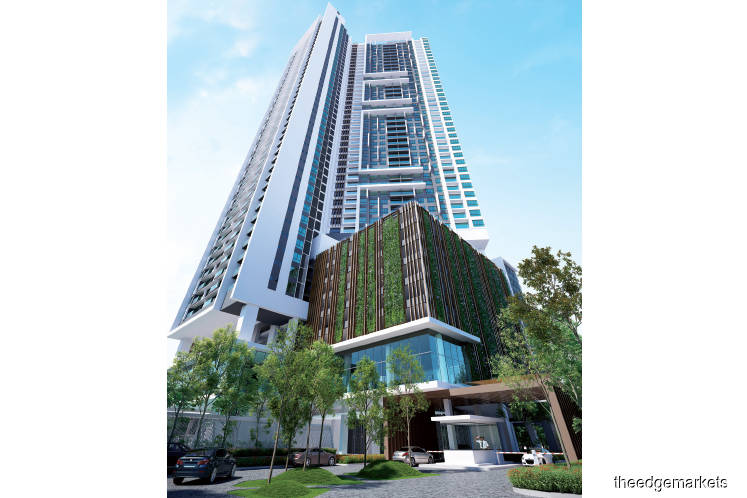 SkySierra is a mixed-use development in Setiawangsa
Photo by SkyWorld Development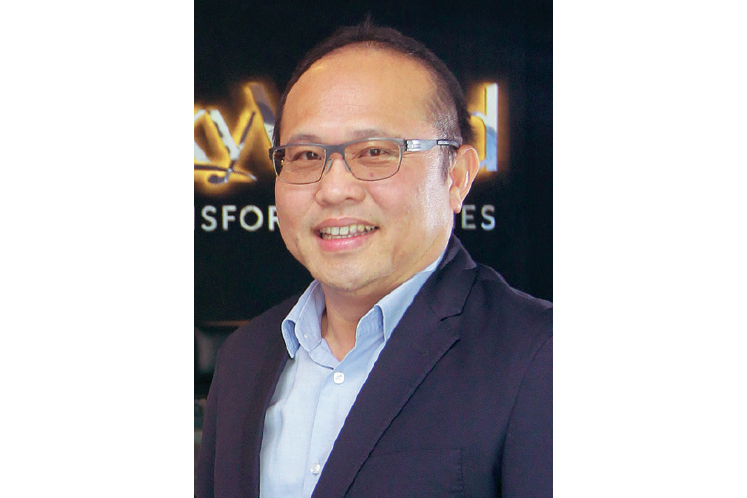 Lee: When we design our products, our thought is that it is mainly for the locals
Photo by Haris Hassan/The Edge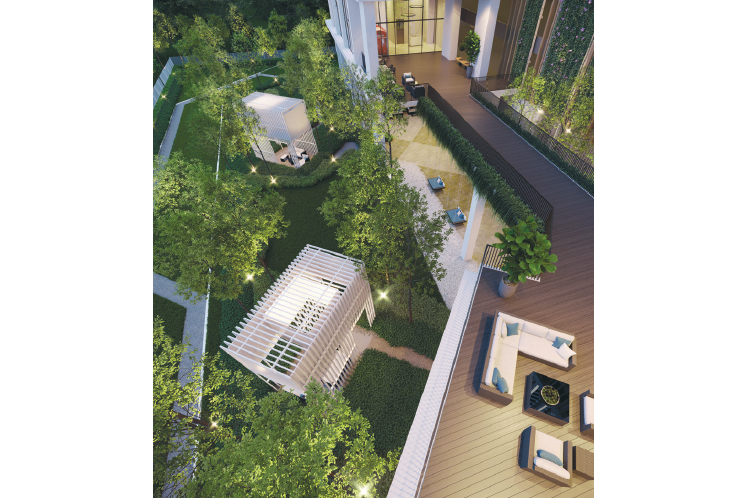 Canopy walk on Level 1
Photo by SkyWorld Development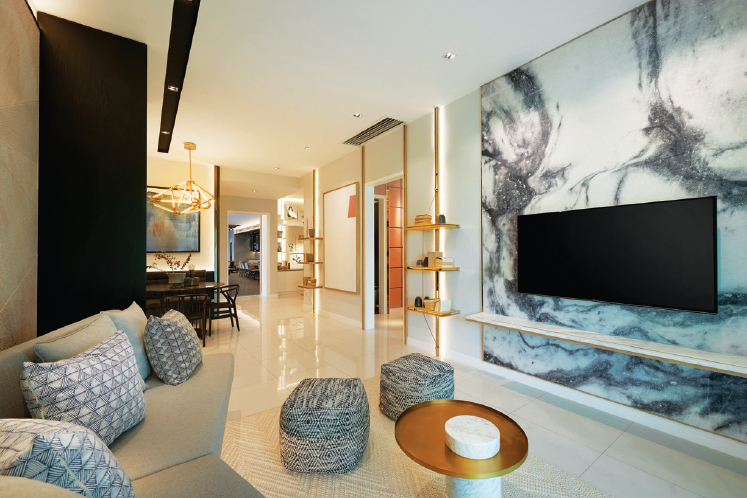 Artist's impression of a typical living room
Photo by SkyWorld Development
SkySierra, an upcoming mixed-use development in Setiawangsa, will be SkyWorld Development Sdn Bhd's first launch in 2020.
Occupying a 13-acre leasehold parcel, SkySierra will have two phases. SkyWorld will be launching Phase 1 — The Valley Residences — in the first quarter. Phase 2 will be a commercial component that is still being planned.
The Valley Residences will sit on a 4.66-acre plot and the gross development value (GDV) is about RM700 million. According to executive director and chief operating officer Lee Chee Seng, The Valley Residences will be a condominium development.
"We divided the [13-acre] parcel into two and the plot that The Valley Residences will occupy has a residential title. The other plot is under a commercial title. We believe that people still want to go home to a peaceful and relaxing place. Thus, we will not put any commercial component at the podium of The Valley Residences," he says.
The condominium will comprise three towers with a total of 1,309 units. Lee says Towers A (460 units) and B (360 units) will be launched first. Tower C (489 units), which will have a view of the city centre, will be launched eight to nine months after Towers A and B.
The units will have a built-up of 800 to 1,319 sq ft and offer four types of layout. Selling prices start from RM421,000 and the maintenance fee, including sinking fund, is about 35 sen psf.
SkyWorld will provide a wide range of facilities, and a unique feature, says Lee, is the Olympic-sized swimming pool, which will be on the ground floor instead of at the podium. "Not many developers will do this because you will need to carve out a bigger land size," he says.
The facilities, which include a Savoury Garden, power MMA gym, crossfit gym, rock climbing, barbecue corner, sky theatre and sky Jacuzzi, will be spread out on five levels — ground floor; Levels 1, 9 and 43A of Tower B; and Level 49 of Tower A.
"Community living is about a space where people can gather with family and friends and have a chat. So, we try to create spots for people to walk around and relax, and have parties and gatherings. A lot of facilities are created to enhance community living in our development," Lee explains.
Each unit will be allocated two to three parking bays, depending on the built-up area.
For families and the young
SkyWorld is targeting people with small to me­dium-sized families, upgraders, investors and newlyweds. "But the main target group will be the newlyweds and families," says Lee, adding that the majority of unit types are Types B (1,018 sq ft) and C (1,118 sq ft), which will be comfortable for newlyweds and families.
Type B will be dual-key units with two bedrooms, one bathroom and a studio; Type C will be single-key units with three bedrooms, three bathrooms and a study room.
Lee says Type A (800 sq ft) units, with three bedrooms and two bathrooms, will occupy 8% to 10% of the entire development and are more for young people who want to invest in and buy their first home.
The remaining 10% will be Type D (1,318 sq ft) dual-key units with three bedrooms, two bathrooms and a studio, and cater more for upgraders.
The development will have wheelchair-friendly ramps so that wheelchair-bound residents will be able to enjoy the facilities.
Meanwhile, Phase 2, which is the commercial component, will comprise a retail mall, corporate office and serviced apartments and is slated to be launched either at the end of next year or in early 2022.
The retail mall will complement AEON AU2
Setiawangsa, which is adjacent to the development, he says. Phase 2 will also provide for the lack of corporate offices in the vicinity, says Lee.
Lee says SkyWorld will sell its commercial developments, as it is focused on developing rather than managing properties.
SkySierra is surrounded by amenities such as shopping malls and hypermarkets (Giant Supermarket Setiawangsa), hospitals (Gleneagles Kuala Lumpur), schools (SK Setiawangsa and Fairview International School), parks (Taman Task Datuk Keramat) and light rail transit stations (LRT Setiawangsa).
The development is accessible via Duta-Ulu Kelang Expressway, Middle Ring Road 2, Ampang-Kuala Lumpur Elevated Highway and the upcoming Setiawangsa-Pantai Expressway. The city centre is about 5km away.
Plans for 2020
SkyWorld will be handing over two projects this year — SkyLuxe in Bukit Jalil and SkyAwani 2 in Sentul. Its ongoing projects are SkyAwani 3 and 4, SkyMeridien and a sports complex in Setapak.
This year, the developer has lined up projects such as SkyVogue in Taman Desa, SkyAwani 5 in Sentul and SkySanctuary in Setapak. Currently, Lee says, it has 110 acres of undeveloped land in Kuala Lumpur and the potential GDV is RM11 billion.
"This will sustain us for the next eight years. We don't require any landbank now, but we are still aggressive in acquiring," he adds.
SkyWorld continues to be a developer of high-rises in Kuala Lumpur. "We have to be focused. When you continue to focus on something, you become a specialist in it. When you are not focused, it means you are a generalist. We want to be a specialist instead of a generalist," Lee explains.
The company focuses on selling to locals rather than foreigners, as demand still comes from the former.
"When we design our products, our thought is that it is mainly for the locals. It is not easy to build something and attract the locals to buy, as they are more familiar than you are [with the area]. But I think this is the path to success," Lee says.
For this year, Lee discloses, SkyWorld is looking to expand overseas, particularly in Vietnam, the Philippines, Indonesia, Singapore and Australia.
"These countries have a lot of young people and they like to invest in properties these days. So, we believe we should go to these countries," he explains.
The company is in discussions to close land deals and will announce them this year.
Lee says the local property market is now soft because of stringent bank loan requirements and the political sentiment, which result in buyers' wait-and-see attitude.
"But I find that the market is good. A lot of developers are slowing down, but it is an opportunity for other developers. When a lot of people sit down but you are the one standing, then people will see you," he adds.
SkyWorld will be more cautious with its cash flow and strive to keep its team lean by consolidating its talents.
Becoming a listed company, he says, is not a priority now. "To us, it doesn't matter whether we are a listed company. The handover of a project will show whether we have the ability to deliver a good-quality product."
SkyWorld has a RM1.2 billion sales target this year. "We set a target to sell one project within 18 months of its launch date. So far, the response has been good," Lee says.
"When a product and its pricing are right, it will still sell no matter how bad the market is. This is the principle that we hold and we are confident in what we do."