This article first appeared in The Edge Financial Daily, on March 25, 2020.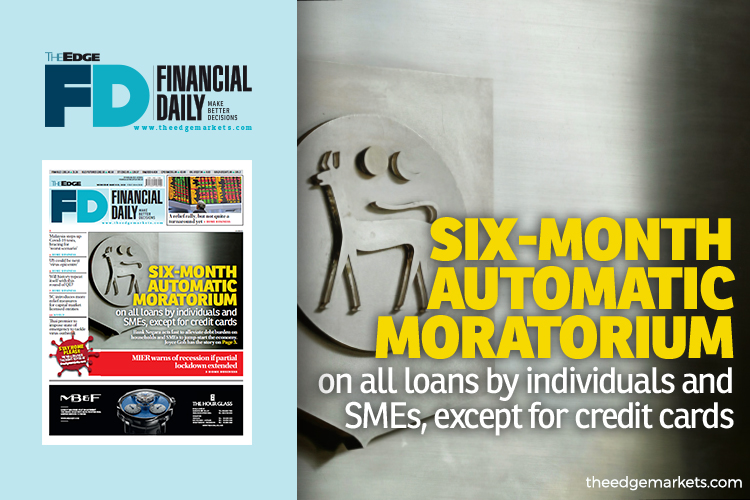 KUALA LUMPUR: An automatic moratorium on loan repayments will be granted to small and medium enterprises (SMEs) and individuals — an additional measure by Bank Negara Malaysia (BNM) to relieve the burden on businesses and households expected to be affected by the Covid-19 outbreak.
The central bank has written to commercial banks to inform them of the new measure lasting six months. However, loan and interest repayments accrued during the six months will not be waived.
In a document sighted by The Edge, BNM wrote that to ease SMEs and individuals' cash flows in the current difficult period, banks shall grant an automatic moratorium on all loans, financing repayments or payments, the principal and interest — except for credit card balances — to individuals and SME borrowers or customers for six months starting April 1.
The automatic moratorium is applicable to loans or financing not in arrears exceeding 90 days as at April 1, and denominated in ringgit, the central bank noted.
"Banking institutions should provide individuals and SMEs with adequate information on how suspended loans or repayments will be treated during the moratorium period and options for borrowers or customers to resume repayments or payments after the moratorium period, particularly if they anticipate that they may still face some difficulties meeting scheduled repayments or payments," BNM said in the letter.
A senior executive of a bank said this is a "terrific measure as the economy is stalled and it is necessary to pause consumers and SMEs' obligations".
"It is really impractical and terribly hard on banks' resources to try and deal with it one case at a time, while so many people and businesses are seeing their cash flow affected," he said.
"It also gives us [some] time to deal with payment obligations that will kick in six months later, when hopefully the economy will start to normalise by then.
"It alleviates a good deal of anxiety of fighting the virus on the health and economic fronts simultaneously, and helps us focus on the health of the population. A bold and brilliant move in my view," the senior executive explained.
Another banking executive commented that the latest guideline issued by BNM yesterday is "a balanced measure", although banks will have more work operationally.
BNM noted that banks are expected to facilitate the resumption of repayments or payments after the moratorium period.
This includes offering suitable workout plans to repay or pay the principal and interest accrued during the moratorium period factoring in borrowers or customers' repayment or payment capacities, ultimately allowing borrowers or customers to fully settle loans or financing.
"This is not an 'interest holiday'. This just gives borrowers more time to repay and prevent them from becoming bankrupt," said a senior analyst.
As for outstanding credit card balances, BNM noted banking institutions shall offer customers the option to convert their credit card balances into a term loan or financing of a tenure not more than three years and an effective interest or profit rate not more than 13% per annum.
Meanwhile, BNM highlighted to banks that the net stable funding ratio (NSFR) requirement implementation shall continue to be effective on July 1, 2020. However, the minimum NSFR requirement will be lowered to 80%.
"Banking institutions shall maintain a minimum NSFR requirement of 100% from September 2021," the central bank said.
The lower requirement eases pressure on banks to fulfil the liquidity requirement, according to a banking analyst.
"This addresses a possible squeeze on liquidity as such that funding cost is not under pressure. Bank Negara offering to provide liquidity, lowering the NSFR to 80% from 100% and the flexibility to operate below an LCR (liquidity coverage ratio) of 100% are measures to ease liquidity requirements and avoid excessive deposit competition," he said.