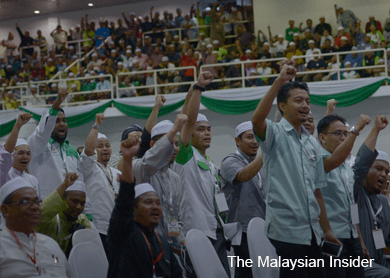 KUALA LUMPUR: The PAS general assembly this month wiped out the so-called "professionals" faction as the "ulama" made a clean sweep of leadership positions, in what was the Islamist party's most controversial elections.
The elections were held amid internal strife due to differences over president Datuk Seri Abdul Hadi Awang's leadership and the direction of PAS in balancing its Islamist agenda with political pragmatism.
Pro-ulama leaders were also elected to almost all positions in the central working committee (CWC), youth and women wings.
Most of the CWC members are new faces.
Datuk Takiyuddin Hassan, secretary-general
Takiyuddin was Abdul Hadi's choice for the secretary-general's post back in 2013, but was passed over in favour of Datuk Mustafa Ali, and appointed as assistant to Mustafa.
As secretary-general, Takiyuddin now serves as the president's right hand. He had assisted Abdul Hadi in filing the private member's bill to amend the Syariah Courts Act 1965 in the Dewan Rakyat this year, as part of efforts to enforce hudud in Kelantan.
Takiyuddin, a former Kelantan executive council member, is the Kota Baru Member of Parliament (MP), and Bunut state assemblyman, and is also active in the Football Association of Malaysia.
Nasrudin Hassan, information chief
The Temerloh MP is also known as Nasrudin al-Tantawi, after Tanta in Egypt, where he studied.
The former PAS Youth chief is an influential leader in the party's young ulama movement. Besides sitting on the CWC, he is also a member of the Dewan Ulama, which plays an important role in guiding the party's policies and direction.
Originally from Besut in Terengganu, Nasrudin was raised on a Felda scheme in Pahang. He graduated from the renowned Al-Azhar University in Egypt and has been active in PAS since his return.
Dr Mohd Zuhdi Marzuki, strategist
Mohd Zuhdi is slated to replace Dr Dzulkefly Ahmad as head of the party's research unit. He was formerly the unit's operations director.
He courted controversy in 2013 when a leaked WhatsApp discussion thread showed him justifying PAS cooperating with Umno in Selangor. After the incident, he sided openly with the pro-ulama faction in PAS and defended Abdul Hadi's decisions.
Zaharuddin Mohamad, economics expert
Zaharuddin, Abdul Hadi's son-in-law, is expected to take over from Dzulkefly and vice-president Datuk Husam Musa in crafting the party's economic policies.
He is head of the religious affairs department for Kumpulan Perangsang Selangor Bhd, a Selangor government-linked company listed on Bursa Malaysia.
Besides being a CWC member, he is also a member of the powerful senior ulama body, the Shura Council.
Mokhtar Senik, psychological warfare expert
Mokhtar is among the leaders of the campaign to oust CWC leaders who had disagreed with Abdul Hadi in the run-up to the party elections.
He made extensive use of social media to run down "progressive" leaders and rivals of the pro-ulama and pro-Hadi faction.
Mokhtar, who runs the An Nur seminary in Kuantan, was once detained in relation to the Al-Ma'unah militant group which in 2000 raided an army camp in Sauk, Perak.
Norazli Musa, Geng Ustaz president
PAS draws much of its strength from educators, called ustaz and ustazah, in the country's religious institutions and mosques. In the past few years, some of them banded together to form Geng Ustaz, headed by Norazli, the Perak ulama wing's information chief.
Norazli is nicknamed "Ustaz Taliban", most probably because of his turban and long beard, which characterise the Afghan movement. — The Malaysian Insider
This article first appeared in The Edge Financial Daily, on June 16, 2015.