This article first appeared in The Edge Financial Daily, on July 29, 2019.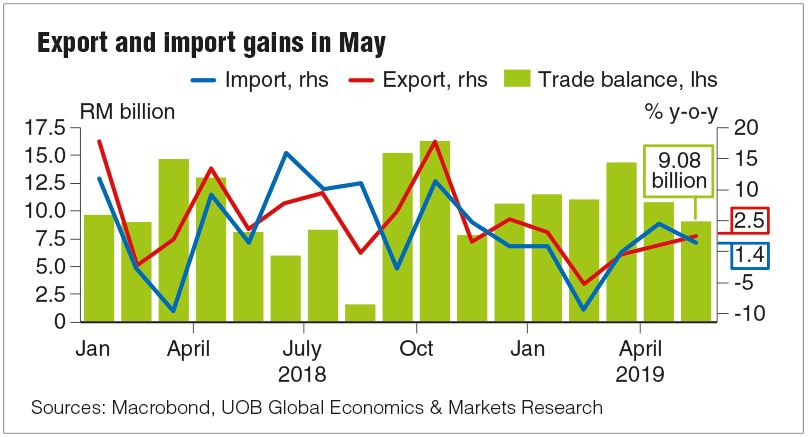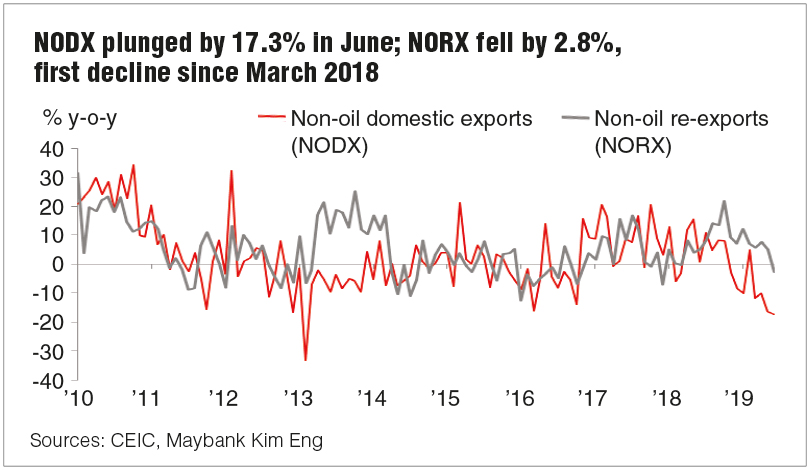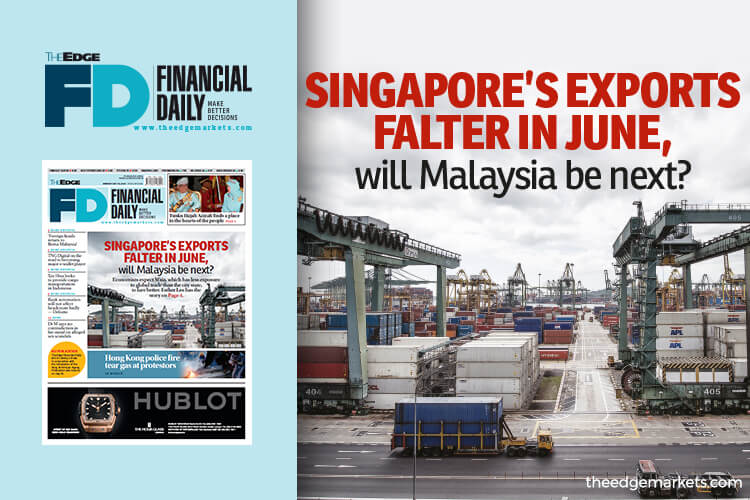 KUALA LUMPUR: The plunge in regional bellwether Singapore's non-oil domestic exports by 17.3% year-on-year (y-o-y) in June, weighed down by both electronic and non-electronic products as the US-China trade war continued, was a negative surprise. Malaysia, which is less reliant on exports than Singapore, is expected to fare better.
Many economists have a pessimistic view on the city state's growth and export outlook as the trade war has expanded into a technology war. Both economic superpowers have yet to come to a consensus on trade issues.
After US-China trade talks broke down in May, both countries will once again come to the table to resume face-to-face talks this week, with US Trade Representative Robert Lighthizer set to lead a team to Shanghai.
Economists opined that the decline in Singapore's non-oil domestic export numbers will persist throughout the second half of the year.
What is worse is that many have talked about Singapore falling into a technical recession in the third quarter of 2019 (3Q19). This followed an annualised 3.4% quarter-on-quarter contraction in real gross domestic product (GDP) in 2Q19.
As Singapore serves as a transhipment hub for this region, its dismal export numbers for June have caused many to wonder whether Malaysia would also face a similar fate when June export numbers are released this Friday.
Fortunately for Malaysia, the economy's exposure to global trade is less than Singapore. While there is no doubt that a prolonged US-China trade war will affect growth globally, economists believe Malaysia would be less affected than Singapore.
"The protracted trade tensions will continue to pose a material risk to trade and investment through denting business and financial market sentiments, slowing investment and growth. Any country's external trade sector will be affected via the disrupted global supply chains though the magnitude of impact would depend on the degree of trade openness, product and market diversification.
"In this case, Malaysia's trade openness is smaller compared to that of Singapore and if trade tensions morph into technological disruption, Singapore's technology-related exports will be more affected than that of Malaysia. In addition, Malaysia has commodities, crude oil and liquefied natural gas to buffer albeit at moderate prices," said Socio Economic Research Centre (SERC) executive director Lee Heng Guie.
Singapore is one of the most export-reliant countries in the world. Its trade as a percentage of GDP stood at 326% in 2018, according to World Bank data. This compared with Malaysia's 132% for the same period.
That said, it is also worth noting that the long-term correlation between Singapore and Malaysia's GDP is high, hence stoking concern that a potential slowdown in the city state's economy could also affect Malaysia.
Maybank Investment Bank Research chief economist Suhaimi Iilas notes that the Singapore and Malaysia GDP correlation coefficient stood at 0.7, over the period of 1Q01 to 1Q19.
"But a diversified economy should mitigate the impact to Malaysia's economic growth from current trade-centric risk. I am not referring to diversified exports but a diversified economy where for example, Malaysia's agriculture and mining sectors (non-existent in the Singapore economy) which account for 15% of the economy. These sectors are rebounding this year with recovery in crude palm oil (CPO) output and normalisation in natural gas production. This comes after the two sectors contributed slightly over 60% of last year's one percentage point drop in GDP growth to 4.7% from 5.7% in 2017," explained Suhaimi.
So far, Malaysian export growth has expanded for two consecutive months in April and May at 1.1% and 2.5% year-on-year respectively, although the readings were below expectations. Nevertheless, United Overseas Bank (M) Bhd economist Julia Goh noted that there are pockets of opportunities amid the diversion of trade.
"Malaysia has seen further interest and enquiries from foreign investors as the trade conflict and tariff risks have become a new normal," she said.
According to Suhaimi, between January and April 2019, US and Chinese imports from Malaysia of products subjected to the tit-for-tat tariffs by both countries totalled US$20 billion, increasing 2.3% compared to the same period last year.
"It appears sustainable as approved manufacturing foreign direct investment (FDI) surged in 2018 (+169.3% to RM58 billion) and 1Q19 (127% to RM20.2 billion) dominated by approvals from the US (2018: RM3.2 billion; 1Q19: RM11.5 billion) and China (2018: RM19.7 billion; 1Q19: RM3.3 billion) led to queries on beneficiary industries, namely electronics, solar, petrochemicals and paper products. FDI is a long-term decision," he said in an emailed response to The Edge Financial Daily.
Trade diversion aside, Goh remains cautious about trade going forward and the potential negative implications to the rest of the economy given the signs of weakening export performance in the region.
She highlighted that the most recent manufacturing Purchasing Managers' Index signalled deteriorating manufacturing sentiment in a number of Asian economies, including Malaysia.
Goh has slashed her 2019 full-year export growth forecast to 1% to 1.5% from 4% to 5% previously.
SERC's Lim is also cautious about the Malaysian export outlook.
"In the second half, a lot hinges on the US-China trade deal that is proving to be elusive so far. With trade tension escalating to the next level of more and higher tariffs, it could further dent business and financial market sentiment, thus slowing investment and trade.
"Other key dampening forces on exports are slowing global demand, weak global semiconductor sales and weak commodity prices," he added.
On a full-year basis, Lee expects export growth to come in between 0.5% and 1% from an earlier forecast of 3.3%. For June, he expects exports to continue to grow at 1% y-o-y.
Economists expect exports to expand by 1.9%, according to a Bloomberg survey.