This article first appeared in The Edge Malaysia Weekly, on November 18, 2019 - November 24, 2019.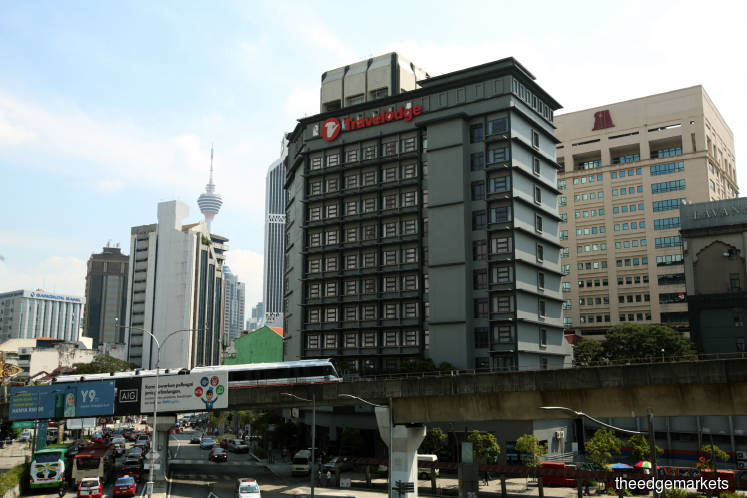 Travelodge City Centre's sale is part of ICP's strategy to become asset-light. Photo by Sam Fong/The Edge
CATALIST-listed Singapore company ICP Ltd has put Travelodge City Centre, located near Central Market in Kuala Lumpur, up for sale as part of a strategy to become asset-light. The property is ICP's sole hotel asset in Malaysia and was rebranded a Travelodge in November last year.
Formerly known as Hotel Geo Kuala Lumpur, the property was purchased for RM85.5 million from Geo Metal Sdn Bhd in September 2017. It was then upgraded to the standards of the Travelodge brand.
An information brochure on the sale of the asset sent to potential purchasers states that real estate agency Knight Frank is the exclusive marketing agent.
ICP did not respond to enquiries from The Edge about the planned sale and Knight Frank declined to comment.
According to ICP's annual report for its financial year ended June 30, 2019 (FY2019), released on Oct 10, the group is adopting an asset-light strategy to expand its hotel business under the Travelodge brand.
"Save for the investment in Travelodge Central Market, the group's focus is on third-party hotel management and there are no plans currently to enter capital-intensive acquisitions," non-executive chairman Aw Cheok Huat says in the annual report. He retired from his post on Oct 29.
A source tells The Edge that the sale forms part of ICP's exit strategy following its aggressive investments over the past few years and a means to raise funds.
The brochure describes the property in Jalan Hang Kasturi as a freehold, international branded, select-service mid-scale hotel with 199 rooms, 26 parking bays and 5,000 sq ft of street frontage retail space.
It was "comprehensively refurbished and renovated in March, providing modern, affordable accommodation for tourists with minimal future capital expenditure required by any purchaser", the brochure adds.
The 10-storey Hotel Geo was acquired by MH1 MY 1 Sdn Bhd, a joint venture between Midscale Hotels Investment, a wholly-owned subsidiary of ICP, and Aw, a substantial shareholder of ICP who holds a fifth of its shares. Midscale and Aw hold 73.3% and 26.7% equity interest respectively in MH1 MY 1.
At RM85.5 million or RM475,000 per room, the purchase price was deemed attractive for the 180-room hotel that was considered premium economy at the time.
How much can the hotel be sold for today? A property valuer estimates it could fetch not less than RM100 million with the number of rooms increased to 198 now.
A real estate agent, however, gives a far  more conservative price tag. He says the price per room, based on a back-of-the-envelope calculation, should not be very much different from when the hotel was purchased.
"Rooms are advertised at RM150 per night on Agoda (averaging random midweek rates in November, December and January). Assuming the hotel hits 85% occupancy, that would give RM46,537 in revenue per room per year. Assuming a gross operating profit margin of 40%, it would mean that total revenue is RM438,000 a key," the real estate agent says. At this price, the 198-room hotel should be able to fetch a price that is similar to what it was purchased for, he adds.
ICP's 2019 annual report states that the group will continue to work on various opportunities with third-party hotel owners to expand the Travelodge brand in the region. It targets to establish and grow its presence in Singapore, Malaysia, Hong Kong, South Korea, Japan, Thailand and Indonesia.
In June 2014, ICP's wholly-owned subsidiary, ICP (IP) Pte Ltd, acquired the registered trademark rights to the brand "Travelodge", owned by Travelodge (IP) Pty Ltd, in 22 territories and countries in Asia-Pacific, excluding Australia and New Zealand, for A$3 million.
The Travelodge brand is recognised in the limited service lodging industry worldwide. Initially promoted as budget accommodation offering functional facilities at an affordable price, it is now viewed as an international midscale hotel brand.
ICP also operates the 168-room Travelodge Bukit Bintang in Jalan Alor, which commenced operations in August last year, for Singapore-based owner Regalwide Holdings Sdn Bhd. Regalwide — which is linked to Hotel 81 budget chain tycoon Choo Chong Ngen — bought Hotel Nova for RM63.8 million in December 2017. The hotel has since been rebranded a Travelodge.
In February, ICP opened the 131-room Travelodge Georgetown — previously GLOW Penang — in Jalan Macalister. GLOW is owned by property developer and hotel owner-cum-operator Plenitude Bhd.
The next Travelodge in Malaysia — in Ipoh, Perak — is scheduled to open in the first quarter of 2020.
According to Marcus Aw, managing director of Travelodge Hotels (Asia) Pte Ltd, Travelodge Ipoh will be the group's 10th hotel in Asia in two years. ICP is again partnering Plenitude, which bought the Heritage Ipoh Hotel in December last year. The hotel was closed on June 30 for a comprehensive renovation.
Marcus says ICP is actively looking at more locations nationwide, including in Kota Kinabalu, Melaka, Kuching and Johor Baru, and aims to grow the number of Travelodges in Asia to 50 by 2025.