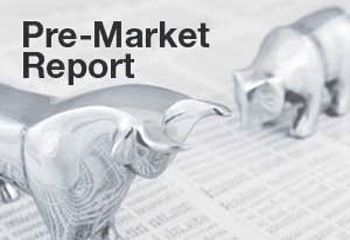 SINGAPORE (Dec 31): Profit-taking on Wall Street overnight may prompt a pullback in Singapore shares in today's shortened trading session.
The Dow Jones Industrial Average fell 0.3% to 17,983.07, the S&P 500 declined 0.5% to 2,080.35 and the Nasdaq Composite gave up 0.6% to 4,777.44.  
In Singapore, the Straits Times Index ended little changed at 3,366.11 yesterday.
COMPANIES IN THE NEWS:
Swiber Holdings has proposed a rights issue to raise $45.9 million for working capital.
The company will issue up to 305.7 million new shares at 15 cents each on the basis of one rights share for every two ordinary shares held.
The rights shares are priced at a 49.2% discount to the stock's Dec 30 closing price of 29.5 cents and are 39.2% below Swiber's theoretical ex-rights price of 24.7 cents.
Ying Li International, together with its substantial shareholder China Everbright and other investors, will invest RMB7.2 billion ($1.4 billion) in a mixed-use development project in Beijing, marking the Mainboard-listed property group's maiden foray outside Chongqing.  
The project in Beijing Tongzhou district will comprise high-rise premium apartments, office buildings and retail malls with a total gross floor area of about 750,000 sq m.
Ying Li shares ended flat at 24.5 cents yesterday.
Vallianz Holdings will acquire a 45% stake in Holmen Heavylift Offshore for US$2.9 million ($3.8 million).
Holmen is an investment holding company that owns three submersible launch barges used for the transportation and installation of jackets used in the development of oilfields.
Vallianz shares closed 3.8% lower at 7.6 cents yesterday.
Matex International is seeking to acquire a China-based coal miner in a $475-million reverse takeover.
The target company is Blackgold Holdings Hong Kong, which owns four underground thermal coal mines in Chongqing.
Second Chance Properties' plan to sell a big chunk of its properties has fallen through.
The buyer, Celestine Management, which planned to buy and list the properties in a fund, did not receive the letter of eligibility from the Singapore Exchange by Dec 30.
Celestine's original plan, first announced by Second Chance on Feb 6, was to buy 45 properties -- largely strata-titled shop units -- from the company at $175.4 million. The deal was later revised to $55.1 million for 13 properties.
Second Chance shares ended at 44.5 cents yesterday.
Hafary Holdings has received a cash offer from Hap Seng Investment Holdings for a 51% stake at 24 cents a share.
Hap Seng is a wholly-owned subsidiary of Bursa Malaysia-listed Hap Seng Consolidated, which operates oil palm and cocoa plantations, trades motor vehicles and makes fertilisers and building materials.
Hafary shares ended at 22 cents yesterday.