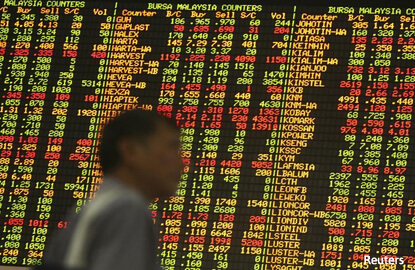 (Feb 17): Singapore stocks rose on strong economic data, while Thailand gained for a third session on Friday, with both markets boosted by firmer global oil prices on likely further output cuts by producer club OPEC aimed at reducing a supply overhang.
The Organization of the Petroleum Exporting Countries could extend its oil supply-reduction pact with non-members or even apply deeper cuts from July if global crude inventories fail to drop to a targeted level, OPEC sources said.
Singapore's FTSE Straits Times Index rose as much as 0.6%, led by gains in financials and industrials. The index was on track to climb 0.4% on the week.
Offshore oil-rig builder Keppel Corporation Ltd jumped as much as 2.1% to its highest since Nov 2015, while Singapore Technologies Engineering Ltd surged 7.1% to a near 22-month high.
United Overseas Bank Ltd rose as much as 2.1% to a more than two-month high.
The city-state's economy grew 12.3% in the fourth-quarter, beating the government's initial estimate of a 9.1% expansion. Exports rose 8.6% in January from a year ago.
"The doldrums in the services sector has passed... accounting for about two-thirds of GDP and employment, this sector has always been the main driver of the economy... if the services sector turns, the economy turns along with it," DBS Group Research said in a note.
Thai shares rose as much as 0.5%, but the index was on track to lose 0.4% on the week.
PTT Pcl, Thailand's largest energy firm, gained up to 0.8%.
Philippines fell marginally, with index heavyweight PLDT Inc down as much as 1.7%. The index was however on track to gain 0.5% on the week.
"Investors find that the market valuations aren't compelling at this stage... they are on the sidelines," said April Lee-Tan, head of research at Manila-based COL Financial.
Indonesian shares fell as much as 0.6% to a two-week low, on track for their third straight session of losses, dragged down by consumer discretionary and financial stocks.
SOUTHEAST ASIAN STOCK MARKETS
Change at 0435 GMT
| | | | |
| --- | --- | --- | --- |
| Market             | Current        | Prev close    | % move |
| Singapore          | 3109.51        | 3096.69       | 0.41 |
| Bangkok            | 1579.61        | 1576.05       | 0.23 |
| Manila             | 7271.41        | 7283.25       | -0.16 |
| Jakarta            | 5349.384       | 5377.998      | -0.53 |
| Kuala Lumpur       | 1710.1         | 1707.59       | 0.15 |
| Ho Chi Minh        | 707.77         | 709.35        | -0.22 |
Change this year
| | | | |
| --- | --- | --- | --- |
| Market             | Current        | End 2016      | % move |
| Singapore          | 3109.51        | 2880.76       | 7.94 |
| Bangkok            | 1579.61        | 1542.94       | 2.38 |
| Manila             | 7271.41        | 6840.64       | 6.30 |
| Jakarta            | 5349.384       | 5296.711      | 0.99 |
| Kuala Lumpur       | 1710.1         | 1641.73       | 4.16 |
| Ho Chi Minh        | 707.77         | 664.87        | 6.45 |