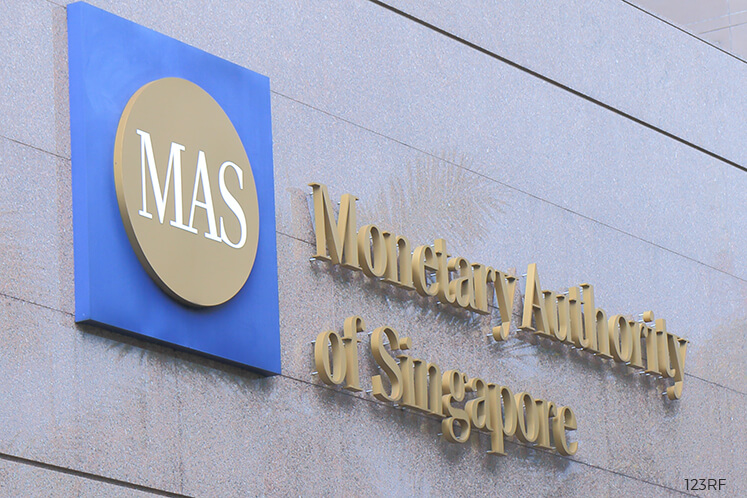 SINGAPORE (July 3): Ravi Menon, managing director of the Monetary Authority of Singapore, figures that the enforcement action taken against the banks and individuals found to have been involved in the international money laundering scandal surrounding 1Malaysia Development Bhd has helped restore Singapore's reputation as a global financial centre.
"I believe we have begun the process of restoring that reputation. We have taken tough and unprecedented enforcement actions and sent an unequivocal message that MAS will not tolerate the criminal abuse of Singapore's financial system," Menon said on June 29 at a media briefing to present the de facto central bank's FY2017 annual report.
On May 30, MAS announced the conclusion of the two-year-long investigation into the 1MDB case. It noted that a total of eight banks were made to pay fines totalling S$29.1 million. Two of these banks — BSI and Falcon Bank — were also ordered to close their operations in Singapore. A number of individuals involved have also been fined, jailed and hit with prohibition orders, which essentially bar them from working in the financial services sector for a period of time.
Some observers have pointed out that the fines meted out seem tiny compared with the multibillion- dollar fines that the authorities in the US and Europe have imposed. Also, the key individuals in the case faced jail terms of just a few weeks. For instance, Yak Yew Chee, a senior private banker at BSI who dealt directly with Low Taek Jho, the alleged mastermind behind the whole 1MDB scandal, was jailed for only 18 weeks. Yak is said to have earned some S$27 million in salary and bonuses between 2011 and 2014 at BSI.
Menon pointed out that the fines imposed on the banks involved in the 1MDB case were the "heaviest aggregate financial penalty to date". He also explained that MAS prefers to take appropriate action against individuals directly involved in any wrongdoing rather than hit financial institutions with massive fines that really just burden their shareholders.
"When you fine a bank billions of dollars, it hurts basically shareholders and other stakeholders; it doesn't hurt the board or senior management. That, in my view, is one of the failings of the regime globally. People continue to do wrong things because they are not being held personally liable and responsible," Menon said.
He also said that one should not underestimate the deterrent effect of a fine that is publicly disclosed. "In a place like Singapore, it's not so much the financial pain that the fine imposes, which is not very large, but the shame — the naming and shaming — that has a very powerful effect on behaviour."
Menon went on to defend the action taken against individuals involved, noting that the punishments were among the stiffest ever imposed and will probably deter misbehaviour by other bankers. For example, Yak of BSI has been slapped with a lifetime prohibition order, which is unprecedented.
"I think the deterrent effect is what we should be judged by. And, I do believe the deterrent effect is quite powerful when seen in that light," he said.
Menon also had a warning for the directors and senior managers of the banks that were fined for their roles in the 1MDB case. "They need to raise their game," he said.
On June 15, the US Department of Justice released a 251-page civil complaint that provided more details and context on how Low and his associates spent the money they diverted from 1MDB. The complaint also detailed how they created and used funds and other entities to steal the money.
However, Menon said the complaint did not have any information that MAS could act upon.
"We have found nothing new in the latest filing by the US Department of Justice that warrants further action by us," he said. "But if any new relevant information or leads arise from ongoing investigations in Singapore or elsewhere, rest assured MAS will reopen the files and pursue the matter."
MAS chalks up record gain from foreign reserves
The Monetary Authority of Singapore generated a record profit of S$30.1 billion from Singapore's foreign reserves for FY2017 ended March 31. Favourable currency movements accounted for S$8.2 billion of this gain, while the remaining S$21.9 billion came from higher interest, dividend income and higher realised capital gains. Lower valuation provisions were also needed because of better-performing markets.
Ravi Menon, managing director of MAS, emphasised during a press briefing on Thursday that sharp swings in returns from Singapore's foreign reserves are not uncommon. In fact, when averaged against the preceding financial year's gain of S$5.2 billion, the average gain from the last two years was just S$13.5 billion, which is not that much higher than the S$10 billion to S$12 billion that MAS has generated from the reserves over the long term.
"The short story: We are not popping the champagne; it is business as usual," Menon said. He added that MAS is maintaining a conservative and long-term focus in its management of the reserves. As at March 31, Singapore's foreign reserves stood at S$362.8 billion, up from S$332 billion the year earlier.
MAS sounds positive note on global economy
The global economy is in better shape than it has been in a long while, says Ravi Menon, managing director of the Monetary Authority of Singapore. According to him, China's GDP growth is on track to hit 6.5% this year, while the US economic recovery is becoming more "entrenched". Meanwhile, global trade is picking up, and manufacturing activity and commodity prices are bottoming.
The big risk is that excesses built up during the long period of low interest rates could unwind in a disorderly fashion as US interest rates continue rising. Notably, debt levels in some emerging market countries have risen significantly during the era of low interest rates. "This is a source of potential vulnerability as interest rates rise," Menon says. On balance, however, he sees the global economy absorbing the ongoing gradual increase in US interest rates, as the rise in rates is itself a response to strengthening economic activity.
MAS sees GDP growth in Singapore having a "strong likelihood" of hitting more than 2% this year. Since April 2016, MAS has maintained a policy of zero appreciation in the Singapore dollar's nominal effective exchange rate versus a trade-weighted basket of currencies, reflecting concerns about soft growth.
Despite Menon's relatively positive prognosis on the global economy, some local economists see MAS maintaining its zero-appreciation policy for the Singapore dollar. Francis Tan, an economist at United Overseas Bank, points out that the electronics sector could see a slowdown in 2H2017 because of weaker overseas demand. "That may make it important for MAS to maintain an extended period of neutral appreciation," Tan says.
This article appears in Issue 786 (July 3) of The Edge Singapore which is on sale now.