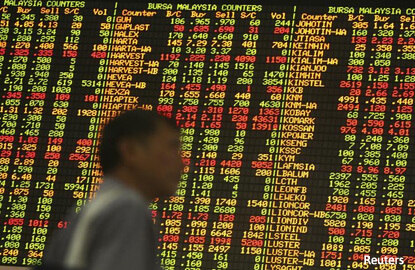 (Feb 15): Singapore shares bounced back on Wednesday, mainly driven by gains in Thai Beverage Pcl on strong quarterly earnings, while most other Southeast Asian markets were flat after US Federal Reserve Chair Janet Yellen signalled a faster pace of rate hikes.
Yellen said on Tuesday delaying rate increases could leave the Fed policymaking committee behind the curve and also flagged considerable uncertainty over economic policy under President Donald Trump.
"Foreign funds have been selling for the past several weeks in anticipation of rate hikes in the coming quarters and on continued strength of the dollar," said Manny Cruz, chief strategist at Asiasec Equities Inc, adding rate hike expectations had already been priced in.
Singapore's FTSE Straits Times Index rose as much as 0.7% after posting its biggest single-day fall since October 2016 in the previous session.
Thai Beverage Pcl surged as much as 5.1% to a three-month high after reporting a 28% jump in its quarterly net profit.
Top lender DBS Group Holdings Ltd climbed as much as 1% after shedding 3.4% on Tuesday.
Philippine shares rose as much as 0.4%, helped by industrial and real estate stocks.   
Conglomerate JG Summit Holdings Inc jumped as much as 3% in its biggest percentage leap in more than a month, while property developer Ayala Land Inc gained up to 1.7%.
"(Philippine shares) gained strength today on the back of bargain-hunting in select blue chip issues... yesterday we dropped significantly due to mining issues," Cruz said.
The Philippines' environment minister stepped up a crackdown on mining on Tuesday, cancelling almost a third of the country's contracts for undeveloped mines and rejecting any challenges to earlier orders to shut over half of all operating pits.
Meanwhile, Thai shares shed as much as 0.6% to hit their lowest since Jan 20, dragged down by industrials and financials.
Airports of Thailand Pcl fell as much as 5.7% to a 12-week low, while Bangkok Bank Pcl declined as much as 1.7%.   
The Indonesian stock market was closed for local elections.
SOUTHEAST ASIAN STOCK MARKETS
Change at 0431 GMT
| | | | |
| --- | --- | --- | --- |
| Market             | Current        | Prev close    | % move |
| Singapore          | 3080.91        | 3072.47       | 0.27 |
| Bangkok            | 1564.62        | 1572.24       | -0.48 |
| Manila             | 7207.33        | 7206.84       | 0.01 |
| Kuala Lumpur       | 1708.29        | 1708.9        | -0.04 |
| Ho Chi Minh        | 709.45         | 706.26        | 0.45 |
Change this year
| | | | |
| --- | --- | --- | --- |
| Market             | Current        | End 2016      | % move |
| Singapore          | 3080.91        | 2880.76       | 6.95 |
| Bangkok            | 1564.62        | 1542.94       | 1.41 |
| Manila             | 7207.33        | 6840.64       | 5.36 |
| Kuala Lumpur       | 1708.29        | 1641.73       | 4.05 |
| Ho Chi Minh        | 709.45         | 664.87        | 6.71 |