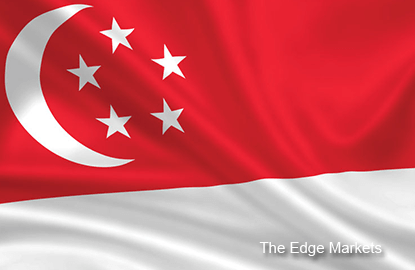 (Bloomberg corrects story published on Sept 2 to remove incorrect reference in role for Lee Kuan Yew's funeral.)
SINGAPORE (Sept 3): Singaporeans go to the polls on Sept. 11 with the People's Action Party seeking to continue its unbroken stint in power since independence in 1965. Prime Minister Lee Hsien Loong is looking to improve on his party's performance in the last election, where it lost a record number of seats to the opposition, and this year's polls will be the first in which every seat is contested. Here are five faces to watch.
1. Man in Uniform
Ng Chee Meng, the former chief of the defense force with a 29-year military career, is the top new candidate for the ruling party. At 47, the ex-lieutenant-general will be the the highest- ranked military officer in Parliament if elected.
He's contesting the district led by Deputy Prime Minister Teo Chee Hean, a former rear admiral and navy chief. As defense chief, Ng led preparations for the National Day parade, the highlight of Singapore's celebrations for the 50 years since its founding as a modern city-state, as well as the March state funeral for the country's first premier Lee Kuan Yew. The elder Lee is the father of the current premier.
Ng has an electrical engineering degree from the U.S. Air Force Academy and a masters in international relations from Tufts University. His family had strong ties in the military: his elder brother was the air force chief and is now a top civil servant at the Ministry of Defence, and his younger brother was navy chief and currently heads the nation's pension fund.
"Stepping into politics is not unlike getting into the Cessna 172," Ng said in a video posted on his Facebook page. "Having been an SAF commander, I think I bring in a level of organizational abilities. It gave me many opportunities to learn to be a leader, running a big organization that is as complex and wide ranging," he said, referring to the armed forces.
2. Leader in Waiting?
Deputy prime minister and finance minister Tharman Shanmugaratnam may be a candidate to succeed Lee as the nation's leader. Lee, 63, has said he hopes to not to be premier beyond age 70.
Shanmugaratnam, 58, was appointed chairman of the International Monetary Fund's policy steering committee in 2011. In the Singapore election that year, he led a PAP team of five with the second-highest winning margin for a group district after Lee.
It's a matter of time before a person of a minority ethnicity takes the top job in politics in Singapore, the Straits Times cited Shanmugaratnam as saying in July. Ethnic Chinese form the majority in Singapore. Still, the former central bank chief said he wouldn't take on the role unless forced to, the newspaper reported.
Shanmugaratnam, who's Sri Lankan Tamil, helped guide the nation through the 1997 Asian currency turmoil and the 2008 global financial crisis via his roles at the central bank and finance ministry. He joined the Monetary Authority of Singapore in 1982 and started his political career in 2001.
3. Influential Voice
Sylvia Lim, the second-in-command at Singapore's only opposition group with elected lawmakers, has become the voice of the Workers' Party with a growing social media presence. Since she set up her Instagram account three weeks ago, she has drawn more than 4,000 followers.
In the 2011 polls, she led efforts to bring the party closer to the center to broaden its appeal. The strategy worked, giving opposition parties about 40 percent of the popular vote-- the most since Singapore split from Malaysia to become a sovereign state in 1965.
Born the year Singapore gained independence, Lim credits an early education at a Catholic convent with imbuing a spirit of activism and individual responsibility to right perceived wrongs. She has a law degree from the National University of Singapore and a postgraduate degree from the University of London, and was elected party chairman within two years of joining in 2001.
"The PAP is always a formidable opponent," Lim said at a press conference last month. "They are the ruling party, with a huge party machinery and grassroots network. So as far as we are concerned, we will work hard to retain our seats."
4. Comeback Kid?
The leader of the Singapore Democratic Party, Chee Soon Juan is making a return to the polls after 14 years. He was disqualified from recent elections after he was bankrupted by libel suits filed by the country's former premiers.
An opposition politician since 1992, the 53-year-old has been jailed and fined for offenses including protesting without a permit. He had better luck at events outside Singapore, and has spoken at conferences including an International Bar Association symposium in Tokyo last year.
His party calls for the elimination of government-linked companies and an increase in social spending.
"We are the only party that has consistently iterated that our political rights and our economic progress are two sides of the same coin, they are inextricably bound," Chee said in a speech last month. "Without advancement in our political rights, problems regarding our economic and social well-being cannot be addressed."
5. Funny Man
Nicknamed the "blogfather" of Singapore, Lee Kin Mun's posts under the moniker "mrbrown" have highlighted issues from housing to transport, and brought him to national attention. Prime Minister Lee pointed to his influence in his 2011 state of the nation address and has invited him to the presidential palace for tea.
The blogger has more than 187,000 followers on Twitter and 25,000 on Facebook -- more than each of Singapore's two deputy prime ministers. He's poked fun at politicians from both the PAP and the opposition, including a recent video which satirized the pageantry of unveiling new candidates.
Election season "is very busy for me," said Lee, 46. "When I kicked off the first few shows, there were replies saying, OK, it has begun. The elections have formally begun because mrbrown has begun."