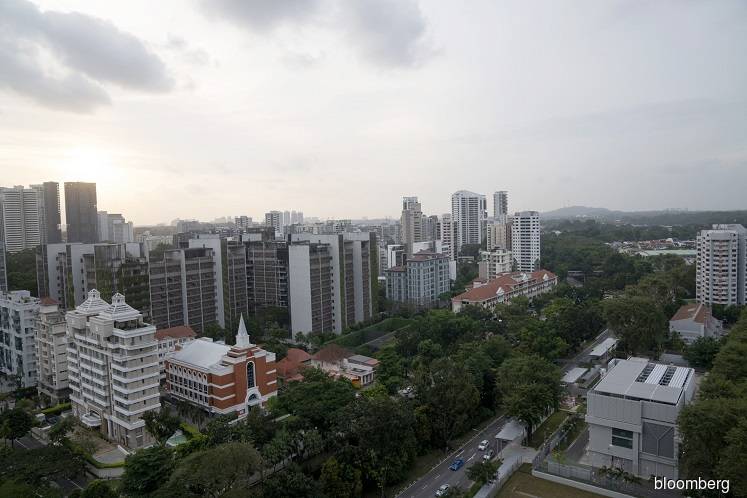 SINGAPORE (July 1): Singapore's home prices fell the most in three years in the second quarter as a citywide shutdown to contain Covid-19 put the brakes on the property market. Analysts said the slide may not be over.
Property values declined 1.1% from the previous quarter, according to the Urban Redevelopment Authority's preliminary estimate today. In the first quarter, prices dropped 1%.
Housing prices may fall between 3% and 6% this year, according to analyst forecasts, as the city state faces a sharp recession in the wake of the pandemic. The island nation only started to reopen most of its economy on June 19 after an extended lockdown that shut schools, malls, and most workplaces to curb the virus spread.
Singapore is not the only housing market feeling the effects. Home prices in Australia fell for a second straight month in June, data showed today. The biggest declines came in Melbourne, which is at the centre of a new spike in Covid-19 cases.
Singapore's shutdown, which closed display units and put a stop to viewings, sent sales plunging to near a six-year low in April. They then rebounded in May as buyers became more comfortable with online viewings and sales.
While property prices will not collapse this year, the "overall price index could still decline gradually for the rest of 2020", said Nicholas Mak, head of research and consultancy at APAC Realty Ltd unit ERA.
"The property market will be balancing opposing forces," Mak said. "There will be market forces that will depress prices, such as economic headwinds and the weak job market. There will also be positive forces, such as low interest rates, ample liquidity, some pent-up demand, and foreigners seeking safe haven."
Christine Sun, head of research and consultancy at OrangeTee & Tie Pte Ltd, said she expects private-home values may decline between 3% and 5% this year.
"Prices of homes may remain soft in the coming months given the macroeconomic uncertainties," Sun said.