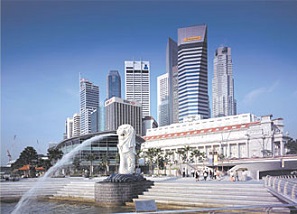 SINGAPORE (Dec 31): Singapore's economic growth cooled in 2014 and the nation will experience slower expansion than it's been used to, Prime Minister Lee Hsien Loong said.
Gross domestic product rose 2.8 percent this year, Lee, 62, said in his New Year message today.
That's below a November forecast of about three percent, and an expansion of 3.9 percent in 2013.
"Our economy has performed moderately well in 2014," Lee said.
"However, our productivity performance has been disappointing" and the country must intensify efforts to help companies and workers upgrade, he said.
Export-dependent Singapore is experiencing the effects of a faltering global economy, with China on track to record its smallest growth in almost a quarter century and weaknesses in Europe and Japan.
Government efforts to slow the inflow of cheap foreign labour have also pushed up business costs.