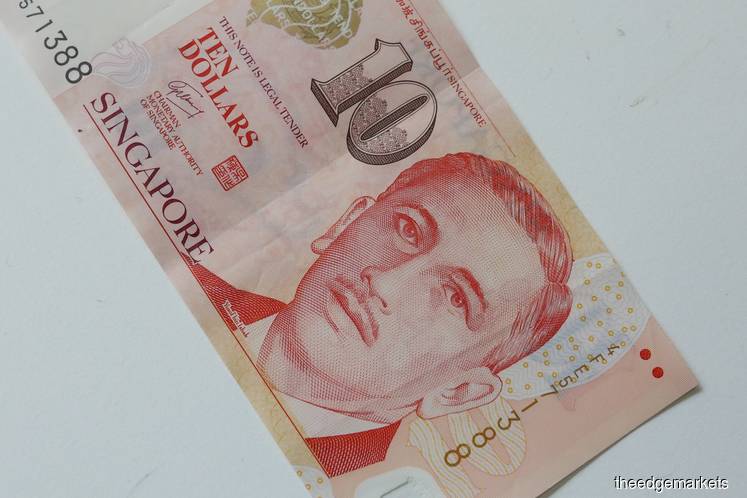 (Oct 9): Singapore's dollar is set to weaken because the central bank is likely to scrap its appreciation bias at a policy meeting next week, according to a growing group of forecasters.
Mizuho Bank Ltd. and Societe Generale SA are defying consensus by predicting the Monetary Authority of Singapore will adjust the slope of its nominal-effective-exchange-rate policy band to zero, from 1%, to counter slowing economic growth. Although Singapore's dollar has already fallen 1.4% this year against the U.S. currency, it is almost unchanged on a nominal-effective basis.
The local currency may "scream its way" to weaker than S$1.40 per U.S. dollar if MAS adjusts its bias to zero, said Vishnu Varathan, head of economics and strategy at Mizuho in Singapore. "U.S.-China tariffs escalation, U.S.-EU tensions, political uncertainties and wobbling asset confidence all bearing down suggest that the MAS has cause to remove the slope."
Singapore's heavy reliance on trade makes the nation a bellwether for growth sentiment in Asia, along with nations such as South Korea and Taiwan. The MAS guides the local currency against an undisclosed basket and adjusts the pace of appreciation or depreciation by changing the slope, width and center of a band. It announces policy twice a year, with the next decision due Monday.
"A large policy easing is most likely," Societe Generale analysts Jason Daw in Singapore and Kiyong Seong in Hong Kong wrote in a research note last week. "Our base case is that the MAS lowers the slope of the NEER midpoint to 0%. There is a very low chance that the MAS stays on hold."
While Mizuho and Societe Generale both predict an end to the MAS's appreciation bias, the majority of other economists anticipate it will just reduce the slope to 0.5%. Those holding this view include DBS Bank Ltd., United Overseas Bank Ltd., Westpac Banking Corp., Bank of America Merrill Lynch, and Australia & New Zealand Banking Group.
There have been growing signs in recent months that the U.S.-China trade war is having an impact on Singapore's economy. The government in August slashed this year's growth forecast to almost zero after gross domestic product shrank an annualized 3.3% in the second quarter.
The MAS has surprised the market before, moving to a neutral policy of zero percent appreciation in the exchange rate in April 2016 when economic growth ground to a halt. The Singapore dollar slid 0.9% that day.
Aviva Investors said it's betting against the local currency as it joins Mizuho and Societe Generale in predicting the MAS will end its appreciation bias.
"We have increased the size of our short Singapore dollar versus the effective exchange rate," said Stuart Ritson, portfolio manager for emerging-market debt in Singapore at Aviva, which oversees $440 billion. "There's an increasing chance that the MAS may move to a flat slope at the upcoming October meeting." - Bloomberg