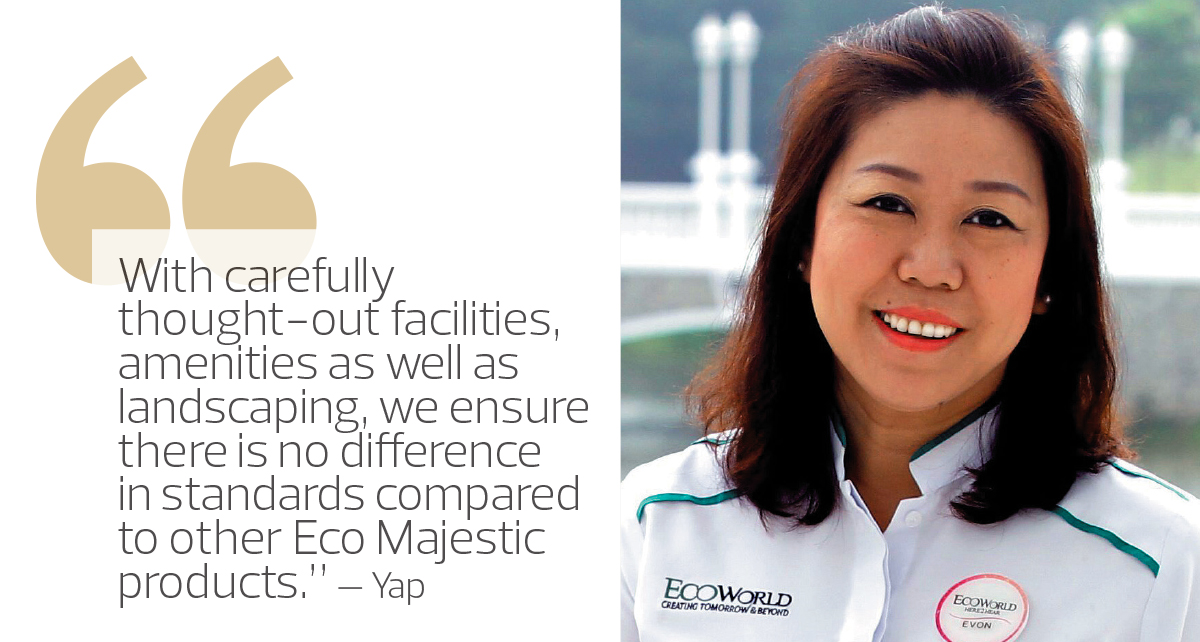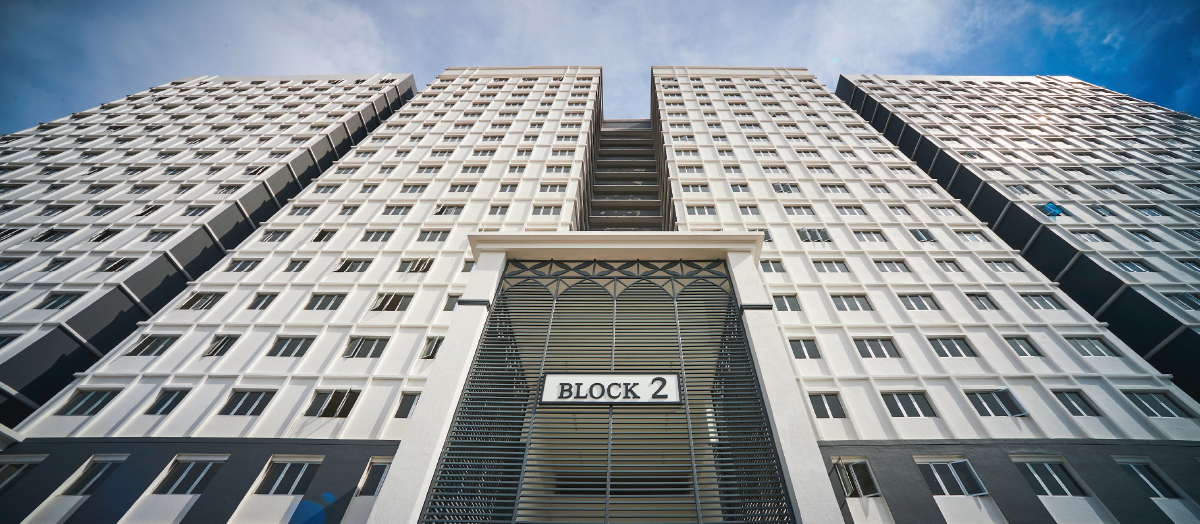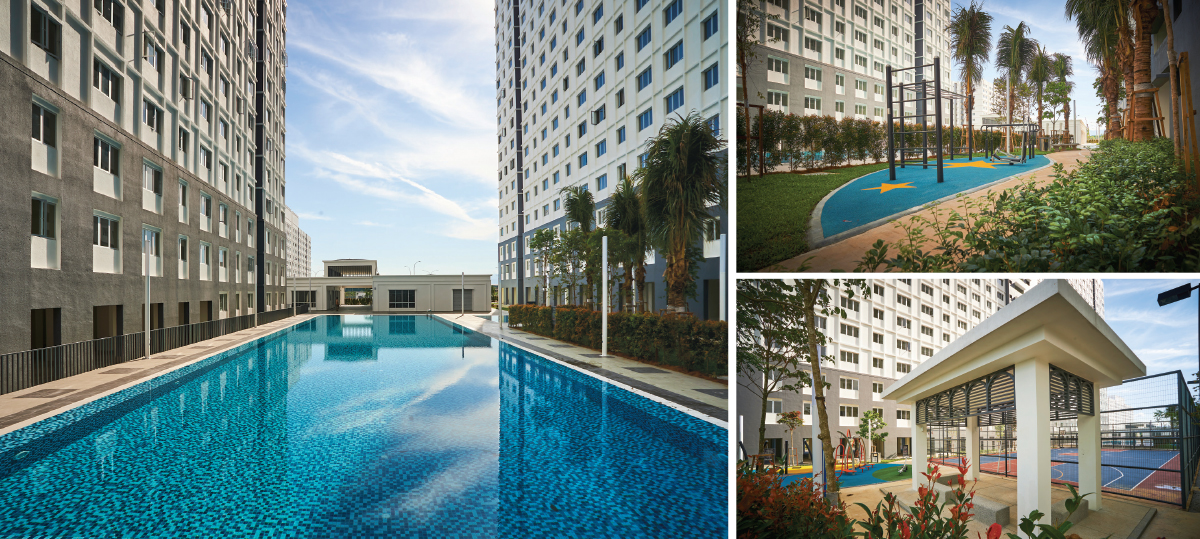 Clockwise from above: The gazebo, swimming pool and playground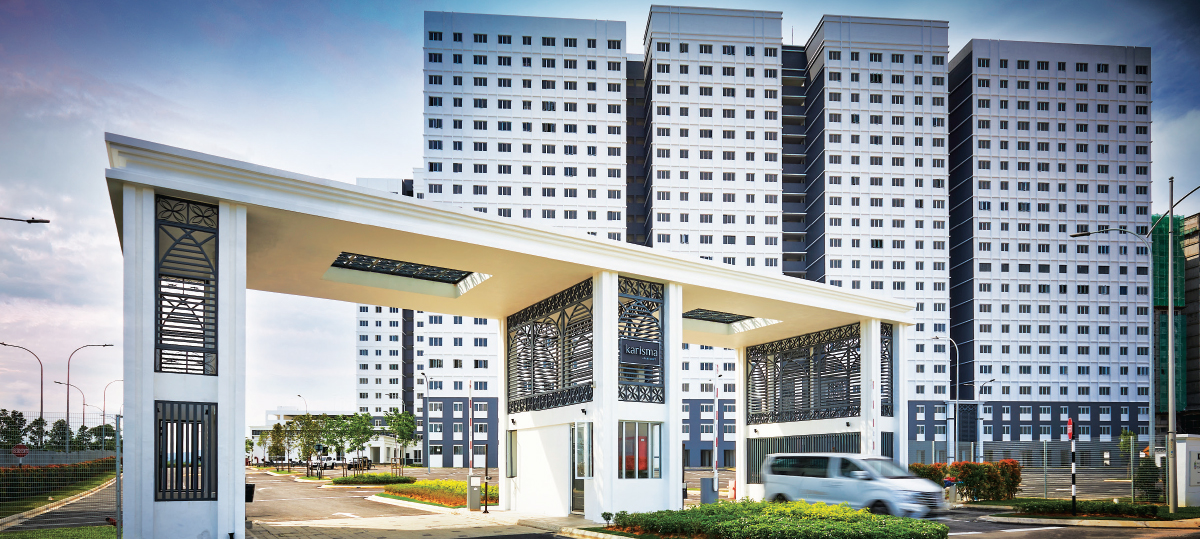 The development includes a guardhouse to enhance security in the community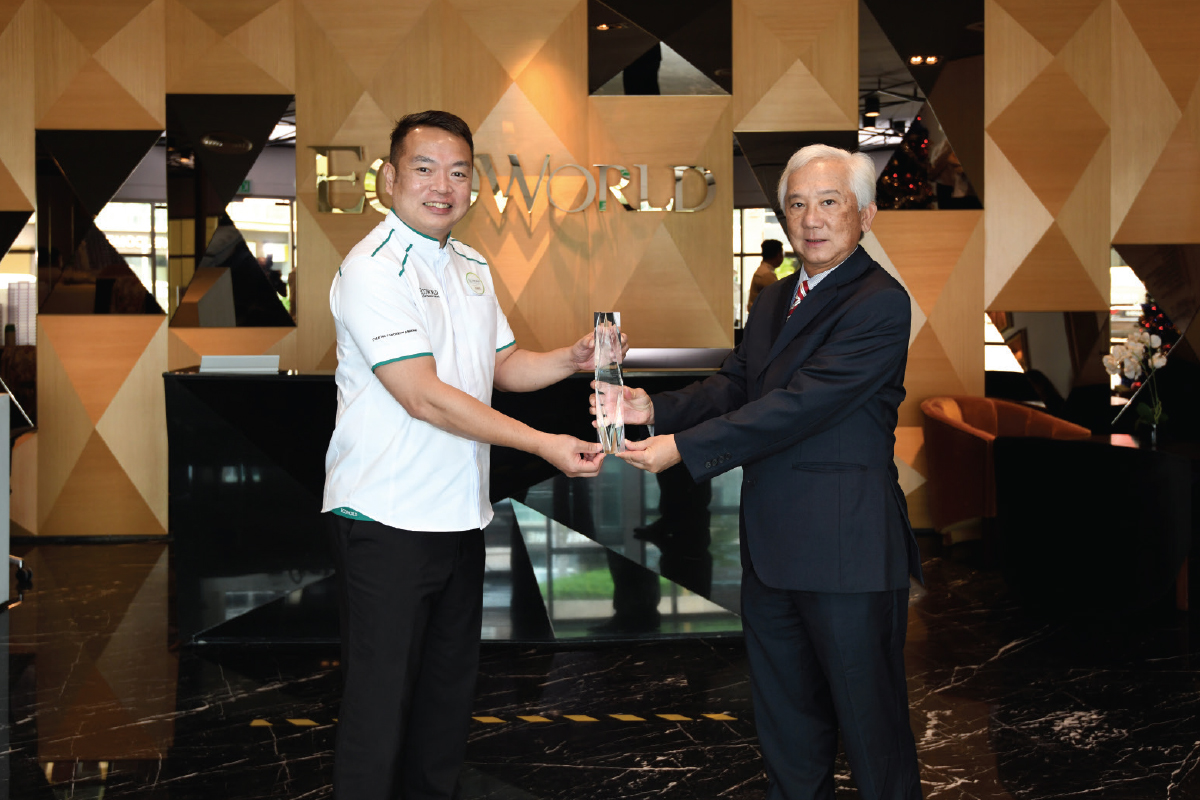 Eco World Development Group Bhd president and CEO Datuk Chang Khim Wah (left) receiving the award from The Edge Media Group publisher and group CEO Datuk Ho Kay Tat
Joint Winner | Karisma Apartment | EcoWorld Property Services (Eco Central) Sdn Bhd
While it is rather uncommon to associate affordable housing with elegance, Karisma Apartment has pulled it off with its understated, colonial white facade, which blends seamlessly with the manicured landscaping and Straits Settlement era-inspired homes within the Eco Majestic township in Semenyih, Selangor.
EcoWorld Property Service (Eco Central) Sdn Bhd divisional general manager Evon Yap says no effort was spared in ensuring that Karisma Apartment — even though it is an affordable housing project — carries the elements of
EcoWorld's DNA. "With carefully thought-out facilities, amenities as well as landscaping, we ensure there is no difference in standards compared to other Eco Majestic products.
"Having this in mind, we are passionate and endeavour to create quality affordable housing — comfortable, simple yet elegant — that best resembles our township's language," says Yap.
Karisma Apartment is one of the recipients of The Edge Malaysia Affordable Urban Housing Excellence Award 2020. The award recognises outstanding affordable housing projects for the middle-income group that are wholly undertaken by property developers in the country.
"We are delighted, thrilled and humbled to be recognised for our efforts in creating benchmark products, living and working environments that deliver enduring value for our customers," says Yap.
"EcoWorld's vision of 'Creating Tomorrow & Beyond' is not just a catchy phrase, but the very anchor of our business and operations. The award is a testament to the team's continuing commitment and hard work. It is also a motivation to further raise the bar, putting in place the best practices in every aspect of our developments."
Holistic and well thought out
Ideal for young, middle-class families, the 800 sq ft units at Karisma Apartment come with three bedrooms and two bathrooms and are priced from RM260,000. Each unit is allotted two car parking bays.
According to Yap, all units have been designed to bring in natural light and are well ventilated with windows that also offer views of the landscaped surroundings — enhancing the indoor living quality.
"We know who our customers are, and what our products mean to them. It's not just a home or an office but a place where dreams and memories are made to last a lifetime. We bring thoughtful details to the homes and practical building designs that add value to our market segment," Yap says.
Located on Jalan Eco Majestic 3A/5, Karisma Apartment has a gross development value of RM190 million and comprises 750 apartments — including 10 disabled-friendly units — in two blocks, one of which is 19 storeys high and the other, 20 storeys. The freehold development occupies 10.63 acres and has a density of 70 units per acre.
The disabled-friendly units on the ground floor are designed with the needs of this group in mind. "They have bigger toilets and ramps that can accommodate a wheelchair," Yap explains.
Launched in March 2016, the apartments were completed in December 2018 and are currently 65% occupied. Rental returns are approximately 4%, she notes.
Almost all, or 97% of the units, were taken up before the project was completed and the rest were sold six months after that.
"With the Home Ownership Campaign promoted by the government last year, Karisma was very well received by the urban middle-income segment. The customers are predominantly from the younger generation — individuals or young families looking for a safe and decent place to live," Yap says.
The residents can enjoy lifestyle facilities such as a gym, pool, multipurpose court and playground. Communal spaces, including a community hall, are also available to facilitate interaction for a healthy community.
"Part of Karisma's key features is its vibrant and cohesive living environment. We have also emphasised the community's safety and security with a thoughtful design system and an effective security system to further enhance the community's living comfort," says Yap.
"We have always placed a high importance in our product and service quality for all purchasers and there is no exception for our affordable housing range. As a developer who is always committed to caring for the interests of lower-income buyers, we aspire to develop affordable housing that is liveable, with the right component designed and built for its sustainability, particularly in the aspects of maintenance and estate management," she adds.
Karisma Apartment residents pay a monthly maintenance fee, which includes sinking fund contribution, of RM150. The maintenance collection rate is a healthy 95%, Yap notes.
To ensure that the property is well-maintained, EcoWorld made sure that all its customers are aware of, and understand, the importance of keeping maintenance payment up to date. "Prior to their buying the units, we explained to our customers that Karisma Apartment is a community-living strata development and made sure that they were fully aware of the maintenance charges involved.
"We did another round of orientation with our customers during [handing over of] vacant possession on the importance of maintaining the building and common facilities, as this property now belongs to them. We also made it very convenient for them to pay their maintenance fee via an app, which we also use to engage with our residents closely," Yap says.
"Additionally, our customers are made to understand that we are here with them to preserve the built environment together, prioritising their interests and benefits as a community holistically."
In a well-placed, sustainable township
As the development is situated within Eco Majestic, residents can easily avail themselves of the amenities in the township. "The infrastructure surrounding Karisma Apartment enables its residents to commute conveniently to numerous highways and to the nearest public facilities and amenities such as schools and retail shops. Additionally, a well-planned and interconnected 10,517m landscaped pedestrian/bicycle path encourages walkability and cycling activities within the development," says Yap.
Eco Majestic currently has 148 shops (Ivoris and Brighton) that provide essential goods and conveniences. These include food outlets, a clinic, hardware store, grocer, laundry services as well as a recently opened McDonald's drive-thru next to the Ivoris shops.
Yap says another 115 units of 2-storey shop offices (Whitten), measuring 24ft by 80ft and 26 ft by 80 ft, will be completed and handed over by December 2020.
Eco Majestic will also see the opening of an AEON Mall, a Starbucks outlet as well as SJK (C) Ton Fah, which is being relocated from Beranang,  by mid-2021.
Meanwhile, residents can enjoy existing amenities within a 30-minute drive in neighbouring towns such as Semenyih, Kajang, Bangi, Cheras and Putrajaya. Getting to Kuala Lumpur takes around 35 minutes.
In terms of accessibility, Eco Majestic enjoys connectivity via the Kajang-Seremban Highway (LEKAS), the South Klang Valley Expressway (SKVE), Kajang Dispersal Link Expressway (SILK), Cheras-Kajang Highway, North-South Expressway, Middle Ring Road 2 (MRR2), Shah Alam Expressway (Kesas) and Jalan Semenyih.
To provide easier access for the residents, the developer built the Lekas-Eco Majestic Interchange, which was opened in 2016, at a cost of RM50 million. This provides additional entry and exit points to the township via the East Gate (through Jalan Semenyih), North Gate (Exit 2012) and West Gate (Exit 2102A) from the Lekas Highway.
Nearby international schools and universities include Tenby International School Setia EcoHill, Kolej Tuanku Ja'afar, UTAR Sungai Long, University of Nottingham, Universiti Kebangsaan Malaysia and Universiti Putra Malaysia. Recreational areas nearby include Broga Hill and LadyBird Organic Farm.
Spanning 1,089 acres, Eco Majestic was launched in 2014 and the developer has handed over 5,262 units within the township.
According to Yap, the township is 60% occupied today. Residential precincts currently under construction are Mellowood Phase 2, which comprises terraced homes, and Stoneridge, which offers cluster semidees, semidees and bungalows.
With a total gross development value of over RM11.14 billion, the entire Eco Majestic township is expected to be completed by 2030 and have a population of 50,000.