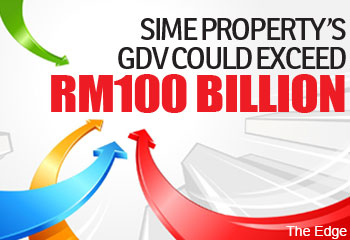 KUALA LUMPUR: Sime Darby Property Bhd (Sime Property) said the total gross development value (GDV) of its property projects could exceed RM100 billion, based on the strength of its vast land bank in Greater Klang Valley as well as major towns in the country.
"Today, the GDV for our approved projects stands at between RM73 billion and RM75 billion. But if you take into account the projects that are in the pipeline and for which we have developed the masterplan and feasibility studies but have yet to be approved, it can easily exceed RM100 billion," Sime Property managing director Datuk Seri Abd Wahab Maskan told The Edge Financial Daily in an interview.
A GDV exceeding RM100 billion would make Sime Property the largest developer in the country, alongside IOI Properties Group Bhd's (IOIPG) RM100 billion GDV and sister company S P Setia Bhd's RM71 billion GDV. In fact, the group did describe itself as the "largest among property developers in Malaysia" in the latest annual report by its parent Sime Darby Bhd (Sime Darby).
Despite its size, Sime Property remains an unlisted property arm of plantation giant Sime Darby, whose major shareholder Permodalan Nasional Bhd (PNB) also controls S P Setia — itself a large developer. While the listing of Sime Property or the consolidation of PNB's property holdings has been in the rumour mill for a while, the management prefers not to publically elaborate on the plan, choosing instead to focus on delivering the numbers first.
Abd Wahab said Sime Property had considered listing its entities or subsidiaries, but this is subject to a "suitable time and situation".
Nonetheless, the momentum is growing at Sime Property. According to Sime Darby's annual report, its property division revenue (referring to Sime Property) leaped from RM1.41 billion in financial year 2009 ended June 30 (FY09) to RM2.37 billion in FY13. In FY14, its revenue further increased to RM2.82 billion, with pre-tax profit coming in at RM600 million.
IOIPG, on the other hand, reported revenue of RM1.45 billion in FY14 ended June with a pre-tax profit of RM966.3 million (over a third of which came from its property investment segment), while S P Setia reported a revenue of RM3.06 billion in FY13 ended October with a pre-tax profit of RM570.3 million.
Abd Wahab said sales have been encouraging. As at June 30, 2014 Sime Property's unbilled sales leaped 48% to RM2.3 billion. On its outlook, he said Sime Property will continue to maintain its "momentum", targeting to sustain double-digit growth and a return on invested capital of 15% by FY16.
Branding itself as the "largest community developer", Sime Property holds a vast land bank measuring some 19,000 acres (7,689ha), with this figure excluding potential land bank to be converted from the plantation land owned by its parent Sime Darby that holds potential for township development in the future.
At this stage, six main development corridors have been identified for Sime Property's land bank: Selangor Vision City covering development areas from Bukit Jelutong to Rawang in Selangor; the Subang Jaya corridor which includes development areas in Subang Jaya, UEP Subang Jaya and USJ Heights; Putra Heights and Ara Damansara in Selangor; the central corridor in Selangor including pockets of development in Kuala Lumpur; Sime Darby Vision Valley South covering development areas in the northern part of Negeri Sembilan; the southern region corridor in Johor; and the northern corridor in Penang and Kedah.
The land bank will keep Sime Property busy for many years to come. According to Abd Wahab, with the increasing population in the areas where it has a presence, more economic activities will be generated that will in turn boost its land and development values.
The recent shift in demand towards landed properties in suburban townships has played right into Sime Property's turf. "Our recent launches in various locations have continued to receive strong take-up rates due to their strategic locations and the strong demand for landed properties, especially in the Klang Valley," he said.
Of immediate interest is the group's upcoming development covering 2,235 acres in Salak Tinggi, near both the Kuala Lumpur International Airport (KLIA) and the klia2. The catalysts for the development, which has direct access to the Salak Tinggi KLIA Express station, will be the Xiamen University Malaysia campus, as well as the Kuala Lumpur International Outlet (KLIO).
Sime Property is partnering with Sunsuria Bhd for the Xiamen project while for the KLIO, its partner is Chicago-based Horizon Group Properties Inc, said Abd Wahab.
"Both of these projects are part of the transit-oriented development (TOD) that has a special theme to it. On our part, we will create a specialised township on 300 to 400 acres of land surrounding the varsity (Xiamen project)," he said, adding that TOD is a mixed-use development designed to maximise transit ridership.
He said work on KLIO, sitting on 40 acres of land, is expected to start by late this year and it is slated for completion by 2016. The premium outlet, Abd Wabab said, is strategically located as it is close to the KLIA.
On property investment, Abd Wahab said Sime Property has a dedicated business unit which owns and manages its assets in Malaysia, Singapore and the United Kingdom, with total gross floor area of three million sq ft.
"Today, the division is still small, contributing 5% to 10% towards the group's revenue," he said, adding that the target is to increase the contribution to 40% of revenue in the long run.
"Under our five-year strategy blueprint which runs from FY12 to FY16, we intend to achieve a wide-base profit ratio [with] 80% [coming] from property development, [and] 20% from property investment — which could later grow to 40% in the long run," he said, stressing the importance of growing the property investment segment which brings in recurring revenue.
Abd Wabab said commercial buildings and retail malls are among the assets to be injected into the property investment division soon, the first of which will be the 10-storey Melawati Mall in the group's 900-acre township development in Taman Melawati, Kuala Lumpur. The mall, jointly developed with Singapore-based CapitaMalls Asia Ltd, has some 635,000 sq ft of retail space that is targeted for completion in 2016.
"We ... constantly evaluate our property [that are deemed] worthy to be injected [into] our property investment division every three to five years," he said.
Sime Property holds 40% of the £8 billion (RM41.85 billion) London Battersea development project, which has commercial components such as a shopping mall and exhibition centre that could bring in recurring income. Nonetheless, as the project is co-owned by S P Setia (a 40% stake) and the Employees Provident Fund (20%), matters concerning the project will have to be discussed among the partners.
On external growth, Abd Wahab said Sime Property is always on the lookout to acquire other property players or real estate investment trust (REIT), subject to conducive market conditions and opportunities.
"There are two considerations to this [growth]: we can either set up a listed REIT entity or maintain the current division under our group. But we cannot simply enter [the market] to be a full-fledged REIT player if the market is not conducive. Of course, we have many options on this , but our property investment business remains as it is for now," he said.
It was previously reported that the group is in talks to acquire Axis REIT. However, Axis REIT later denied that it was in  discussions with Sime Property, citing the news as "speculative".
This article first appeared in The Edge Financial Daily, on September 17, 2014.