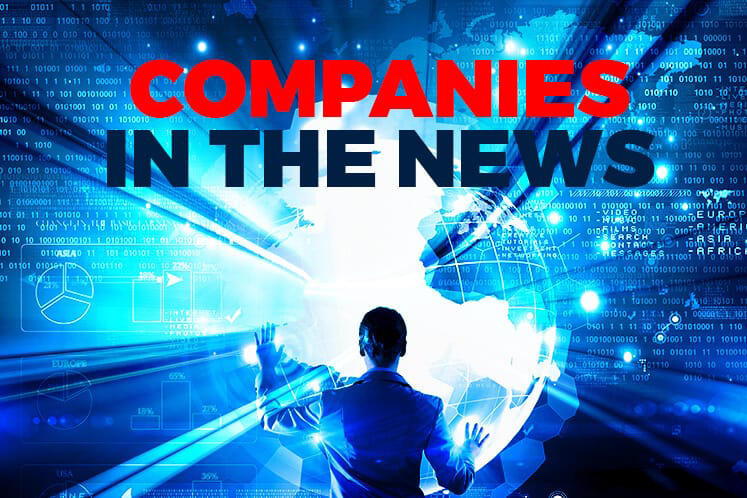 KUALA LUMPUR (April 22): Based on corporate announcements and news flow today, companies in focus tomorrow (April 23) may include: Sime Darby Bhd, YTL Corp Bhd, HeiTech Padu Bhd, Ageson Bhd, Minetech Resources Bhd, CSC Steel Holdings Bhd, MCE Holdings Bhd, Nexgram Holdings Bhd, Green Packet Bhd and IGB Real Estate Investment Trust.
Sime Darby Bhd has inked a deal to sell its 30% stake in Tesco Stores (M) Sdn Bhd for RM300 million. The deal is estimated to provide Sime Darby with a net disposal gain of RM270 million.
The disposal is part of a larger deal between Tesco Plc and Thailand's CP Group signed in March to sell Tesco's businesses in Thailand and Malaysia to CP for an enterprise value of US$10.6 billion.
YTL Corp Bhd's indirect subsidiary YTL Starhill Global REIT Management Ltd, the manager of Singapore-listed Starhill Global Real Estate Investment Trust (Starhill Global REIT), has requested S&P Global Ratings to withdraw its corporate credit rating on the REIT and notes issued under the property trust's medium-term notes programmes. The REIT did not specify the reasons for its request for S&P to withdraw its corporate credit rating on Starhill Global REIT.
HeiTech Padu Bhd has bagged an RM19.89 million hardware and software upgrade contract from the National Registration Department. The two-year contract commences on May 1.
Construction and property development company Ageson Bhd (formerly Prinsiptek Corp Bhd) has bagged a US$26.6 million (RM116.77 million) contract to sell natural sand to Hong Kong-based Boyijun Resources (HK) Ltd.
Ageson said its wholly-owned subsidiary Esa Pile Sdn Bhd has accepted a Letter of Intent (LOI) today from Boyijun for the purchase of natural sand from Esa Pile which is principally involved in piling and construction works. The contract is up to December 2021, with an option for extension.
Minetech Resources Bhd's unit Minetech Construction Sdn Bhd (MCSB) has received a letter of intent from Bumimaju MTE Engineering Sdn Bhd to appoint MCSB as a contractor to undertake a civil works project that is related to a pipeline laying project in Hulu Grik, Perak. However, the monetary value of the contract was not disclosed.
CSC Steel Holdings Bhd (CHB) is disposing of its entire 6% shareholding in CSGT Metals Vietnam Joint Stock Company for US$1.2 million (RM5.25 million), as it has not been able to secure a commanding share of the Vietnam steel market.
MCE Holdings Bhd is teaming up with Taiwan-based Juoku Technology Co Ltd to develop, produce and supply automotive lighting parts in Malaysia. The automotive parts include fog lamps, daytime running lamps, brake lamps and other lamps that the two companies agree on. Juoku is a manufacturer of lighting systems and plastic moulding parts for the automotive industry.
Nexgram Holdings Bhd's unit Nexgram Industries Sdn Bhd (NISB) has entered into a deal to sell medical ventilators to an Indonesian firm, PT Rafa Topaz Utama, for distribution in East Jakarta and certain other parts of Southeast Asia.
Kiplepay Sdn Bhd, a unit of Green Packet Bhd, recently teamed up with the Coalition of Malay Small Traders Association (GPPPKMM) to launch a 'Warong Digital e-Bazaar Ramadan' programme. The programme uses Kiplepay's e-wallet, which allows local traders to conduct online transactions and provides a cashless experience for customers.
Launched on April 16, the 'Warong Digital e-Bazaar Ramadan' programme is meant to enable small traders and local hawkers to operate their businesses online throughout the month of Ramadan, which is expected to begin on April 24.
IGB Real Estate Investment Trust's net property income (NPI) fell 14.6% to RM88.39 million for the first quarter ended March 31, 2020 (1QFY20) from RM103.48 million a year ago. The REIT attributed the lower income to the rental support provided to tenants, and lower car park income, arising from the COVID-19 pandemic and Movement Control Order (MCO) since mid-March.
Revenue dropped 11.5% to RM125 million from RM141.23 million in 1QFY19, due to rental income falling by 15.2% to RM88.47 million from RM104.38 million.