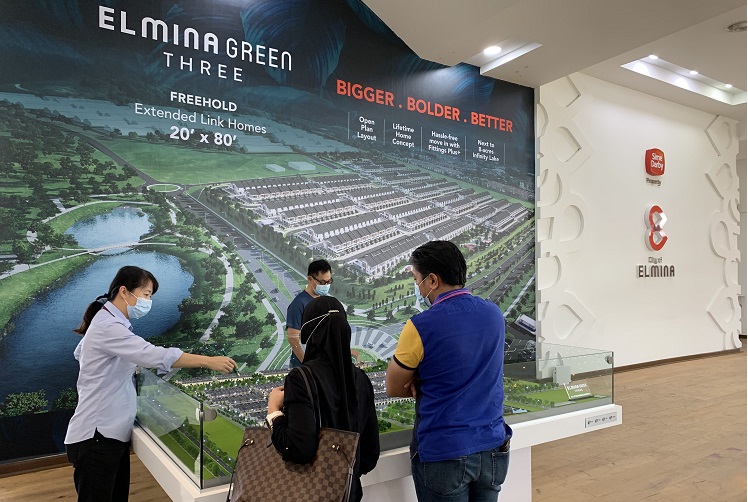 PETALING JAYA (June 23): Phase 1 and 2 at Elmina Green Three — the latest offering of two-storey houses in Sime Darby Property Bhd's City of Elmina — have seen a take-up rate of more than 85% during its two recent online preview sessions.
During the online preview for Phase 1 on June 6, all 91 units were snapped up. Subsequently in the online preview for Phase 2 on June 20, the developer put up 127 units and some 76% have since been booked. These units are priced from RM709,999 and RM714,499 for Phase 1 and 2 respectively after rebates and before the Bumiputra discount.
Sime Darby Property chief operating officer (Township Development) Datuk Wan Hashimi Albakri said the response to Elmina Green Three was overwhelming.  
"We were astounded that it took about 15 minutes for all Phase 1 units to be reserved. Phase 2 public preview last weekend also drew good results with 96 out of 127 units booked," he said in a press release recently.
"The reception towards Elmina Green Three has given us a sense of comfort in knowing that despite the current period of uncertainty, people are still interested in purchasing a property. The success of our previews demonstrates that with the right marketing strategy and better products, customers will continue to show support."
Elmina Green Three comprises a total of 412 units. The typical land size for these two-storey homes is 20ft by 80ft, while its built-ups are from 2,262 to 2,983 sq ft. This development comes with an improved interior finishing, and potential homeowners will have a hassle-free move-in experience with FittingsPlus+ features such as instant water heaters, outdoor water filter, air conditioning unit points and piping (without indoor unit), booster pump and built-in MS Grilles. 
Besides potential homeowners from Malaysia, both previews also received great interest from those currently residing in Hong Kong, Singapore, Brunei and the United Kingdom. Wan Hashimi believes that the consistent strong brand of City of Elmina is able to attract new prospects and returning customers who are looking for a modern wellness living.  
Prior to the launch of Elmina Green Three, there was an increase in the company's website traffic, with enquiries and bookings for available Sime Darby Property projects.
"The use of an online portal for bookings was a digital transformation initiative aimed to revolutionise the company's property buying process… future Sime Darby Property launches will also utilise and benefit from the system," said Wan Hashimi.