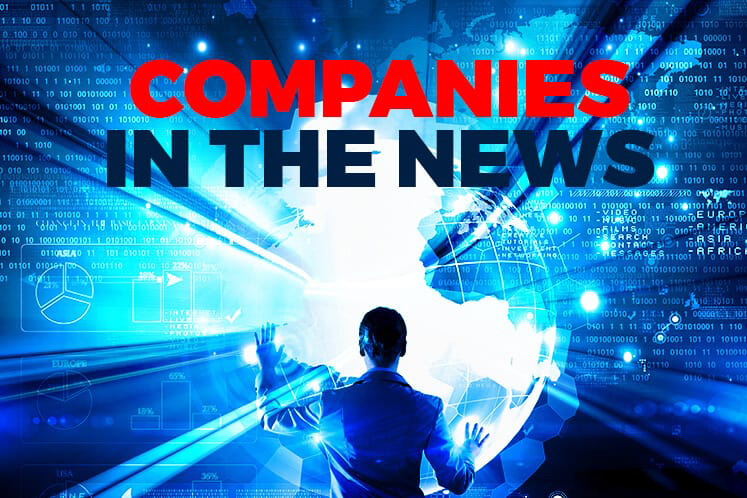 KUALA LUMPUR (July 23):  Based on corporate announcements and news flow today, companies that may be in focus on Tuesday (July 24) include the following: Sime Darby Property Bhd, Kwantas Corp Bhd, CN Asia Corp Bhd, IJM Land Bhd, Bumi Armada Bhd, Telekom Malaysia Bhd, Tenaga Nasional Bhd, Cycle & Carriage Bintang Bhd, JAKS Resources Bhd, IHH Healthcare Bhd and Malaysia Airports Holdings Bhd.
Sime Darby Property Bhd has appointed former Bank Negara governor Tan Sri Zeti Akhtar Aziz as its new non-independent and non-executive chairman, effective immediately.
She takes over from Tan Sri Abdul Wahid Omar who had retired from the position at the end of June. Following Zeti's appointment, Rizal Rickman Ramli will cease to be acting chairman. Rizal is currently a non-independent and non-executive director on the board.
Zeti, 70, is also currently group chairman of Permodalan Nasional Bhd. She also serves as a member of the Council of Eminent Persons.
Sabah-based Kwantas Corp Bhd today announced the demise of its group chief executive officer and co-founder Kwan Ngen Chung at the age of 58.
The oil palm plantation company said Kwan passed away today after a short illness.
Steel storage tank manufacturer CN Asia Corp Bhd has received regulatory approval for its Practice Note 17 (PN17) status to be lifted, with effect from tomorrow.
The company slipped into PN17 in June 2015, after its auditors expressed concern about its ability to continue as a going concern, as its shareholders' equity on a consolidated basis was 50% or less of the issued and paid-up capital.
IJM Land Bhd will launch affordable housing project Suria Pantai, a part of its Pantai Sentral Park mixed-use development at Pantai Dalam, in the fourth quarter of this year with units going for RM275,000 each.
Suria Pantai is a joint development by IJM Land and Amona Group. The Federal Territories Affordable Houses (Rumawip) development will offer 896 units of leasehold apartments within a 34-storey building.
IJM managing director Edward Chong said another of the group's housing projects, Bandar Rimbayu, is also rolling out affordable homes project — Halaman 11, which offers 180 units of walk-up apartments priced at RM42,000 for 721 sq ft units and RM100,000 for 764 sq ft units.
Bumi Armada Bhd said neither the company nor its 95%-owned subsidiary Bumi Armada Navigation Sdn Bhd (BAN) has been served with any official court documents in relation to the Aircel-Maxis case in India.
"The companies are not aware of any of the allegations against them," Bumi Armada said.
"Bumi Armada and BAN are therefore unable to comment on the matters reported in the media at this juncture," it added.
Telekom Malaysia Bhd and Tenaga Nasional Bhd have terminated the Memorandum of Understanding signed by the two groups to jointly develop an implementation plan to deliver on the government's Nationwide Fiberisation Plan (NFP).
The decision to discontinue the MoU was mutual and with immediate effect, they said in their respective statements, without however stating the reason for the termination.
The MoU was signed on Jan 16 by TM's former managing director and group executive officer Datuk Seri Mohammed Shazalli Ramly and TNB president and chief executive officer Datuk Seri Azman Mohd.
Cycle & Carriage Bintang Bhd (C&C)'s second quarter net profit doubled to RM18 million from RM8.96 million a year ago, mainly due to a compensation insurance claim of RM12 million, and dividend income of RM11.2 million from Mercedes Benz Malaysia.
Revenue for the quarter increased 11.4% to RM395.81 million from RM355.43 million previously, the group said.
C&C's cumulative net profit for the first two quarters rose 65.1% to RM15.31 million or 15.2 sen per share from RM9.27 million or 9.2 sen per share in the previous corresponding period, after accounting for dividend income of RM11.2 million from the group's investment in Mercedes-Benz Malaysia.
Six-month revenue also increased 10.8% to RM784.39 million from RM708.16 million.
The High Court has dismissed an Erinford injunction application filed by a subsidiary of JAKS Resources Bhd, JAKS Island Circle Sdn Bhd (JIC).
The injunction was to restrain two financial institutions from releasing a RM50 million bank guarantee to Star Media Group Bhd. The RM50 million guarantee is in relation to an agreement between Star Media and JAKS for the latter to develop the 15-storey "Tower A" within the Pacific Star development in Section 13, Petaling Jaya, by end-July.
An independent non-executive director of IHH Healthcare Bhd, Rossana Annizah Ahmad Rashid, had voiced dissent over the group's planned acquisition of a controlling stake in India's Fortis Healthcare, according to India's Economic Times.
The report said: She "was not comfortable with the structure of the proposals after taking into consideration the risk factors related to the proposals and the qualified opinion issued by Fortis' external auditors, Deloitte Haskins and Sells LLP, in the audited financial statements of Fortis for the year ended March 31".
However, The Economic Times also quoted an IHH spokesperson as saying that the IHH board evaluated various factors to ensure a fair decision. Shareholders of Fortis are to vote on the transaction on Aug 13.
Malaysia Airports Holdings Bhd (MAHB) has denied forcing AirAsia Group Bhd to move to Terminal 1 of the Kota Kinabalu International Airport in Sabah.
"From the onset, Terminal 2 was meant to serve as a temporary terminal catering to low-cost carriers, until a bigger and better facility at Terminal 1 was completed.
"Once completed in 2010, all other low-cost carriers had moved to Terminal 1 with the exception of AirAsia Group, which only moved in December 2015, driven by their own need for capacity and growth," said MAHB.
It was responding to remarks by AirAsia group chief executive officer Tan Sri Tony Fernandes last Thursday, who — after meeting with Sabah Chief Minister Datuk Seri Mohd Shafie Apdal — said the airline  was forced out of Terminal 2 three years ago, and was never in favour of moving into Terminal 1.