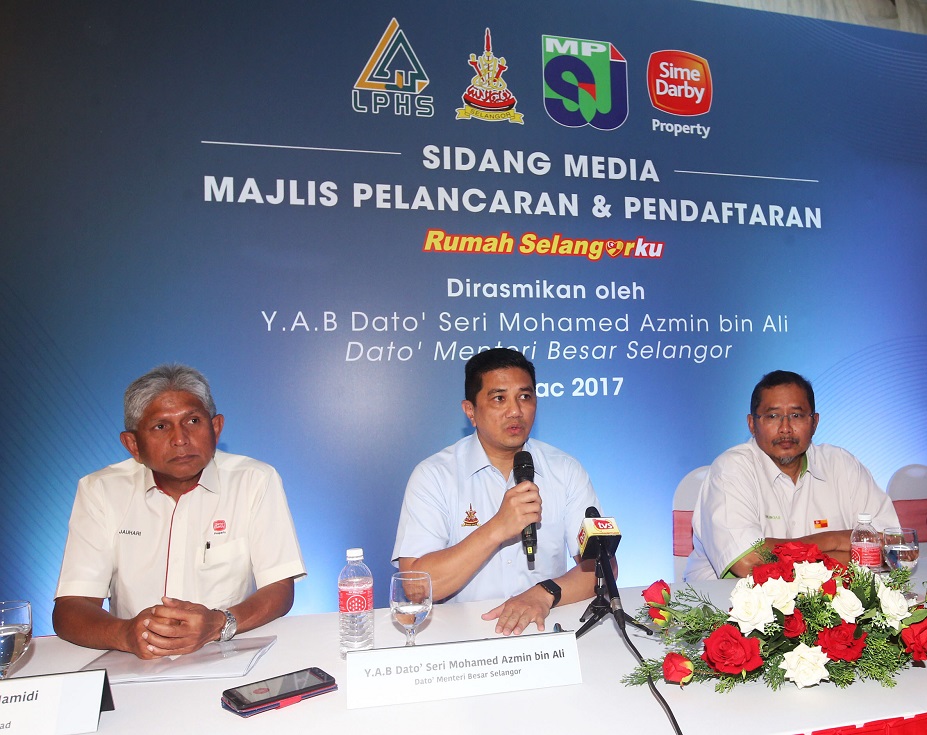 SUBANG JAYA (March 21): Sime Darby Property, the property arm of Sime Darby Bhd, has unveiled its second Rumah Selangorku project, Harmoni 1, located in Putra Heights, Subang in Selangor. It offers 1,700 units of apartments with prices ranging from RM170,000 to RM270,000.
Sime Darby Property managing director Datuk Jauhari Hamidi said Harmoni 1 has a gross development value (GDV) of RM359 million.
It comprises four blocks with apartments ranging from 800 sq ft to 1,000 sq ft. The apartment will be complemented with facilities that include a five-and-half-storey car park block as well as a multi-purpose hall.
"The construction starts next month, while the overall construction will take about three years to complete," he told the media after the launch of the project today.
Selangor Menteri Besar Datuk Seri Azmin Ali and Selangor State Housing, Building and Urban Settler Management Committee chairman Datuk Iskandar Abdul Samad were also present to officiate the launch.
The registration for Harmoni 1 by interested buyers also starts today. According to the developer, about 500 interested buyers were invited for on-the-spot registration at the launch today.
Harmoni 1 Putra Heights is the second launch under the Rumah Selangorku affordable homes by Sime Darby Property. Its first Rumah Selangorku project in Bandar Bukit Raja was launched in 2015.
Interested buyers could register their interest with the Sime Darby Property website and complete an online registration via Lembaga Perumahan dan Hartanah Selangor's website.
Jauhari said the company will be developing more than 4,000 houses under the Rumah Selangorku scheme across City of Elmina, Bandar Bukit Raja, Bukit Jelutong and Serenia City townships.
"The third Rumah Selangorku project by Sime Darby Property is expected to be launched in September this year; we are considering City of Elmina or Bandar Bukit Raja," he said.
Meanwhile, Azmin in his speech said besides the Bottom 40 (B40) households, the Middle 40 (M40) households should not be neglected.
"There is demand for affordable homes of a slightly higher price with good facilities," he added.
Meanwhile, Iskandar noted that there are applications for the development of 89,007 units of affordable homes that have been approved since the scheme was introduced in 2015 and 20,880 units will be completed by this year-end.
Rumah Selangorku homes are open to all Malaysians (including non-Selangor natives) aged 18 years old and above, with household incomes of between RM3,000 and RM10,000.
Applicants must not own any other type of property in the state and do not have to be working in Selangor to qualify.