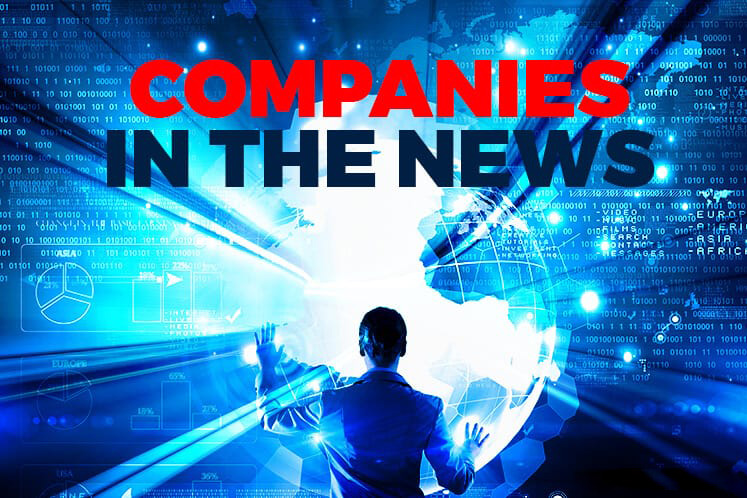 KUALA LUMPUR (Aug 20):  Based on corporate announcements and news flow today, companies that will be in focus on Thursday (Aug 23) may include: Sime Darby Plantation Bhd, Petronas Chemicals Group Bhd, Eastern & Oriental Bhd, MCT Bhd, Taliworks Corp, Ranhill Holdings Bhd, Versatile Creative Bhd, AMMB Holdings Bhd, Sunway Bhd and Paramount Corp Bhd.
Sime Darby Plantation Bhd has signed a Memorandum of Understanding (MoU) with China's COFCO Group Co Ltd (COFCO) to collaborate on a number of palm oil-related ventures, which hopes to boost demand for certified sustainable palm oil and increase trade volumes between the two companies.
The MoU includes a joint research on the health benefits of palm oil, developing capabilities to manufacture specialty oils and fats, and establishing joint sales and marketing activities to promote high value differentiated palm products in China.
Petronas Chemicals Group Bhd is actively looking to acquire companies in Europe, US and India to expand its specialty chemical business, adding that acquisitions would be a key step towards expanding the higher-margin specialty chemicals business.
The hunt for acquisitions comes as parent company Petronas relies more on its downstream business to boost revenue amid analyst estimates that it will produce less oil in the future.
Eastern & Oriental Bhd's (E&O) combination of RM480 million unbilled sales and inventory of RM324 million are expected to drive its earnings for the financial years ending March 31, 2019 (FY19) and FY20, said its official.
E&O also plans to launch projects worth RM1.5 billion in gross development value (GDV) in the next two years, including The Conlay located in Kuala Lumpur with a gross development value (GDV) of RM896 million and The Peak (GDV RM278 million) in Damansara Heights, and Plot 13A located at Gurney Green Park in Penang with a GDV of RM350 million.
MCT Bhd is acquiring a 7,143 sq m piece of leasehold land within Tropicana Golf & Country Resort in Bandar Damansara, Selangor from Tropicana Corp Bhd, controlled by tycoon Tan Sri Danny Tan Chee Sing, for RM42.3 million cash.
It plans to develop a RM265 million luxury condominium in two separate phases on the land, which has a direct frontage onto Persiaran Tropicana and is bordered by the Tropicana Grande luxury high-rise condominium.
To feature 226 units, MCT is expected to generate a gross profit of RM146 million from the proposed condominium project that is slated for commencement next year and to be completed in 2023.
Taliworks Corp Bhd has received a letter of offer from Pengurusan Air Selangor Sdn Bhd, as part of the latter's acquisition of Syarikat Pengeluar Air Sungai Selangor Sdn Bhd (SPLASH).
The offer sets out the key terms of settlement between Air Selangor, SPLASH and Sungai Harmoni relating to Sungai Harmoni's outstanding receivables arising from its existing operations and maintenance of the Sungai Selangor Water Treatment Plant Phase 1 (SSP1), as well as the key terms in respect of the new operations and maintenance agreement (OMA) between Air Selangor and Sungai Harmoni.
Ranhill Holdings Bhd said a suit for alleged non-payment of fees totalling 19.94 million yuan (RM12.76 million based on the then exchange rate) filed in China against its wholly-owned unit Ranhill Water Technologies (Cayman) Ltd (RWTC) by Wahtoting Holding Ltd has been dropped.
Wahtoting was appointed by RWTC to source for a party to acquire the interest in Ranhill Water (Hong Kong) and to form a strategic partnership with RWTC. Ranhill said the agreement was dependent upon key performance indicators to be met by Wahtoting, which went unmet.
Versatile Creative Bhd said it has fired its managing director (MD) Datuk Wong Kong Choong @ Leong Kong Choong and group chief financial officer (CFO) Tan Quok Eow from their employment with immediate effect for failing to satisfactorily answer the allegations made against them in the show-cause letters that were issued to them earlier.
On Aug 13, its board of directors had issued and served the show-cause letters to the duo relating to irregularities in payments amounting to RM2.3 million.
AMMB Holdings Bhd's (AmBank Group) net profit rose 5.9% to RM347.59 million in the first financial quarter ended June 30, 2018 (1QFY19) from RM328.27 million a year ago, supported by higher net interest income (NII).
Quarterly NII increased 3.6% to RM431.37 million in 1QFY19 compared with RM416.24 million a year ago. However, net interest margin (NIM) for 1QFY19 remained flat at 2.02% compared with 1QFY18.
Earnings per share rose to 11.56 sen for 1QFY19 compared with 10.92 sen for 1QFY18. Quarterly operating revenue also came in 4.4% higher to RM2.17 billion from RM2.08 billion in 1QFY18.
Sunway Bhd's second-quarter profit saw a marginal 1% rise to RM199.44 million from RM196.05 million a year earlier, on higher contributions from mainly the construction sector, even after accounting for the MFRS15 adoption.
Earnings per share for the quarter ended June 30, 2018 (2QFY18) dropped to 4.09 sen from 4.11 sen previously.
Quarterly revenue, meanwhile increased 4% to RM1.29 billion from RM1.24 billion.
Sunway announced a dividend of 3.5 sen, payable on October 18.
Paramount Corp Bhd's net profit more than doubled for its second quarter ended June 30, 2018 (2QFY18) to RM42.3 million or 9.88 sen per share, from RM18.08 million or 4.28 sen per share a year ago, mainly driven by gains realised from land disposal.
Quarterly revenue increased 46.7% to RM278.37 million from RM189.72 million in the same quarter last year.
It declared a dividend of 2.5 sen per share, payable on Sept 28.