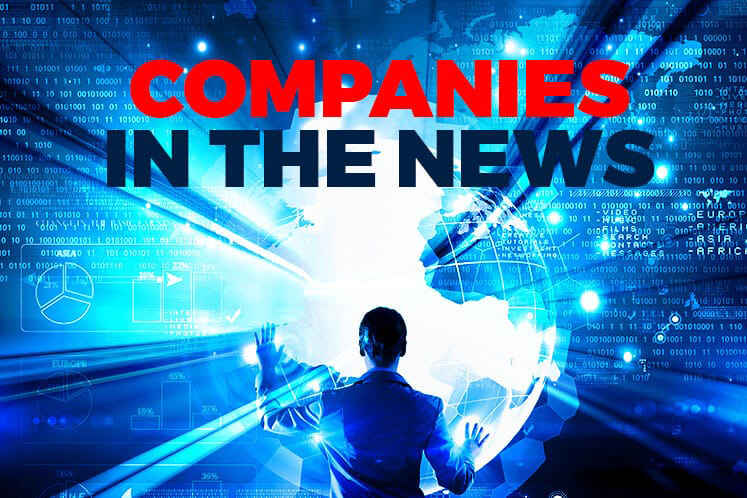 KUALA LUMPUR (Aug 23):  Based on corporate announcements and news flow today, companies that will be in focus on Friday (Aug 24) may include: Sime Darby Plantation Bhd, Axiata Group Bhd, Malakoff Corp Bhd, Pestech International Bhd, Censof Holdings Bhd, Hibiscus Petroleum Bhd, S P Setia Bhd, Malaysian Bulk Carriers Bhd, Malaysian Pacific Industries Bhd and Tropicana Corp Bhd.
Sime Darby Plantation Bhd has acquired coconut oil exporter Markham Farming Co Ltd (MFCL) for US$52.6 million (approximately RM215.6 million) cash as it seeks to expand its operations in Papua New Guinea.
"MFCL is the largest coconut oil exporter in Papua New Guinea and the acquisition enables Sime Darby Plantations to expand its lauric oils business into coconut oil production," it said.
Tan Sri Ghazzali Sheikh Abdul Khalid has been appointed as the interim chairman of telecommunications giant Axiata Group Bhd, effective immediately.
Ghazzali, 72, has served on Axiata's board for over 10 years as an independent non-executive director. He is currently chairman of the group's two South Asian subsidiaries, Robi Axiata Ltd in Bangladesh and Ncell Private Ltd in Nepal.
Ghazzali replaces Tan Sri Azman Hj Mokhtar, who relinquished the chairmanship on Aug 3 following his resignation as managing director of Khazanah Nasional Bhd — a position which he held for 14 years.
Malakoff Corp Bhd's wholly-owned subsidiary Tuah Utama Sdn Bhd plans to dispose of its entire stake or 13.6 million shares in Lekir Bulk Terminal Sdn Bhd (LBTSB), equivalent to 20% equity interest, for RM90 million to Tenaga Nasional Bhd's wholly-owned unit Integrax Bhd.   
Presently, Pelabuhan Lumut Sdn Bhd, a wholly-owned unit of Integrax, holds 54.4 million shares or 80% shareholding in LBTSB.
It will see a gain on disposal of RM55.3 million and has proposed to use the cash to fund future investments, as well as working capital requirements.
Pestech International Bhd's wholly-owned unit Pestech Sdn Bhd has bagged a RM57.95 million contract from Sarawak Energy Bhd's unit Syarikat Sesco Bhd for the Sibiyu 132/33kV substation project.
"The project will contribute positively towards the revenue and earnings of Pestech in accordance to the stages of progress to be recognised in the financial year ending June 30, 2019. It is also expected to contribute positively to the company's future earnings and net asset per share," it said.
The project, which is expected to last 28 months from Sept 3, 2018, is about 35 minutes from Bintulu Airport in the Kemena Land District in Sarawak.
Censof Holdings Bhd has bagged a RM3.85 million contract from Kuala Lumpur City Hall (DBKL) to undertake a comprehensive maintenance and support services of ePBT financial management system for 12 months.
Its wholly-owned subsidiary Century Software (Malaysia) Sdn Bhd was awarded the proposed project, which is expected to contribute positively to the group's future earnings.
An independent evaluation of Hibiscus Petroleum Bhd's 50%-owned Anasuria Cluster off the North Sea in UK has revealed an estimated 24.4 million barrels of oil reserves (mmbbls) and 17.5 billion standard cubic feet of gas reserves.
S P Setia Bhd's second quarter net profit rose 77% year-on-year to RM442.74 million from RM250.57 million, on increased revenue due to sales of completed properties and a one-off provisional fair value gain of RM343.8 million.
The fair value gain was due to the remeasurement of S P Setia's existing equity stake in Setia Federal Hill Sdn Bhd, which has now become a wholly-owned unit of S P Setia. According to S P Setia, Setia Federal Hill was previously a joint venture entity of the group.
Its revenue rose to RM925.97 million in the second quarter ended June 30, 2018 (2QFY18) from RM866.35 million a year ago. For 1HFY18, S P Setia said net profit climbed to RM504.23 million from RM362.68 million a year earlier, although revenue was lower at RM1.58 billion from RM1.89 billion in the previous year.
Malaysian Bulk Carriers Bhd (Maybulk) saw its second-quarter net loss expand about 14 times year-on-year to RM151.27 million from RM10.75 million, as it recognised an impairment loss from the disposal of its former associate, Singapore-listed PACC Offshore Services Holdings Ltd (POSH).
Revenue for the quarter ended June 30, 2018 (2QFY18) retreated 19% to RM57.49 million from RM70.69 million.
Consequently, the group recorded a net loss of RM165.62 million in the first six months of FY18, versus a net loss of RM43.96 million in 1HFY17; cumulative revenue was down 18% to RM111.75 million from RM135.66 million.
Malaysian Pacific Industries Bhd (MPI) registered a net profit of RM39.04 million in its fourth financial quarter ended June 30, 2018, from RM40 million a year ago. Revenue inched up 1% to RM393.1 million from RM389.13 million.
For the full financial year (FY18), group net profit declined 19.9% to RM142.46 million from RM177.92 million in FY17, while revenue remained flattish at RM1.542 billion against RM1.545 billion last year.
Lower sales have dragged Tropicana Corp Bhd's net profit for the second quarter ended June 30, 2018 (2QFY18) lower by 18.24% to RM38 million from RM46.48 million a year ago.
It attributed the lower earnings to lower revenue and additional staff costs since 2QFY18 in preparation for the commencement of operations at the W Hotel in Kuala Lumpur City Centre.
Quarterly revenue was 35.9% lower at RM281.43 million, from RM439.06 million in 2QFY17.