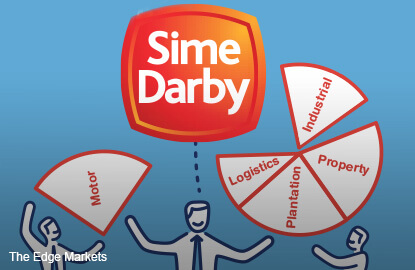 KUALA LUMPUR (Feb 27): Instead of a listing exercise through initial  public offering of shares, Sime Darby Bhd has opted to float its property and plantation divisions separately on Bursa Malaysia through distribution of shares to its shareholders.
There will not be issue of new shares for sale involved in the listing of the two divisions, which is expected to take place early next year.
With the completion of the exercise, there will be three separate and independent listed entities with distinct businesses, with Sime Darby Plantation and Sime Darby Property to undertake the current plantation and property businesses of Sime Darby.
Sime Darby itself would remain listed with the trading business comprising motor and industrial, logistics business, and other businesses including healthcare, insurance, retail and investments.
Speaking at the conglomerate's media briefing on the results for the second quarter ended Dec 31, 2016 (2QFY17), Sime Darby chairman Tan Sri Bakke Salleh said the re-organisation exercise will not entail issuance of new shares; thus no cash will be raised from the spinoff.
"This is distribution in kind. Sime Darby will distribute its holding of shares in the two entities to the shareholders, based on the proportion of shares held in Sime Darby.
"Instead of being a shareholder in Sime Darby only, shareholders will also have stakes in Sime Darby Property and Sime Darby Plantation. So there's no cash changing hands. It's just a swapping of papers and no cash will be raised," said Bakke.
Sime Darby said the proposed listing would accelerate the growth on the back of the benefits from a pure-play strategy.
Sime Darby said the exercise would ensure better focus on capital management and growth strategies, unlock value for entitled shareholders, enable greater investor choice and enhance investor awareness.
Based on Sime Darby's latest audited financial statements for the financial year ended June 30, 2016, the audited profit of the plantation and property groups amount to 41% and 32% of the audited consolidated profit after tax attributable to the owners of Sime Darby, respectively.
Sime Darby had announced the proposal to create three pure play stand-alone businesses in the plantation, property and trading and logistics sectors on Jan 26.
Mohd Bakke had said that each business will bear the Sime Darby name in order to carry on the heritage since the conglomerate's listing in 1980.
He highlighted that Sime Darby was mandated to develop Malaysian champions by incubating businesses in key growth sectors.
"Once businesses had achieved critical size and capacity, they were spun off and listed on the stock market. Not only did this benefit shareholders, it allowed the companies to tap into the capital market for growth," he said then.
Sime Darby fell 13 sen or 1.41% to close at RM9.07, giving it a market capitalisation of RM61.68 billion.