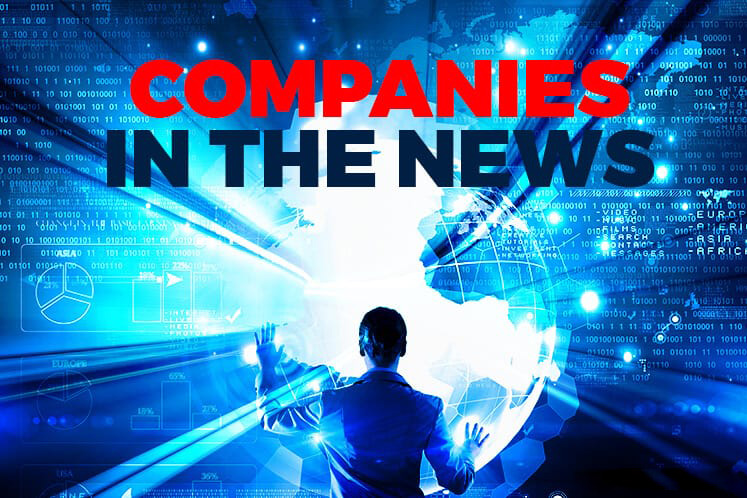 KUALA LUMPUR (Oct 30):  Based on corporate announcements and news flow today, companies that may be in focus on Wednesday (Oct 31) may include: Sime Darby Bhd, Kimlun Corp Bhd, Kuchai Development Bhd, Mudajaya Group Bhd, Mexter Technology Bhd, Ajiya Bhd, Caring Pharmacy Group Bhd, Nestle (Malaysia) Bhd, Globetronics Technology Bhd, Kronologi Asia Bhd and WZ Satu Bhd.
Sime Darby Bhd has entered into a conditional share purchase agreement (SPA) to acquire the entire issued share capital in Brisbane-based Heavy Maintenance Group Pty Ltd (HMG) for AU$58 million (about RM172 million), cash- and debt-free.
The conditional SPA was inked between its wholly-owned indirect unit Sime Darby Allied Operations Pty Ltd and Pemba Capital Partners Funds I Partnership LP and other minority interests. It said the AU$58 million will be funded by external borrowings, and the acquisition is expected to be completed by end-2018.
Kimlun Corp Bhd has bagged an RM164 million contract from Sunway Iskandar Sdn Bhd to build commercial and apartment blocks in Medini Iskandar, Johor. Construction work is expected to be completed by the end of June 2021.
Kuchai Development Bhd plans to distribute to its shareholders, via a dividend-in-specie, up to 1.98 million Kluang Rubber Co (Malaya) Bhd shares on the basis of one Kluang Rubber share for every 62.6 shares held in Kuchai.
Kuchai said the 1.98 million Kluang Rubber shares consist of Kuchai's current holding of 959,522 shares in Kluang Rubber and the 1.02 million shares to be received from the dividend-in-specie by Sungei Bagan Rubber Co (Malaya) Bhd — a company which Kuchai is a shareholder of.
Mudajaya Group Bhd said the group's 26%-owned Indian associate, RKM Powergen Pvt Ltd, has entered into a pilot agreement for the procurement of power with PTC India Ltd. The deal involves the supply of 550 megawatts (MW) of power for a period of three years.
RKM is expected to commence power supply generated from units 2 and 3 of the coal-fired thermal power plant in Chhattisgarh State with effect from February 2019, after obtaining the approvals from various agencies and authorities, it added.
Mexter Technology Bhd, which is already involved in the provision of mother and childcare-related services, is proposing to change its name to LYC Healthcare Bhd to better reflect its business ventures into the medical, healthcare and healthcare-related business.
It said its 70%-owned wellness unit LYC Living Sdn Bhd has entered into a conditional consultancy and project management agreement with LYC Venture Sdn Bhd in relation with the development of a 10-acre piece of land in Genting Sempah, Pahang into a medical, healthcare related and wellness community known as "LYC Wellness Valley" with an estimated gross development value of RM558.53 million. Soh Hoo Hong owns the remaining 30% in LYC Living.
Concurrently, Mexter also inked a shareholders agreement with Soh to facilitate the provision of the project services, as well as to govern the relationship between Mexter and Soh as the shareholders of LYC Living.
Ajiya Bhd said its unit has entered into a Memorandum of Understanding (MoU) with a subsidiary of the Selangor State Development Corporation (PKNS) to explore collaboration in property projects under PKNS and the Selangor  Government.
Caring Pharmacy Group Bhd, which crossed the half-billion ringgit mark in sales last year, said it will spend RM6 million to RM8 million to add another 12 to 15 outlets this financial year ending May 31, 2019 (FY19), with more focus placed on second-tier cities. In FY18, the group opened nine new community pharmacies, boosting its total outlets to 115 nationwide.
It also reported a 26% jump in net profit to RM4.09 million or 1.88 sen per share in its first quarter ended Aug 31, 2018 (1QFY19), from RM3.25 million or 1.49 sen per share in the same quarter last year, as sales strengthened, with higher advertising and promotion income earned. Revenue grew by 14% to RM142.94 million from RM125.25 million previously.
Nestle (Malaysia) Bhd's net profit for the third quarter ended Sept 30, 2018 (3QFY18) rose 16% to RM137.69 million from RM119.01 million in the previous year, driven by strong domestic and export sales. Revenue rose 8% in the quarter to RM1.43 billion from RM1.32 billion a year ago.
The company declared an interim dividend of 70 sen per share — the same as last year — in respect of the financial year ending Dec 31, 2018. It will be paid on Dec 13.
Lower cost of sales boosted Globetronics Technology Bhd's net profit by 64.15% year-on-year to RM23.6 million in the third quarter ended Sept 30, 2018 (3QFY18), from RM14.38 million a year ago.
The better performance was despite a small 0.8% increase in quarterly revenue to RM87.7 million, from RM87.01 million previously.
Kronologi Asia Bhd, which recorded a doubling in net profit in its third quarter ended Sept 30, 2018 (3QFY18) to RM5 million from RM2.51 million a year ago, expects its FY18 to outperform its FY17.
The group's 3QFY18 earnings grew as revenue jumped by 49% to RM41.98 million from RM28.1 million, driven by higher sales volume recorded in Singapore and the consolidation of operating results from its wholly-owned subsidiary Quantum Storage (Hong Kong) Ltd. Acquisition of the subsidiary was completed in December 2017.
WZ Satu Bhd reported a net loss of RM77.6 2million or a loss per share of 16.69 sen in its fourth quarter ended Aug 31, 2018 (4QFY18), compared with a net profit of RM3.49 million or 1 sen per share a year ago, after key segments reported losses.
Quarterly revenue shrank 22% to RM116.82 million from RM150.38 million, mainly due to lower contribution from its oil and gas segment, according to the group's quarterly results filing today.
In view of the challenging times, the group said it has started a cost reduction exercise to enhance its operational efficiency. The exercise will be followed by a right sizing of workforce and the rationalisation of resources throughout the group.