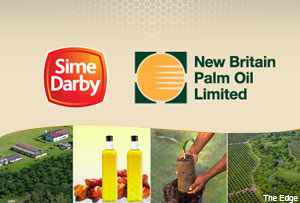 KUALA LUMPUR (Oct 9): Sime Darby Bhd plans to buy the entire equity stake in New Britain Palm Oil Ltd (NBPOL) for GBP1.07 billion (RM5.62 billion) cash. The proposed privatisation of UK and Papua New Guinea (PNG)-listed NBPOL will see Sime Darby delisting NBPOL from the UK bourse.
In a statement to Bursa Malaysia today, Sime Darby said the group via its wholly-owned unit Sime Darby Plantation Sdn Bhd proposed to buy NBPOL for GBP7.15 a share or PGK28.79/share. In PGK terms, the offer is valued at PGK4.32 billion.
"The offer represents Sime Darby's strong vote of confidence in NBPOL, its board
of directors, leadership team and skillful employees, as well as the products and services NBPOL brings to the market.
"The offer also represents a vote of confidence in the growth prospects of PNG, the Solomon Islands and the other markets that NBPOL serves," Sime Darby said.
Sime Darby said it planned to finance the transaction with its existing cash resources, and borrowings.
The exercise needs to fulfill several conditions. Sime Darby said these include the requirement to secure at least 51% of NBPOL's voting rights.
Sime Darby said it also needed the European Commission's declaration that the offer was compatible with the internal market.
According to Sime Darby, it plans to delist NBPOL from the London Stock Exchange when the offer becomes unconditional.
The offer will become unconditional when Sime Darby has acquired at least 75% of NBPOL's voting rights, the buyer said.
"The independent directors of NBPOL have indicated that they intend to recommend that NBPOL shareholders accept the offer (as they intend to do themselves in relation to all NBPOL shares held by them), in the absence of a superior proposal and subject to the independent expert concluding that the Offer is fair and reasonable," Sime Darby said.
Sime Darby's share trade was suspended between 9am and 10am today in conjunction with the announcement. At 10.30am, Sime Darby rose as much as one sen or 0.1% to RM9.10 for a market capitalisation of RM55.15 billion.
Meanwhile, Kulim, which owns 48.97% in NBPOL, said in a separate statement to Bursa Malaysia that Kulim's share trade has been suspended between 9am and 5pm today.
Kulim said it would deliberate on Sime Darby's offer and make an announcement by the end of today.
Last month, Sime Darby said it had decided not to proceed with the planned acquisition of Kulim's stake in NBPOL.
According to Sime Darby, the decision followed the expiry of the exclusivity period under the exclusivity agreement between Kulim and Sime Darby.