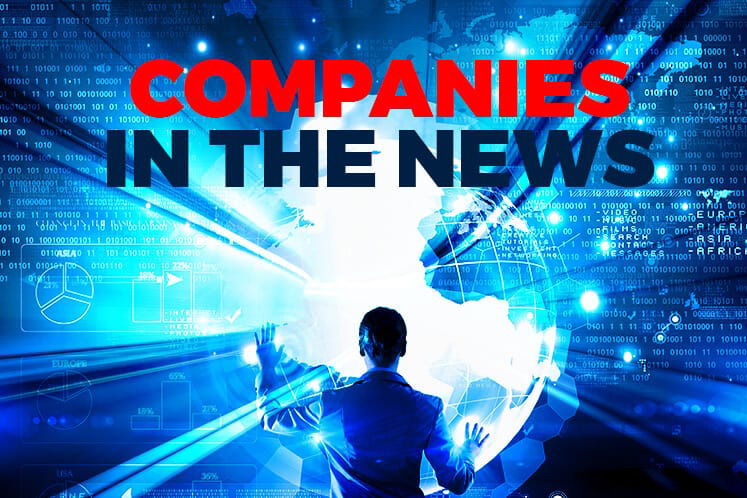 KUALA LUMPUR (Aug 27): Based on corporate announcements and news flow yesterday, companies in focus tomorrow could include Sime Darby Bhd, Axiata Group Bhd, Affin Bank Bhd, Cahya Mata Sarawak Bhd, Yong Tai Bhd, TIME dotCom Bhd and MMC Corp Bhd.
Conglomerate Sime Darby Bhd confirmed that it is among the companies eyeing the new contract to supply Government vehicles once the current contract ends in December.
"Have we put in a bid? Yes, we have," said group chief executive officer Datuk Jeffri Salim Davidson at a press briefing.
"It's fair to say that outside the current Government fleet, we are the largest fleet owner, and probably have the best coverage in terms of branches and workshops throughout the country. So we like to think that we are in a good place," Jeffri added.
The lucrative contract to supply vehicles to the Federal Government was previously awarded to Spanco Sdn Bhd, whose 25-year concession ended in December 2018. Spanco was given a 12-month extension up to December 2019.
The discussion on the proposed merger between Axiata Group Bhd and Norway's Telenor ASA is still ongoing, said Axiata president and group chief executive officer (CEO) Tan Sri Jamaludin Ibrahim.
He, however, declined to provide further details when pressed on news reports that the planned merger involving Axiata and Telenor Group's Asian operations has hit a snag.
"(The discussions) it is still ongoing. That is it for now. (We will announce it) soon," he told reporters after the launch of Axiata and Celcom Axiata Bhd's Merdeka campaign.
Citing at least three sources, the news report said the talks were proving difficult to conclude, and that there were many issues that made it difficult to go through with the merger.
Affin Bank Bhd's net profit more than doubled to RM156.03 million in the second quarter ended June 30, 2019 (2QFY19) from RM73.31 million a year ago. The improved quarterly earnings were mainly due to the write-back of credit impairment losses.
Affin Bank reported a write-back of credit impairment losses of RM26.27 million in the quarter under review compared with the provision of RM91.87 million in the previous corresponding period. The bank also attributed the better earnings to higher net gains on financial instruments which stood at RM83.87 million compared with RM33.85 million in 2QFY18.
Its earnings per share were at 7.9 sen from 3.8 sen a year ago.
Quarterly revenue growth was nearly flat at RM497.93 million compared with RM494.18 million in 2QFY18, according to a filing with Bursa.
Cahya Mata Sarawak Bhd's (CMS) net profit more than halved to RM41.33 million or 3.85 sen per share in its second quarter ended June 30, 2019, from RM91.63 million or 8.53 sen per share a year ago.
This was despite higher revenue of RM399.17 million versus RM395.28 million in the year-ago second quarter.
Cumulative six-month net profit came in at RM82.1 million down 37% from RM130.6 million in the previous corresponding period, while revenue rose 8.9% on year to RM817.35 million from RM750.27 million.
CMS said in its exchange filing the lower earnings during the period was due to higher imported clinker cost and coal cost in its cement division, besides the arrears received for works in its construction and road maintenance division.
Yong Tai Bhd announced its first annual net loss in five years, due to losses incurred at its Encore Melaka theatre and after booking a one-off impairment loss in relation to the Terra Square retail mall.
In an exchange filing, the group posted a net loss of RM79.26 million for the financial year ended June 30, 2019 (FY19), compared to a net profit of RM15.51 million in FY18, while revenue fell 23% to RM100.4 million from RM130.09 million.
This came after the group recorded a net loss of RM62.87 million in its fourth quarter (4QFY19), compared to a net profit of RM5.45 million in 4QFY18, as revenue slumped 65% to RM9.98 million from RM28.27 million.
Yong Tai said the significant decrease in its earnings in 4QFY19 was mainly due to no contribution from Terra Square, a one-off impairment loss on inventories and receivables totalling RM59.93 million and long outstanding receivables arising from the disposal of the dyeing business segment in FY17.
TIME dotCom Bhd's net profit jumped 42% to RM92.5 million for the second financial quarter ended June 30, 2019, from RM64.94 million in the previous year's corresponding quarter.
The group's quarterly revenue grew 16% to RM277.82 million from RM239.85 million a year earlier, which was attributed to higher sales across all core product segments.
"All core customer groups also contributed to overall revenue growth, led by wholesale and retail customers," said TIME in a statement.
The higher revenues, along with improved cost efficiencies and a higher share of profit from investment in associates had contributed to the higher profit for the quarter under review, it said.
Net profit for the first half of the financial year expanded 22% to RM155.63 million from RM127.88 million in the previous year, while cumulative revenue rose 15% to RM540.37 million from RM470.58 million.
MMC Corp Bhd's net profit rose by more than threefold to RM67.23 million in its second quarter ended June 30, 2019, from RM20.08 million in the corresponding quarter last year,
Revenue rose 2.5% to RM1.23 billion from RM1.2 billion in the year-ago quarter, due to higher volume handled at Pelabuhan Tanjung Pelepas (PTP) and with the consolidation of Penang Port Sdn Bhd's revenue, the group said in an exchange filing.
MMC attributed the jump in its profit to the higher contribution of PTP, lower operating cost at Johor Port Bhd and Northport Malaysia Bhd, as well as a gain on disposal of an asset held for sale besides lower administrative costs across the group.
The group said its profit would have been higher if not for the finance cost and depreciation due to the adoption of the Malaysian Financial Reporting Standard 16 (MFRS 16) Leases.