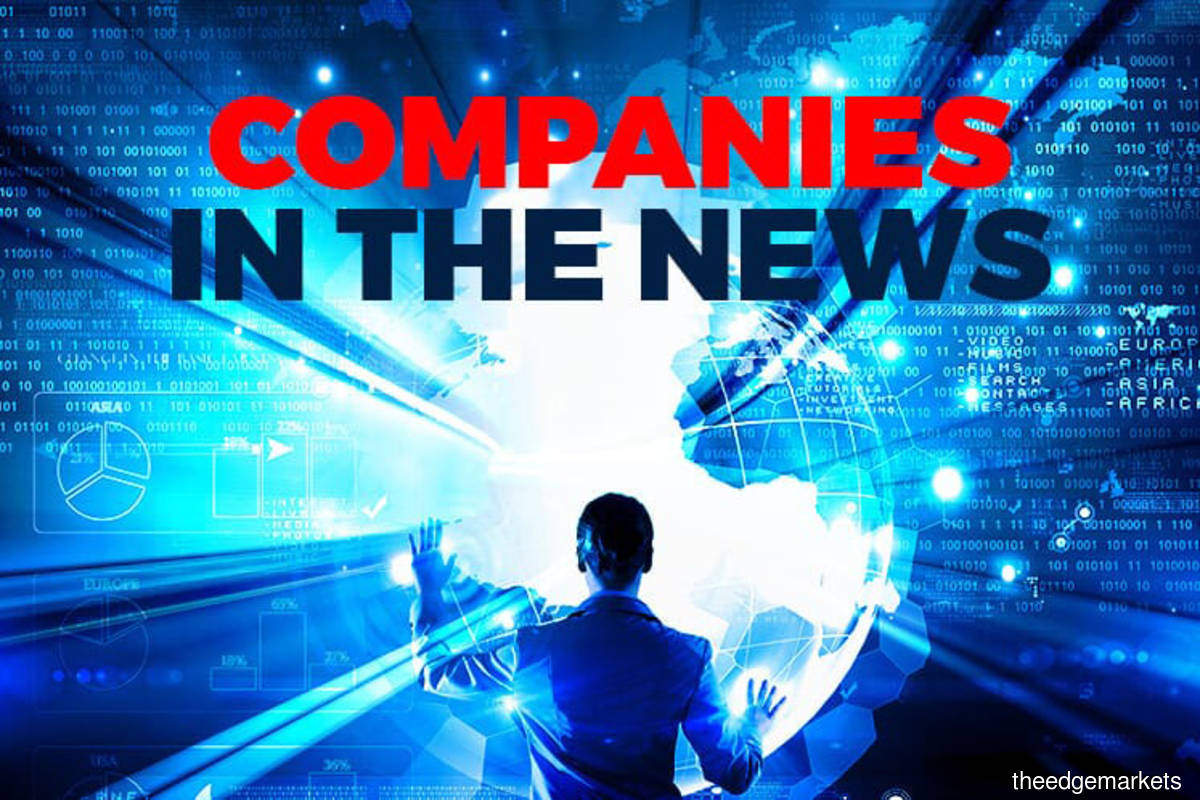 KUALA LUMPUR (Dec 1): Based on the corporate announcements and news flow today, stocks that might draw interest on Wednesday (Dec 2) include Sime Darby Bhd, AME Elite Consortium Bhd, Uzma Bhd, Sarawak Oil Palms Bhd, Berjaya Corp Bhd, Bermaz Auto Bhd, Samaiden Group Bhd, UWC Bhd, UEM Sunrise Bhd, and Eco World Development Group Bhd.
Sime Darby Bhd is divesting its entire interest in three joint venture companies operating three river ports in Jining in the Shandong Province, China for a net amount of 293.9 million yuan (RM181.6 million), to be realised over three years.
Sime Darby announced that its indirect wholly-owned subsidiary Sime Darby Overseas (HK) Ltd had signed equity transfer agreements (Phase 1 ETAs) with Jining Port and Shipping Development Group Co Ltd to divest its entire 70% stake in Jining Sime Darby Port Co Ltd, Jining Sime Darby Loggong Port Co Ltd and Jining Sime Darby Taiping Port Co Ltd.
Sime Darby group chief executive officer Datuk Jeffri Salim Davidson said the agreements the conglomerate has entered into allow for a staggered exit from its investment in the three Jining ports over three years and are very much in line with its strategy to divest non-core assets.
AME Elite Consortium Bhd is looking at establishing and listing a real estate investment trust (REIT) on Bursa Malaysia's Main Market.
AME said the REIT's initial investment portfolio will include industrial properties that are currently owned by its subsidiaries. The exact properties to be injected into the investment portfolio will be identified later.
Currently, AME owns and manages industrial leasing properties at its industrial parks in Johor, namely i-Park @ SiLC, i-Park @ Indahpura, i-Park @ Senai Airport City, and District 6.
The industrial parks are supported by workers' dormitories, namely i-Stay @ Indahpura and i-Stay @ Senai Airport City, which provide accommodation to customers' workers.
Uzma Bhd's unit Setegap Ventures Petroleum Sdn Bhd has secured a one-year contract from SEA Hibiscus Sdn Bhd for the provision of integrated well services.
It said the letter of award for the work order, dated Nov 20, has been received, though it did not disclose the contract sum.
The work order is part of a Pan Malaysia Umbrella Contract for provision of integrated well services for intervention, workover and abandonment for Petroleum Arrangement Contractors.
Sarawak Oil Palms Bhd (SOPB) plans to acquire two parcels of land in Miri for RM11.5 million to construct a corporate office.
The related-party transaction involves the group buying the assets from Chiong Ho Ling Sdn Bhd, Ling Chiong Pin and Ling Lu Siong.
Tan Sri Ling Chiong Ho is SOPB executive chairman and director. He is also the brother of Chiong Pin and uncle of Lu Siong.
SOPB said it plans to construct a corporate office which will allow the consolidation of the rented offices currently situated in various locations.
A new company that is 51% owned by Berjaya Corp Bhd and 20% owned by Bermaz Auto Bhd has been awarded the sole rights to distribute new Peugeot vehicles in Malaysia.
The company, Berjaya Auto Alliance Sdn Bhd, has also won the rights for aftersales services and spare parts distribution for Peugeot Citroen and DS vehicles.
Samaiden Group Bhd has won the bid to develop a 1.2 megawatt biogas power plant in Bachok, Kelantan — its second power plant contract for the month of November.
Samaiden said its 60%-owned subsidiary SC Green Solutions Sdn Bhd had participated in a competitive e-bidding exercise for the project and submitted its bid to the Sustainable Energy Development Authority on June 9.
The group said the project is expected to be completed by Nov 17, 2023, which is the scheduled feed-in tariff commencement date, being the date whereby the project is expected to sell the electricity generated to the power grid.
From the commencement date, SC Green will hold the feed-in tariff for 21 years for a tariff rate of RM0.3963/kWh.
UWC Bhd reported a near doubling in its first-quarter net profit from a year ago, boosted by stronger demand in both its semiconductor and life science businesses. It is also involved in the Covid-19 test equipment supply chain.
Its net profit for the three months ended Oct 31, 2020 came in at RM21.71 million from RM11.22 million a year ago, as revenue jumped 52.4% to RM71.5 million from RM46.91 million.
The bottom-line expansion was mainly due to growth in the semiconductor and life science industries, which contributed to 57.8% and 33.7% of its total revenue, respectively, UWC said.
Compared with the immediate preceding quarter, the group's net profit and revenue both grew 16.4% from RM18.65 million and RM61.41 million, respectively.
The Securities Commission Malaysia (SC) has approved UEM Sunrise Bhd's application for an extension of time to announce any firm intention to make a takeover offer with regard to its proposed merger with Eco World Development Group Bhd (EcoWorld).
The SC has now given UEM Sunrise until Jan 31 next year to make its announcement on the matter.
It added that the SC wants UEM Sunrise and EcoWorld to decide by Jan 2 on whether to proceed with discussions in relation to the proposed merger.
If both groups decide to proceed with the discussions, they must jointly submit an application for a final extension of time based on a timeline as agreed by the boards of directors, at the earliest possible date after Jan 2, but latest by Jan 15.