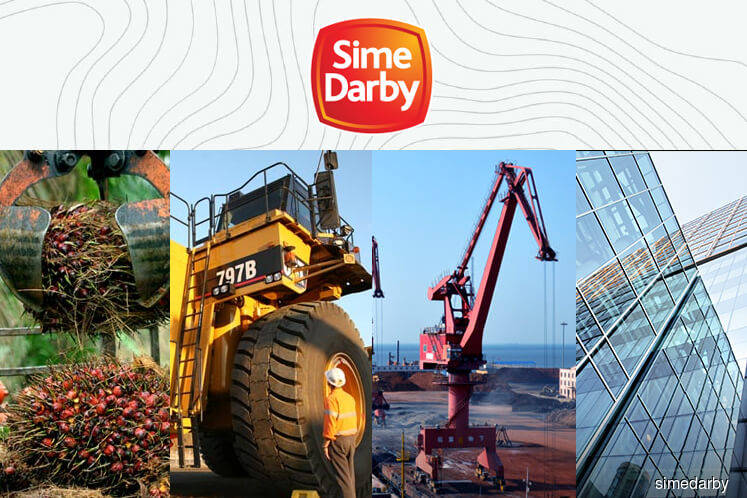 KUALA LUMPUR (Aug 30): Sime Darby Bhd reported a net profit of RM163 million for the fourth financial quarter ended June 30, 2018 (4QFY18) for its continuing operations, which comprises the group's industrial, motors, logistics and healthcare businesses. This was a surge of nearly 4.8 times from RM34 million in 4QFY17.
This was mainly driven by its industrial, healthcare and motors divisions.
 
As a result, earnings per share jumped to 2.4 sen for 4QFY18, compared with 0.5 sen for 4QFY17.
Its 4QFY18 revenue for continuing operations rose 4.6% to RM8.58 billion, from RM8.2 billion a year ago.
Sime Darby's continuing operations comprise the industrial, motors, logistics and healthcare businesses, following the deconsolidation of Sime Darby Plantation Bhd and Sime Darby Property Bhd on Nov 30 last year.
Accordingly, the results of the plantation and property businesses have been classified as discontinued operations.
For the full year of FY18, Sime Darby's net profit for its continuing operations rose slightly by 0.5% to RM618 million from RM615 million a year ago, while revenue increased 8.8% to RM33.83 billion, from RM31.09 billion in FY17.
Core net profit for the group's continuing operations increased by 36% year-on-year (y-o-y) to RM835 million. It excludes one-off gains, impairments and provisions for FY18.
The group also declared a special dividend of 2 sen per share and a second interim dividend of 4 sen per share for FY18, both payable on Oct 31. This brings total dividend for the year to 8 sen per share. 
In a statement today, Sime Darby said the special dividend was declared to reward shareholders, following the listings of Sime Darby Plantation and Sime Darby Property on Bursa Malaysia.
Meanwhile, Sime Darby group chief executive officer Jeffri Salim Davidson attributed strong earnings for FY18 to recovery in the mining sector in Australia and increased infrastructure spending in China.
"The recovery of the mining sector in Australia was a real boon for us. We saw a lot more activity in our workshops and enjoyed higher margins from improved sales for parts. Equipment sales in China also recorded strong results due to an increase in construction and infrastructure spending," Jeffri said.
Sime Darby's industrial division achieved a profit before interest and tax of RM612 million for FY18, compared with a loss of RM4 million in FY17. The profit for FY18 includes a gain from disposal of properties of RM178 million.
"The loss in the previous financial year included an impairment of the Bucyrus distribution rights and provision for onerous contracts for the leasing of Bucyrus equipment, totaling RM257 million," the statement added.
On prospects, Sime Darby said concerns of ongoing trade tensions between the world's major economies and expectation of further interest rate hikes have led to volatility in the equity and foreign exchange markets.
"This has increased uncertainty in the growth prospects of [the] global economy. However, economic growth is still expected to remain strong in certain Asian economies in which the group operates in," the group added.
Sime Darby also said the industrial division's performance continues to be supported by the recovery of the mining industry in Australia and strong equipment sales in China. Initiatives to improve efficiency is expected to also contribute to improved margins in the coming years.
The motors division, meanwhile, is expected to be impacted by strong competition and cautious consumer sentiment, with the ongoing trade war between China and the US.
"Despite the division's hedging activities, margins are also susceptible to fluctuations in foreign exchange rates, due to competitive pressures. The division would continuously improve efficiency to mitigate these adverse effects.
"The port operations continue to face competition from other ports, while a weaker Chinese renminbi would also impact profitability of the logistics division," the group warned.
Against a backdrop of uncertainty in the global economy, Sime Darby still expects its performance for FY19 to be satisfactory.
At 3.09pm today, Sime Darby shares were unchanged at RM2.56, with 1.87 million shares done, bringing a market capitalisation of RM17.55 billion.